The Film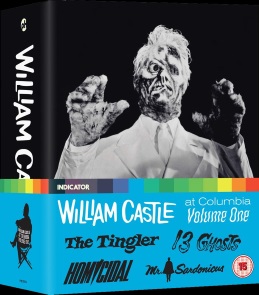 Renowned for his imaginative and eccentric marketing ploys, William Castle became synonymous with delivering lurid horror films backed-up by his trademark publicity gimmicks ('Illusion-O', 'Percepto', the 'Punishment Poll', 'Fright Breaks', etc.).

WILLIAM CASTLE AT COLUMBIA, VOLUME ONE features four classic fright films from the outrageous showman's illustrious career with Columbia Pictures and presented on Blu-ray for the very first time in the UK. Containing a wealth of new and archival extras – including Jeffrey Schwarz's acclaimed feature-length documentary Spine Tingler! The William Castle Story, newly filmed introductions and appreciations, exclusive new audio commentaries, interviews with actor Pamela Lincoln and publicists Barry Lorie and Richard Kahn, archival featurettes, and much more – this stunning Limited Edition Blu-ray Box Set is strictly limited to 6,000 copies.

Video


All four films in this set were shot soft matte with a OCN ratio of 1.37:1 but designed to be matted in projection to 1.85:1). All are in glorious, inky black and white was increasingly becoming less and less frequent as the decade wore on.

All four films look very sharp and as with other contemporaneous B&W films released by Powerhouse Films the usual high standards are maintained.

The balance of contrast and darkness displays plenty of highlights and lovely, velvety deep blacks with absolutely no signs of crush. The contrast ratio is so good details in some of the darker areas of the screen still stand out. Background detail is sharp as a tack and closeups are ravishing with skin and fabric textures very much in evidence and being a film shot almost entirely on studio interiors faces, fabrics and set dressing are the whole show.

Grain is generally very fine with David Mackensie's encode handling everything supremely well. On some low lit scenes and big exteriors the grain can become courser but I saw no clumping or holes in the grain field.

The only notable flaws being at moments where optical fades between shots are used; usually at scene changes and in the credits sequences. There are no signs of print damage that I noticed and it would seem the source materials have been looked after beautifully. These are taken from older Sony masters with the exception of the bathtub scene in The Tingler which had to be sourced from a BFI held print. Prior releases had dropped in the scene from a notably lesser source (16mm?) but for the first time it's been taken from a 35mm print in first rate condition (or, at least this short section was).

Also no signs of digital artefacts or tinkering with the image such as DNR or edge enhancement. The prints are in excellent condition and show virtually no signs of print damage or wear and tear beyond the odd speckle.

Regarding the gamma, I quote from my review of Night of the Demon and the comments applying to that film apply the four discussed here:

"Being a monochrome film we haven't any colour to assess but the gamma has been expertly controlled so no bias have crept in, at least none that I could detect. Obviously your ability to sense bias will be determined as to how your TV is setup. If you have the budget and inclination, getting a professional in to calibrate your system is the way to go; that could cost £300+. For everyone else who may be cash strapped, a setup disc will suffice."

1080/24p / MPEG-AVC / 1.85:1 / The Tingler (81:30)

Audio


English LPCM 1.0
English LPCM 1.0 with stereo scream sequence in The Tingler
Subtitles: English HoH

The audio on all four films are fine, lossless renderings of limited mono sources; and, low budget sources at that. There are no issues that I could detect with dialogue coming through nice and clear and no distortions at the higher end. The melodramatic scores blast out at appropriate times but dialogue is always audible.

The Tingler has an alternate track which is essentially the same as the 1.0 but only with a stereophonic boost for the infamous scream sequence. It uses the surrounds effectively and enhances the moment nicely.

Subtitles for the hearing impaired are included and useful.

Extras


Audio commentary on The Tingler by Kevin Lyons and Jonathan Rigby
Audio commentary on Homicidal by Lee Gambin
Audio commentary Mr. Sardonicus by Katt Ellinger and Sam Deighan

Dense, info packed commentaries recorded exclusively for this release from professionals who have plenty of experience consuming and contributing to extras and commentaries. All are journalists specialising in the genre so there's plenty of detailed information. Ellinger and Deighan approach from a more academic viewpoint than Lyons and Rigby who are more informative concerning the nuts and bolts of the production. Gambin's track endorses both approaches and succeeds brilliantly at making it both chatty and academic; all are well worth listening to and add greatly to the appreciation of these playful films.

Isolated Music and Effects Track in LPCM 1.0 on all four films

The music and sound effects for the film on a separate LPCM audio track.

"Spine Tingler!: The William Castle Story" 2007 documentary (81:45) (anamorphic 1.78:1 / English Dolby Digital 2.0 Stereo):
- Audio commentary with Jeffrey Schwarz and Terry Castle
- "Larger Than Life: The Making of Spine Tingler!" The William Castle Story" 2011 featurette (8:08)

Superb documentary on Castle. I first saw this at The Bradford Science and Media Museum when it was first released with an introduction by Tony Earnshaw, who at the time was the chief programmer for the museum. The documentary has contributions from:

We also get a warm commentary from Schwartz and William Castle's daughter Terry and a short piece on the making of the documentary. The big bonus with this release is that it;'s been professionally upscaled and for the first time on a home video release is presented filling the 16x9 HD frame. The version sent to the museum and the version on the old R1 Sony William Castle Collection DVD set was letterboxed 1.78:1 within a 1.33:1 frame. On a modern widescreen TV it appeared window boxed with black matting on all four sides.

"Imaginary Biology: Kim Newman on The Tingler" featurette (16:19)
"Stephen Laws Introduces 13 Ghost" featurette (12:13)
"Stephen Laws Introduces Homicidal" featurette (7:46)
"Gothic Castle: Jonathan Rigby on Mr. Sardonicus" featurette (27:51)

Three film critics and writers introduce the four films in this set. All are well known to me from other DVD and BD and all are always fascinating to listen to, with plenty of knowledge on display. I've read books by Newman and Rigby in the past and they're among the most prolific contributors to releases like this. Both being genre specialist critics they're comments are full of trivia and context on the productions. Laws is a successful horror fiction writer and approaches his pieces more from a fan point of view.

"Scream for Your Lives!: William Castle and The Tingler" 1999 featurette (15:40)
"I Survived The Tingler" featurette (4:08)
"Unleashing Percepto" featurette (2:57)
"The Magic of Illusion-O" 2001 featurette (7:42)
"Psychette: William Castle and Homicidal" 2002 featurette (7:42)
"Taking the Punishment Poll" 2002 featurette (7:36)


Vintage Automat-produced featurettes ported over from Sony's DVDs of the four films in this set. Automat Pictures was Jeffrey Schwartz's company and was hired to make these shorts. The raw material of which was later used to make his feature-length documentary Spine Tingler.

"The Punishment Poll" 2018 featurette (5:55)
"Ballyhoo: Bob Thomas Interviews William Castle" 2018 featurette (3:51)

Two fine new pieces produced exclusively for this release. The first is specifically about Mr. Sardonicus and it's infamous "Punishment Poll" gimmick where in a filmed insert, Castle appeared on screen and asked the audience if Sardonicus should be given mercy or not.

The second is vintage interview footage of the late Bob Thomas framing, introducing and discussing his vintage interview with Castle; excerpts of which are then presented. It's a bit short.

Youngstown, Ohio Premiere (5:02)

Short vintage news reel footage of the premiere of Homicidal with Castle interviewing the punters as they leave a screening.

The Tingler: Theatre Lobby Spot (2:36)
The Tingler: Theatrical Trailer (2:24)
13 Ghosts: Theatre Lobby Spot (2:24)
13 Ghosts: Theatrical Trailer (2:27)
Homicidal Theatrical Trailer (2:18)
Mr. Sardonicus: Theatrical Trailer (3:35)

Vintage trailers full of ballyhoo and specially shot footage of castle selling the film and the gimmick of choice.

Trailer from Hell with Joe Dante on The Tingler (2:39)
Trailers from Hell with Sam Hamm on 13 Ghosts (2:48)
Trailers from Hell with Stuart Gordon on Mr. Sardonicus (3:57)

Three industry professionals - directors Dante and Gordon and screenwriter Hamm - waxing lyrical about the respective films. Trailers From Hell is a great website for buffs and collectors of genre film making, check it out.

The Tingler Stills, Lobby Cards and Posters (31 images)
The Tingler Percepto Instruction Manual (23 images)
13 Ghosts Image Gallery: Original Promotional Material (43 images)
Homicidal Image Gallery: Original Promotional Material (36 images)
Mr. Sardonicus Image Gallery: Original Promotional Material (49 images)

42-page liner notes booklet for The Tingler by Katt Ellinger, Michael Hyatt, William Castle and the usual vintage promotional material and press responses

38-page liner notes booklet for 13 Ghosts by Dan Whitehead, William Castle, Cedric Adams (vintage 1960 interview) with additional vintage critical responses and a short piece on Spine
Tingler!: The William Castle Story

38-page liner notes booklet for Homicidal by Rebecca Nicole Williams, William Castle and vintage press kit and critical responses

38-page liner notes booklet for Mr. Sardonicus by Josephine Botting, William Castle, Jeff Billington and vintage press kit and critical responses

Powerhouse Films' Indicator Series have become justly known for their lavish, beautifully written and presented booklets with new essays and reproduction of press-kits, vintage and new interviews and of course contemporary critical responses. These four also give us generous excerpts from William Castle's autobiography which is a fabulous read if you get the chance; it's currently out of print and fetching silly money.

Overall


A welcome BD release of four of William Castle's beloved horror classics; these were probably among young horror fans first experiences with terror cinema. Transfers are top notch with excellent picture and sound and the extras are extensive and deeply satisfying.
| | | | | |
| --- | --- | --- | --- | --- |
| The Film: B+ | Video: A+ | Audio: A+ | Extras: A+ | Overall: A+ |