Zombie Flesh Eaters 3 [Blu-ray]
Blu-ray ALL - United Kingdom - 88 Films
Review written by and copyright: Rick Curzon (24th October 2018).
The Film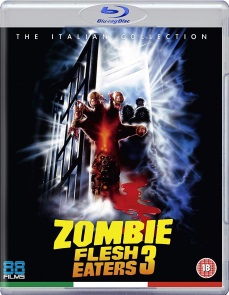 In 1979 director Lucio Fulci created a video nasty legend with his masterpiece ZOMBIE FLESH EATERS.

A sequel was born in 1988, for which Fulci returned, but the best was yet to come with 1988's outrageously gory and ghastly ZOMBIE FLESH EATERS 3!

Directed by Claudio Fragasso, the man behind the notorious TROLL 2 and the producer of the infamous and formerly banned splatter opus ZOMBIE CREEPING FLESH, the innards and excitement comes thick and fast in this first class follow-up which returns its witless characters to the Caribbean and a voodoo legend that unleashes hordes of shambling corpses seeking to chow down on anyone stupid enough to be trespassing on hallowed ground!

Years since it scandalized audiences, the third in the ZOMBIE FLESH EATERS franchise is back to bite a way into your Blu Ray collection!

Video


Circa 1968, a mysterious unnamed island somewhere in the tropics: Scientists researching a cure for cancer come to grief for killing a voodoo priest when his zombie wife takes revenge. Only a young girl escapes, one of the daughters of the munched-on scientists. 1988: A second team of scientists, are investigating the disappearance of the first group. When zombies start popping up all over they join forces with a group of vacationing mercenaries and two women. One of the latter is the little girl from the prologue all grown up.

Great locations, nice cinematography, some moist makeup effects and a funky score from the wonderfully named Al Festa (Fatal Frames). Claudio Fragasso's direction uneven as is Rossella Drudi's script ... to say the least. An amusing tramp through the usual zombie movie terrain; silly and a lot of fun, frequently for the wrong reasons. However, the zombies are genuinely creepy: they run, jump, talk and taunt the living ... and use M16s!

This quickie was shot on the fly in 35mm and in some very trying location conditions in the Philippines and as a result grain is ever present and is most welcome; this is an extremely film like presentation and the encoding is well up to the challenge. Black crush is frequent in many shots but that was the case on the Severin disc as well; I believe that the crush is down to the original cinematography. Apart from this, the black levels are deep and rich. There are no digital artifacts or enhancements such as DNR that I could detect and minimal print damage.

The colour palette is warm emphasizing reds and browns but it needs to be pointed out that this does have that '80s haze throughout the film's running time. This means that the grain is ever present, giving the transfer a lush, film-like if soft look. It's pleasingly cinematic throughout, although this being a low budget production the grain does get courser in moments of low light and on some exterior day scenes. As with other films in the Italian Collection this his is to be expected and welcomed. As I said, the encoding handles the problematic source very well.

Another fine transfer from 88 Films.

1080/24p / MPEG-4 AVC / 1.85:1 / 87:52

Audio


English DTS-HD Master Audio 2.0 Mono
Subtitles: English HoH

Solid mono track typical of these kind of films. A bit thin at times with not as much base as American mono tracks of the period, but only slightly. No accidental or age related distortions but dub tracks like these do tend so sound natively hollow. Music and dialogue come over generally very well otherwise. With the latter beinmg easily understood. There is a slight hollow quality but it was the same on severin's disc.

Subtitles for the HoH are welcome.

Extras


"Run Zombie Run!" featurette (31:50)

Colourful interview ported over from Severin's disc is an extended interview with the the husband and wife team behind the film of Claudio Fragasso and Rosella Drudi the director and writer respectively. A lively chat with a few intrusions by their gorgeous cat! The whole production is covered from coming out of the ashes of Zombi 3 (also 1988) which had been troubled to this much easier production, but it was seriously cash strapped.

"Flesh Eaters, Driller Killers and All-Round Video Nasties: VIPCO and the Golden Days of VHS Gore" featurette (18:53)

Wonderful little piece with Alan Bryce (Dark Side magazine) discussing briefly video nasties phenomenon and mainly how the VIPCO company came about run by one Mike Lee. The tale of how an entrepreneur got into the video rental business, then more specifically the horror video business, then selthru video business. The story starts circa 1980 and ends when VIPCO went bust in the DVD era. It's highs and lows are well covered and Bryce is a good raconteur.

Theatrical Trailer (SD) (2:45)

Incredible cheesy trailer.

Double-sided sleeve

You get the choice of "Zombie Flesh Eaters 3" (the UK title) or "After Death" the proper, original title (Italy).

8-page liner notes booklet "The Living Dead: Italian Style" by Calum Waddell

Overall


Hot on the heels of Severin's US ALL region BD we get the 88 Film's version. Image and sound quality are comparable with nothing really between them to choose. The 88 Film's disc is an excellent way to make the acquaintance of this cheestastic exploitation film. The extras we get are good especially the VIPCO piece and the ported over interview with Fragasso and Drudi. However, the US disc also had three additional contextual pieces which are sorely missed (Jeff Stryker in Manila, Blonde Vs. Zombies and After Death: Backstage). The latter is especially interesting because it shows how these films were shot silent with actors speaking a multitude of languages and accents as well as showing how noisy these sets were even when the camera is turning.

In any case this is still a terrific release of an insane little favourite!
| | | | | |
| --- | --- | --- | --- | --- |
| The Film: C+ | Video: A | Audio: B | Extras: B+ | Overall: B+ |

---
DVD Compare is a participant in the Amazon Services LLC Associates Program and the Amazon Europe S.a.r.l. Associates Programme, an affiliate advertising program designed to provide a means for sites to earn advertising fees by advertising and linking to amazon.co.uk, amazon.com, amazon.ca, amazon.fr, and amazon.de.