The Film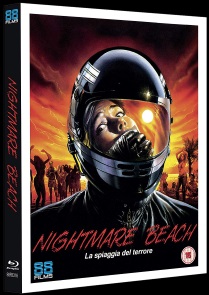 The late great Umberto Lenzi gave audiences some of the most notorious video nasties including his legendary gut-crunchers THE MAN FROM DEEP RIVER (1972) and CANNIBAL FEROX (1981). However, the maestro of macabre, nightmare-making images was rightly most proud of his giallo classics - most famously represented by the colourful intrigue of SPASMO (1974) and the grueling gore of EYEBALL (1975).

For NIGHTMARE BEACH, released in 1988, Lenzi would claim that a troubled production process meant he took a 'backseat' role - although it is difficult not to notice his blood-splashed paw-print all over this terrifying tale of a madman in a motorcycle helmet who is taking out drunk and delicious young co-eds all over the sparkling sands of South Florida.

As the body count creeps up, Miami detective John Saxon (A NIGHTMARE ON ELM STREET) tries to keep ahead of the curve in this carnage-packed, late-day Lenzi gem that is only now gaining a belated British bow for horror-hungry addicts and completists of Italian trash-terror!

Video


AKA Welcome to Spring Break, La Spiaggia del Terrore (The Beach of Terror)

A nut job is burning Palm Beach spring breakers in a beach side community using a tricked up motorcycle that can electrocute the passenger.

A game cast of American pros - John Saxon, Michael Parks, Lance Le Gault, Dan Fitzgerald - have fun slumming it in an Italian slasher epic, directed by Umberto Lenzi and shot entirely on location in the US of A and surprisingly with production sound ... no dubbing!

The script is all over the shop, essentially reworking Lenzi's Seven Blood-Stained Orchids (1971) in an American college kid milieu. It's a slick package with nice cinematography and a good professional look but it's all been done before with more verve and imagination. Sadly, the shock scenes are rather slackly edited with the film being a fun runaround but not remotely scary.

This is a bright, colourful film that screams the '80s from every frame.

Shot soft / open matte at 1.37:1 but designed to be matted in theatrical projection to 1.66:1 (for Europe) or 1.85:1 (for the USA) we get both versions to choose from. The open matte presentation is slightly less grainy being pillerboxed at 1.33:1 and the widescreen version in the compromise ratio of 1.78:1 is more grainy as you'd expect; obviously, Lenzi shot this with widescreen in mind and it visually plays much better in that format. Extraneous space at the top and bottom of the frame is matted off and it looks much more cinematic. In every other way my comments on the image apply to both versions.

The colour palette is rich and vibrant and really gets the viewer in the party atmosphere of an American Spring Break orgy of excess, and we do see quite a bit of footage shot at a real festival with both men and women (mainly women) getting wet and horny in front of the crowds.

It's at times like this that I think perhaps Darwin was wrong. Anyway ....

The palette is warm emphasizing reds and browns but the plentiful blue sky also comes over as vibrant. Flesh tones (and there's a lot of flesh on display) are naturalistic as is the lush Florida foliage. this does have that '80s haze to a certain extent (would we have it any other way?) which means that the grain field is healthy, giving the transfer a lush, film-like look. It's pleasingly cinematic throughout, although this being a low budget production the grain does get courser in moments of low light and on some exterior day scenes. This is to be expected and welcomed.

Black levels are satisfyingly dark and deep with mostly good shadow detail although I did see the odd moment of crush in some of the night shots; again, due to the original production conditions. Contrast is stable with no blown out whites and plenty of detail allowed to shine. This film does have a slightly soft look, but that is again down to the style of shooting.

Encoding is decent, handling the grain well and I could see no signs of the digital tinkering or print damage. The OCN has been kept in good nick.

Visually this is a great transfer of a good looking film.

1080/24p / MPEG-4 AVC / 1.78:1 , 1.33:1 / 90:54

Audio


Audio
English LPCM 2.0 Mono
Subtitles: English HoH

Sadly, the film is not helped by the fact it was shot in Dolby Stereo - with a consultant listed in the credits - but transferred in mono, so the '80s-tastic rock score by Claudio Simonetti doesn't blast out like it should. Which is a shame.

What we have is a fine, robust mono track from the late '80s and is as good as can be with no distortion, crackles, pops or clicks. The music is very robustly reproduced and dialogue is always clear and audible. If this film was made in mono then it would get an "A+" for the sound, but as it's been down mixed and the original isn't present then it has to be "C".

If it turns out that this was never made in Dolby Stereo then I shall amend my grade. It has been known for Italian genre exploitation films of the period to claim "Dolby Stereo" but not credit a consultant - Hell of the Living Dead (1980), The New Barbarians (1983) - and they're mono; mostly likely simply using "Dolby Noise Reduction" rather than stereo. But, the print actually credits a consultant which indicates it's a legit credit.

Extras


"Nightmare Rock: Claudio Simonetti" featurette (15:55)

Superb little interview conducted with Simonetti whilst he was on tour (they're getting the stage setup behind him). He is as informative and as garrulous as usual covering his entire career quite concisely. he also pays tribute to Ennio Morricone and Fabio Frizzi. It was interesting to hear that he didn't always meet the director whilst he was working on the score (Lucio Fulci, Umberto Lenzi).

Scores discussed:
Deep Red (1975), Suspiria, The Heroin Busters (both 1977), Dawn of the Dead (1978), Tenebrae, Conquest (both 1982), The New Barbarians (1983), Cut & Run, Demons (both 1985), Hands of Steel (1986), Opera (1987), Nightmare Beach (1988), The Versace Murder (1998), and Sleepless (2000).

Trailer (2:41)

Cheesy, American-tastic trailer emphasizes the cast and highlights.

Reversible sleeve with choice of title and artwork

You can choose between "Nightmare Beach" (default) or "Welcome to Spring Break".

Card sleeve

Mirrors the "Nightmare beach" cover.

8-page liner notes booklet "Bloody Spring Break: Lenzi and His Last Horrors" an Interview with Umberto Lenzi by Eugenio Ercolani

A nice interview seemingly conducted not long before the director's death. Lenzi is as outspoken, self aggrandizing and as cheeky as we have come to expect.

Overall


The film is a cheesy good time and highly recommended as a party experience; get some pals over, order in the pizza and crack open the brewskies! This is a topnotch transfer and looks fabulous in HD with a healthy film like appearance. The sound may or may not be disappointing depending on how it was originally made. The film credits Dolby Stereo and a consultant which would indicate it ought to be 2.0 Stereo but we only have a 2.0 Mono down mix. The extras are slight but choice; a commentary from The Hysteria Continues would've been most welcome.
| | | | | |
| --- | --- | --- | --- | --- |
| The Film: D+ | Video: A+ | Audio: C+ | Extras: C+ | Overall: B |