Play for Today: The Imitation Game
R2 - United Kingdom - Simply Media
Review written by and copyright: Rick Curzon (24th October 2018).
The Show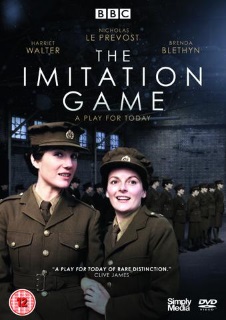 A passionate drama, first shown on BBC One in 1980, inspired by Ian McEwan's research into Alan Turing's cracking of the Enigma Code during World War Two, and the stories of the women who helped. It starred Harriet Walter in her first major screen role, and was produced and directed by Richard Eyre.

19-year-old Cathy Raine (Harriet Walter) is frustrated that she is expected to see out the war in a dull job on the production line at a local munitions factory in Frinton-on-Sea. Against the wishes of her father and fiance, in an effort to find a job with more self-fulfilment and excitement, she signs up for the Auxilliary Territorial Service (ATS).

In her workplace training she finds a friend in working class Mary (Brenda Blethyn), and finds a role in a listening station deciphering encoded German transmissions. She soon moves to the famous code-breaking facility at Bletchley Park, meeting Turing-like mathematics genius John Turner (Nicholas Le Provost) and admires his boundless curiosity.

But Cathy is kept in the dark about the secretive male hierarchy at the centre, until she comes across a secret intelligence file that may put her in danger.

The Play for Today series showcased some of the best of British acting talent and most prolific writers from 1970 - 1984.

Video


The fondly remembered BBC anthology series' Play for Today and Play for the Week were broadcast from 1970 to 1984 to much acclaim. Simply Media have put these all-film 16 mm productions out on DVD and so finally fans can have versions to call their own. The plays here are amongst the most highly regarded and fondly remembered of the run.

In this era UK TV was made largely on either 625 line PAL high-band broadcast standard one or two inch video tape or on 16 mm film; and mixtures thereof (see Doctor Who 1980-1989). Prestige productions tended to be made entirely in film, although 35 mm was considered too expensive on TV budgets to was rarely used. The three plays seen here have most likely been taken from vintage broadcast masters created at the time of production and are sourced from videotape. Consequently the image is soft, lacking in detail with a fair amount of black crush in evidence. Contrast has been carefully controlled to sharpen the image slightly but there doesn't appear to be any signs of DNR.

Vintage television fans who own Network's Blu-rays of The Sweeney (Series 1) and The Professionals (1977-81) know how good modern techniques can make 16 mm productions look. This makes it doubly disappointing that the BBC and Simply haven't gone to the expense and trouble of remastering this series for HD; future-proofing it for broadcast, download or streaming.

In the final analysis we have relatively dull, low contrast images that are serviceable and probably represent the image quality on first broadcast but today they just look acceptable and lacking in punch. This could be massively improved upon with a new 2K / 4K scan of the OCNs and a Blu-ray release.

PAL / 1.33:1 / The Imitation Game (92:28)

Audio


English Dolby Digital 2.0 Mono
Subtitles: English HoH

Nothing remarkable but it gets the job done; nice clear dialogue, and robust for what it is: a vintage mono soundtrack sent to the front left and right speakers. I didn't detect any distortions or dropouts or sibilant issues. The score sounds clear and never overshadows dialogue. This is likely to only be improved upon by an HD or UHD release with lossless sound; which is to say extremely unlikely outside of the US or German markets which seem big enough to support such releases. The soundtrack is more impressive than the visuals and could only be improved with the lossless treatment.

Extras


Nothing. A shame because it's likely that there would've been material in the BBC archives to support these, whether that'd be pure contextual material on the class system (The Fishing Party), teaching (for Our Day Out) or Bletchley Park and Alan Turing (The Imitation Game).

Overall


Solid, bare bones releases of some highly regarded installments of the Play for Today and Play for the Week strand from the BBC. Image and sound quality is off the shelf and unrestored but the masters are essentially in good condition.
| | | | | |
| --- | --- | --- | --- | --- |
| The Show: A+ | Video: B- | Audio: B- | Extras: F | Overall: C+ |

---
DVD Compare is a participant in the Amazon Services LLC Associates Program and the Amazon Europe S.a.r.l. Associates Programme, an affiliate advertising program designed to provide a means for sites to earn advertising fees by advertising and linking to amazon.co.uk, amazon.com, amazon.ca, amazon.fr, and amazon.de.