The Film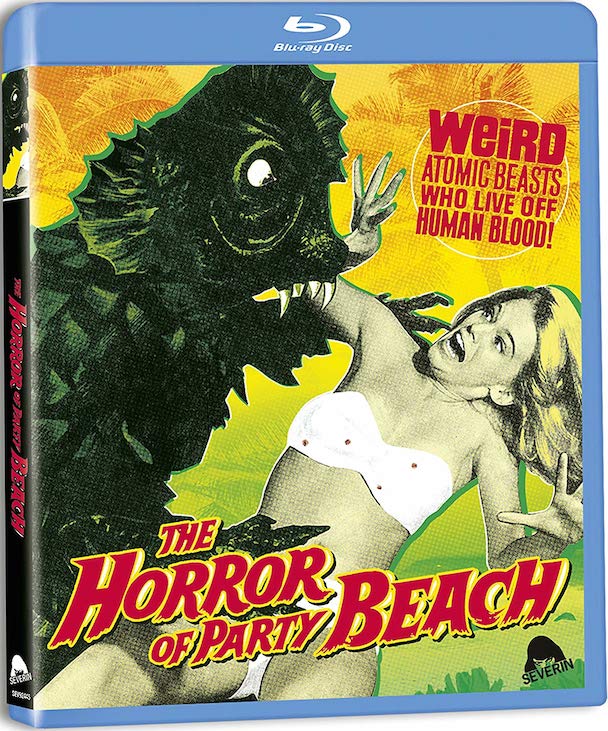 As someone who spent the formative years of his life growing up in Connecticut and watching monster movies, seeing a campy goof-fest like "The Horror of Party Beach" (1964) and knowing it was filmed in my home state lends a touch of affection that otherwise would not exist. It's a trip to think that some twenty-odd years earlier, Del Tenney and his low-budget band of misfits were making a schlock-fest on beaches not far from where I used to romp as a child. This knowledge made digesting "Party Beach" a bit easier since the film itself is, well, not good. It's campy as hell and packed with just enough weird insanity to maintain interest but Tenney knew he had a (literal) turkey on his hands. Nobody dumps $50K into a feature and expects an amazing product to come out the other end. But Tenney, like William Castle, was a consummate showman who knew the devil didn't lay in the details but in the hype. What better way to entice love-to-be-scared ladies and macho men to the theater than by making a big to-do about having patrons sign a "Fright Release" before viewing the picture?

Not that they'd actually need it, of course. The scariest thing about the film is the production itself, rife with bad acting and worse creature design. The "atomic beasts" look like massive rubber chicken-lizards with dildos stuffed into their gaping maws, which could be the stuff of nightmares to the right person. After dumped toxic waste turns shipwrecked skeletons on the ocean floor into horrible mutant monsters, the beasts invade the mainland and begin snacking on local teens. Tina (Marilyn Clarke), a freewheeling party girl, and her boyfriend, Hank (John Scott), lab assistant to Dr. Gavin (Allan Laurel), attend a beach party where Tina gets tanked and inadvertently provokes a fight between Hank and Mike (Agustin Mayor), leader of a (lame) biker gang. The two dudes tussle before calling the fight and shaking hands. When was the last time a film showed THAT level of decency? Anyway, doesn't matter because Tina wanders off and gets killed.

Later that night, numerous girls are killed during an attack at a slumber party. These cunning creatures are getting brazen, scouring for a quick bite all over the quiet coastal town. When one such attack is thwarted the creature angrily smashes a massive window pane, losing an arm in the process. The arm is recovered and taken to Dr. Gavin, who is able to deduce the monsters need human blood to survive and that they can be killed using metallic sodium. But can Hank and Dr. Gavin get enough before more citizens are brutally murdered? Probably.

The infamy of this film has lived on for so long not because it has attained a devoted cult following but because of "Mystery Science Theater 3000" (1988-1999), a program that gets off on lampooning legendarily bad movies. "Party Beach" seems like it's ripe for the picking there but, honestly, I don't enjoy comedic commentary during my clunkers; let me find whatever enjoyment I can in this stupid sludge and mine it for myself. I know that show has a fervent following but it hasn't ever appealed to me.

Creature design leaves plenty to be desired, if my shrewd observation on their appearance didn't make that already obvious. According to legend Tenney could only afford to have two heads made, so during the climax where multiple monsters are scaling the hillside Tenney simply had the two suit actors approach from different spots, overlaid the footage, and made it appear as though they numbered six rather than two. Seeing that kind of ingenuity is far more exciting than the on-screen action.

Don't forget, this is also a musical! Kinda. None of the actors sings at any point, but there are more than a few cutaways to musical numbers being performed on the beach by The Del-Aires. These are catchy, kitschy cut-a-rug tunes that perfectly fit into the time period. It feels like you're watching "Gidget Meets the Blood Beast from Party Beach", which is totally rad. Tenney never lets his picture get comfy in any one genre, bouncing between horror, musical, romance, action, sci-fi, and whatever else he could squeeze in like a beach ball in a crowd. I wouldn't say he nails any of them, but the man deserves credit for making a twelve-quadrant picture that has a modicum of appeal for every potential viewer.

Video


Shot on the cheap back in 1964, how much can one expect out of the 1.85:1 HD 1080p 24/fps image? Mastered using AVC MPEG-4 compression. Keep those expectations in check and there will be little fault found in the transfer. This was not made to shine. Expect to see a few minor scratches on this mostly clean print. Contrast is a little washy but mostly consistent throughout. Black levels are closer to dark gray once night falls which, again, you sort of have to expect. The black-and-white photography is capably captured and, pleasing or not, I'm willing to bet Severin's release is pretty damn close to replicating the theatrical experience.

Audio


The standouts on this English DTS-HD Master Audio 2.0 mono track are the surf-y rock tunes, which sound punchy and energetic in lossless. The film's dialogue is occasionally scratchy and there is some minor hissing. Sound cues are a bit brash at times. Limitations are part of the charm for these old B-movies, so you have to cut some slack. Subtitles are available in English.

Extras


"Return to Party Beach: A Retrospective Documentary on The Horror of Party Beach" (1080p) this documentary runs for 16 minutes and 26 seconds, covering the early days of Tenney, highlighting his penchant and talent for showmanship over filmmaking.

"It's the Living End: An Encounter with The Del-Aires – Interview with Band Members Bobby Osborne and Ronnie Linares" (1080p) featurette runs for 4 minutes and 27 seconds, catch up with these old timers as they reminisce about getting the film gig and play some tunes.

"Shock & Roll: Filmmaker Tim Sullivan on Rock & Roll Horror Movies" (1080p) is an interview that runs for 7 minutes and 42 seconds.

"Archival Interview with Director Del Tenney" (SD) interview runs for 9 minutes and 2 seconds.

The film's theatrical trailer (SD) runs for 1 minute and 49 seconds.

Packaging


The single disc comes housed in a black standard Blu-ray case.

Overall


If bad movies are your bag then this beach blanket and blood bonanza is going to be totally bonkers. But if you just can't stomach a cornucopia of camp then even at a brisk 78-minutes "Party Beach" will be anything but a good time.
| | | | | |
| --- | --- | --- | --- | --- |
| The Film: C+ | Video: B+ | Audio: B | Extras: C+ | Overall: C+ |