The Film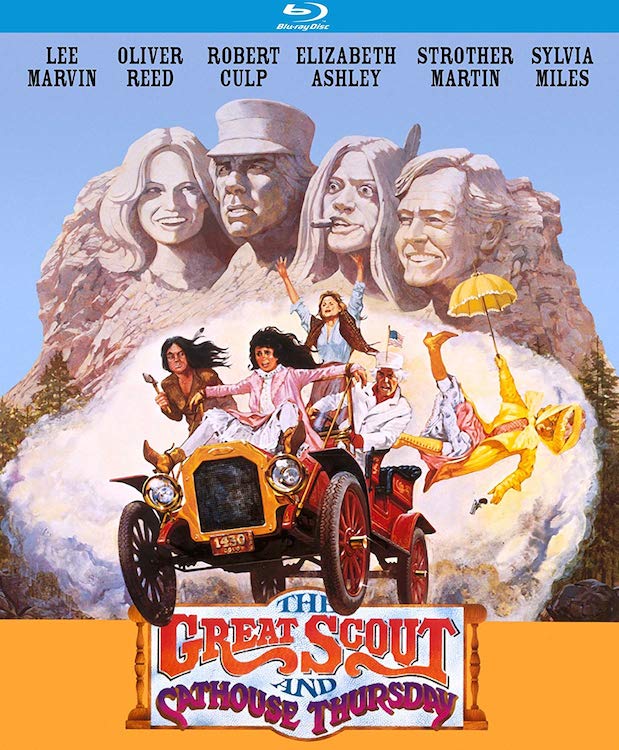 Some critics have remarked that the 1970ís was a great time for filmgoers and there certainly was a huge influx of influential films being produced during that decade. Films such as "The French Connection" (1971), "The Godfather" (1972) , "Serpico" (1972), and "The Exorcist" (1973) made plenty of box office records and films such as "Deep Throat" (1972) ushered in new developments in adult filmmaking. In 1974 Mel Brooks released "Blazing Saddles", a comic western that had audiences howling with laughter, and soon after a string of lesser films followed suite. Lee Marvin, long a familiar face to movie goers found a new found success by breaking out of his classic tough guy roles and in 1965 he starred in the comedy "Cat Ballou" which earned him an Academy Award for Best Actor and suddenly Marvin, he of the craggy face and heroic stance, was now a comedian. In 1969 Marvin starred in "Paint Your Wagon" alongside Clint Eastwood and he broke new ground by actually singing in the musical. Returning to more action suited fare Marvin soldiered on until 1976 when he was cast as the lead Sam Longwood by director Don Taylor in the western-comedy "The Great Scout and Cathouse Thursday". Taylor, an actor turned director, had helmed some interesting films including "Escape from the Planet of the Apes" (1971) and "Tom Sawyer" (1973) but also an plethora of television programming. Joining Marvin in the film was Oliver Reed, Strother Martin, Robert Culp, Kay Lenz and Sylvia Miles; you would think that with all that talent, hilarity would ensue; however the results were anything but hilarious.

The filmís time period is early 1908 in the town of Serendipity, Colorado; the elections between William Howard Taft and William Jennings Bryant is ongoing and from the mountains descends mountain man Sam Longwood (Lee Marvin) with his scheming wizened con man partner, Billy, played with exceptional salaciousness by Strother Martin. The men are seeking to get revenge upon an old comrade of theirs William Colby (Robert Culp) who supposedly cheated them out of their share of a gold mine fifteen years previously. Colby is now a rich man in town to promote a boxing match and the pair spies him after being thrown out of a saloon for some under handed chicanery. They soon encounter former partner Sam Knox (Oliver Reed): an alcoholic, gonorrhoea stricken Harvard educated half breed. Knox is busy kidnapping a police wagon of prostitutes when Thursday (Kay Lenz) decides to stay behind with the men figuring that life with these larger than life characters has got to beat a life of indentured servitude to a madam named Mike (Sylvia Miles). The film continues on concluding with Longwoodís gang managing to rob the box office of all of its money after they have managed to infiltrate the boxing match. This leads to a tedious chase sequence with Colby leading a posse of followers after Longwood on horseback while our heroes are feeling in a flivver culminating to a challenge of fisticuffs with the winner claiming the money. Longwood has managed to kidnap foul mouthed Nancy Sue (Elizabeth Ashley) but it turns out that Colby doesnít want her back; she talks too much. The fight concludes with Colby declared the winner, but Sam Knox has managed to get the money nonetheless. The gang escapes in the flivver ending the film singing a campaign song of William Jennings Bryanís.

Even though this film features excellent production elements, I did not find the comic highjinxs to my tastes. Perhaps Director Taylor is responsible for the lack of ensuing laughs because even though he is supplied an interesting script by Richard Shapiro, this film failed to amuse me. At times the humor is slightly off putting such as in the scene between Thursday and Colby where the working girl ties her hair into ponytails and acts like a lost orphan all the while calling Colby, upon his insistence, Daddy as he attempts to get the girl into bed. Yes, it was the seventies alright. The scene where Sam Knox discusses his delicate condition with Longwood regarding the advances medicine has made when it came to the treatment of venereal diseases is also rather tasteless but strictly played for laughs. The appearance of Reed wearing a fright wig of lanky hair while speaking perfect English is a bit of a surprise, but it seems that he is enjoying himself performing as Sam Knox. Marvin is completely dependable in his role of an American frontier hero with a sentimental streak and a longstanding romantic streak for his old beau, Nancy Sue (Elizabeth Ashley) who is now currently married to Colby. Culp is the villainous Colby, a double dealing politician looking to con his way into office. Sylvia Miles is completely wasted and given a minimum of screen time as a lesbian prone madam. Martin appears to be along for the ride and his performance is challenging; he seems to be channeling the spirit of Walter Brennan somehow. The great majority of the film is staged outdoors and the cinematography by Ńlex Phillips Jr. is admirable. The Mexican landscape is well utilized in certain scenes and the town seems authentic enough in appearance for the time period indicated. This was Marvinís last film and he left Hollywood, semi-retiring from acting. The romantic angle between Lenz and Marvin was somewhat predictable and eventful. The presentation from everyone involved was strong, but it is unfortunate that the director was unable to capitalize on the starís performances. As a snapshot of the times, this is a good example of what Hollywood was capable of manufacturing at the time. Perhaps if the film had simply decided to be a comedy instead of a blend of Western and parody of comedies, it may have succeeded on a stronger note. Nevertheless this is a fine presentation and fans of Lee Marvinís may seek this one out for their collections.

Video


Presented in widescreen 1.85:1 HD 1080p 24/fps mastered using AVC MPEG-4 compression, the image is an excellent reproduction of the film without any visual enhancement present. Images are very clear and there is consistent detail throughout. Colors are strong and flesh tones are balanced and precise.

Audio


The only audio track is an English DTS-HD Master Audio 2.0 mono, John Cameronís score may seem a bit repetitive and typical with plenty of banjo and guitar, but the dialogue is clearly presented and the sound effects of crowds, horses, etc. is balanced and not overwhelming. Optional subtitles are included in English only.

Extras


The only extras on this disc are the the film's original theatrical trailer (2:36).

Plus there are a collection of bonus trailers for:

- "Monte Walsh" (3:13).
- "Prime Cut" (2:28).
- "The Iceman Cometh" (2:26).
- "The Spikes Gang" (2:32).
- "Gorky Park" (2:18).
- "The Hunting Party" (2:50).
- "Burnt Offerings" (2:20).
- "The Island of Dr. Moreau" (2:10).

Packaging


Packaged in a standard Blu-ray keep case.

Overall


This reviewer certainly didnít find this film as uproarious and laugh inducing as described, but credit is still given for believable performances and a strong presentation.
| | | | | |
| --- | --- | --- | --- | --- |
| The Film: B | Video: A | Audio: A | Extras: D- | Overall: C+ |