The Film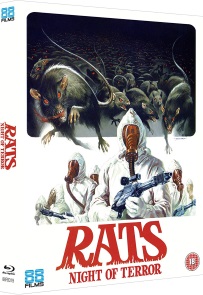 It took some time for fright-fans to really groove to the eclectic, insane and often inane brilliance of the late Bruno Mattei (ZOMBIE CREEPING FLESH). Now, belatedly, viewed as a master of cut-price plasma-spillage, the time is ripe to revisit one of the great man's wildest accomplishments - RATS: NIGHTS OF TERROR.

Unveiled to audiences of video-violence in 1984, this post-apocalyptic pot-boiler sees some of the last humans alive grapple with a horde of flesh-eating rodents - and a shocking final revelation that has fast become Mattei's signature 'twist'.

Also featuring a superlative ensemble cast that includes such Italian gore legends as Ottaviano Dell'Acqua (ZOMBIE FLESH-EATERS), Geretta Geretta (DEMONS) and Massimo Vanni (ZOMBI 3), RATS: NIGHTS OF TERROR is a creepy creature feature that positively oozes with intrigue in this beautiful new Blu-ray release!

Video


This has to be one of the most eccentric genre mashups of it's era. It takes the then popular trend for killer rat films like Deadly Eyes (1982) and Of Unknown Origin (1983) and marries it to the post apocalypse trend begat by Mad Max 2 (1981), only it's a haunted house flick set almost entirely inside an abandoned warehouse with hordes of rats popping up and muching on the cast.


The cast act up a storm and do as much chewing as the rats in the service of the daft script. In terms of direction, cinematography and general production values this isn't bad at all. However, albino rats dyed gray are too cuddly to be a menacing threat and the script has some characters taking stupid pills too frequently. The electronic score by Luigi Ceccarelli is effective. A fun piece 'o' shit with the last shot in the film an absolutely howler that has to be seen to be disbelieved!


Like many Italian genre films from this period not shot in Techniscope, this was most likely shot hard matte 1.85:1 in 35mm. I also suspect that this is the same master used by Blue Underground for their region free Blu-ray in 2014. A satisfyingly film like presentation and the encode job handles it all very well with a high bitrate. Black crush is infrequent but present; that was the case on the American disc as well. I believe that the crush is down to the original cinematography and hurried production. Apart from this, the black levels are deep and rich. I could see no digital artifacts or enhancements such as DNR and noticed no print damage. It almost looks as freshly minted as the day it was shot with certain caveats based on this being an older master, obviously.

The colour palette is warm emphasising browns, blacks and greys as it's set in run down urban locations. This has little of that '80s haze when compared to similar films from later in the decade (like the recent After Death AKA Zombie Flesh Eaters 3 from 88 Films). Grain is ever present, giving the transfer a lush, film-like if soft look. It's pleasingly cinematic throughout though. This being a low budget production means that the grain does get rougher in moments of dim light - which is very frequent - and on some of the few exterior scenes. As with other films in the Italian Collection this his is to be expected and welcomed. As I said, the encoding handles the problematic source very well.

Detail is very much in evidence especially in closeups but the set dressing and run down factory locations provide the viewer with plenty of visible interest if they're looking.

For some reason, the copyright line has not been included on the title card for this release. This most likely indicates that both Blue Underground and 88 Films were provided with textless masters and 88 Films forget to include it.

Another splendid transfer from 88 Films who seem to be a on roll recently.

1080/24p / MPEG-4 / 1.85:1 / 96:32

Audio


English LPCM 2.0 Mono
Italian LPCM 2.0 Mono
Subs: English HoH

This is a very robust mono track with no age related distortions. On the recent 88 Films release of After Death dub tracks had a hollow, tinny quality; not so here. Music and dialogue come through loud and clear on both tracks with the English dub being a tad harsher, the Italian more pleasing and seems to match more lip movements.

The subtitles are welcome.

Extras


"Of Rats and Men: A Conversation with Massimo Vanni & Ottaviano Dell'acqua" featurette (25:08)

Plenty of topics covered here including working with Bruno Mattei, playing soccer together on set, working on stunts, Castellari being Vanni's cousin and working with him. Fragasso and Drudi are discussed extensively and described as obsessive film makers, the copying American films as the backbone of the industry, hiring local fillipino crews, acrobats. The discusion on shooting two films one by day and one by night was interesting as was the animal wrangling on set and the dying of the white rats. A good piece.

"The Pied Piper: An Interview with Luigi Ceccarelli" featurette (18:36)

We get a career ranging discussion with the composer of the films great score; specific detail of Rats: Night of Terror is given pride of place, obviously.

Theatrical Trailer (2:08)

Cheesy trailer, as expected.

4-page liner notes leaflet "Demonic Dame" by Calum Waddell (an interview with Garetta Garetta)

Colourful and entertaining interview with the chatty actress and film maker.

Card sleeve

Reproduces the sleeve exactly. Not really sure why these are so desirable, but hey ho to each their own.

Fold-out poster

Single-sided poster reproduces the key art.

Double sided sleeve with choice of English or Italian titles and artwork

Again, a choice of artworks.

Overall


A topnotch release from 88 Films that can stand on it's own, but I would've liked to have had the excellent documentary "Bonded by Blood" ported over from the US double bill Blu-ray (with hell of the Living Dead AKA Zombie Creeping Flesh). A lovely package none the less with decent extras and ancillary bits and bobs to make it collectable.

Not to be missed by UK fans and completists who love Italian genre cinema; a real party movie and an essential purchase.
| | | | | |
| --- | --- | --- | --- | --- |
| The Film: C+ | Video: A | Audio: A | Extras: B+ | Overall: A- |