You Never Know Women [Blu-ray]
Blu-ray A - America - Kino Lorber
Review written by and copyright: Eric Cotenas (4th November 2018).
The Film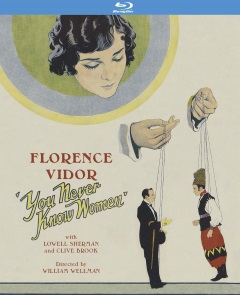 On the way to a performance as the female lead in a Russian circus revue, Vera (The Other Half's Florence Vidor) is nearly killed by a falling girder at a construction site. She passes out and wakes up in the arms of wealthy Eugene Foster (Bachelor Apartment's Lowell Sherman) who has taken credit for saving her from the construction worker who actually pulled her out of the path of danger. She arrives at the theater ready to perform but glowing with an account of her peril and her romantic rescuer which makes magician Norodin (Slightly Scarlet's Clive Brook) jealous. Norodin's dislike of Foster is exacerbated when the man, in the front row of the audience, insults his knife-throwing act, although the magician is able to wow even him with his death-defying act of being trapped underwater for three minutes. To get close to Vera, Foster positions himself to the manager (Shanghaied Love's Sidney Bracey) as a potential benefactor for the revue, who in turn encourages both Norodin and Vera to be nice to the wealthy man. Foster's motives prove even more questionable when he requests that they give a performance at his home for a party and his attempt to procure performer Olga (Irma Kornelia) for one of his guests causes the Strong Man (Beasts of Paradise's Joe Bonomo) to lose his concentration resulting in tumble for Vera who once again comes to in Foster's arms despite another having initially administered care. Foster continues to indirectly court Vera, and Norodin is jealous until he overhears her admitting to Foster that she loves Norodin, but only as a brother, and yet she feels obligated to him; whereupon, Norodin decides that his next death-defying feat will not end like the others.

Based on an unpublished short story by playwright and novelist Ernest Vajda (Loves of an Actress), You Never Know Women is a rather sub-Varieté melodrama that merely hits the plot points for much of its duration, with Brook and Vidor – then-wife of director King Vidor (Solomon and Sheba) who she would divorce the year of the film's release and marry violinist Jascha Heifetz (Carnegie Hall) two years later – respectively pulling pensive and agonized faces in a manner not so far removed from Sherman's affected smugness. As straightforward as the plot is, the emotions become muddled, with clown Toberchik (Blonde Trouble's El Brendel) witnessing all and explaining everything to oblivious Vera before the climax. Having already served as assistant director on a handful of films and helmed ten films previous, director William A. Wellman (A Star is Born) is assured technically, utilizing flashbacks and dissolves to close-up for emotional emphasis, but demonstrates some masterful technique in the staging of the climax which is right out of an expressionist horror film as Foster shows his true colors. While the poster artwork depicts Vidor's heroine as a puppet master manipulating two men on strings, the title refers to the oblivious of women to see what is right in front of them (which is a little less misogynistic).

Video


One of the many Paramount silent previously thought lost until 2001, You Never Know Women comes to Blu-ray in a 4K scan of a 35mm Nitrate Tinted Print and a 35mm Dupe Safety Negative, and 1080p24 MPEG-4 AVC 1.33:1 pillarboxed fullscreen transfer looks virtually spotless and almost modern in the crispness and sense of depth while the tinting is less heavy-handed and quite sparingly utilized. Details in the white dress shirts of the high society characters may wash out a little compared everything off-white to dark gray, but that may be due to the generational loss of the print and the dupe negative; however, this is one of the best looking of Kino's Paramount silent thus far.

Audio


No complaints about the DTS-HD Master Audio 2.0 stereo score since Donald Sosin's is new and not subject to the age and archiving of the film elements.

Extras


The sole disc extra is an audio commentary by director's son by William Wellman Jr. who posits the film as most important in the career of his father since it served as a sort of audition piece to producer B.P. Schulberg (The Last Command) to get studio approval to entrust Wellman with the direction of future Academy Award-winner Wings (Wellman having previously directed westerns apart from the comedy Whe Husbands Flirt). As with his commentary on his father's Beggars of Life, Wellman Jr. provides plenty of background not only on the actors and crew but on the behind the scenes studio happenings. Filmmaker, writer, and archivist Gina Telaroli provides an appreciation of the film with some more biographical information on Wellman in an enclosed booklet.

Overall


While the historical importance of You Never Know Women may lie in paving the way for director William A. Wellman to helm Wings, it remains the showcase for his craftsmanship for a director largely overshadowed by his works.

---
DVD Compare is a participant in the Amazon Services LLC Associates Program and the Amazon Europe S.a.r.l. Associates Programme, an affiliate advertising program designed to provide a means for sites to earn advertising fees by advertising and linking to amazon.co.uk, amazon.com, amazon.ca, amazon.fr, and amazon.de.