This is Us: Season 2
R1 - America - Twentieth Century Fox Home Entertainment
Review written by and copyright: Eric Cotenas (4th November 2018).
The Show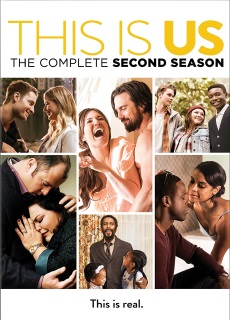 The second season of NBC's attempt to replace Must See TV's schmaltz allocation recently vacated by Parenthood (2010-2015), This is Us – created by Dan Fogelman (Galavant) – starts off on the shared thirty-seventh birthday of twins Kate (American Horror Story: Freak Show's Chrissy Metz) and Kevin (Smallville's Justin Hartley), and their adopted sibling executive family man Randall (American Crime Story's Sterling K. Brown) who was born on the same day that their parents Pearson (Heroes' Milo Ventimiglia) and his wife Rebecca (License to Wed's Mandy Moore) lost the one of their triplets in birth. Having spent years as her TV star brother's personal assistant, Kate is trying to launch her own singing career with the encouragement of boyfriend Toby Toby (Guardians of the Galaxy's Chris Sullivan) but her body issues are still at the fore as she anticipates going up against younger and thinner women. Kevin had moved to New York to pursue a stage career after a meltdown on the set of his TV show "The Manny" barred him from pursuing other TV work while under contract. He reconnected with old girlfriend Sophie (American Horror Story's Alexandra Breckenridge), but things are left up in the air when he is called back to Hollywood by Opie… I mean Ron Howard (Eat My Dust) to do a movie (Hartley proposing against a Paris backdrop to a tennis ball that is to serve as the guide for the eyeline of the reverse shot seems more like a lateral career move), and Randall wants to honor his dying birth father William Hill (Half Nelson's Ron Cephas Jones) and late adoptive father Jack by adopting a child. Despite her misgivings about Randall's motives, wife Beth (Blackout's Susan Kelechi Watson) suggests instead fostering an older child that no one wants, and they end up with troubled Déjà (Canal Street's Lyric Ross) while their own daughters Tess (Eris Baker) and Annie (Faithe Herman) worry that the changes in their father's life may have no room to include them. Despite a motion picture role, Kevin still feels like a failure and is overcompensating in his relationship with Kate, and their twin bond is starting to edge Toby out. Flashbacks to the past reveal the rocky relationship between Jack and Rebecca in light of his revelation to her that his drinking is an actual problem and not a bad habit. During their separation, Rebecca feels doubts about her abilities as a mother in light of the way not only her children look up to Jack but also her own perception of his ability to foresee outcomes and always make things right like the way he got her through her cancer scare. Viewers of the first season and even those who unfamiliar with the show until season two are well aware that Rebecca's ability to cope as a mother is about to be tested since the show revealed that Jack had died sometime in the past and that this is the season in which we learn how it actually happened. While the blatant manipulation of the show can be off-putting to more jaded viewers, there is a place for it in NBC's weekly line-up and despite Jack's death, the non-linear nature of the flashbacks means he's not gone for long, and it appears that season three – going up against the same network's own dreary A Million Little Things which is a variation on the best-friend-commits-suicide-make-it-all-about-your-own-personal-growth in which someone actually says "everything happens for a reason" in the promos – will include flashbacks involving Jack in Vietnam where he lost his brother (the tight relationship of which motivated him to push Kevin and Randall to have each other's back). Dr. Katowski (Simon & Simon's Gerald McRaney), the avuncular obstetrician who advised Jack during the first season, and Jack's best friend and the children's later stepdad Miguel (Castle's Jon Huertas) make return appearances.

Video


The show's eighteen episodes are spread over five dual-layer DVDs, and the progressive, anamorphic 1.78:1 widescreen encodes are free of any obvious digital defects. Despite the use of backlit interiors, contrasting neutral and warm color bias for present and past, and Los Angeles' neon nights, the original photography was always optimized for digital and streaming playback but it adapts well to upscaling from standard-definition DVD.

Audio


No complaints about the original Dolby Digital 5.1 mix which makes conservative use of the rear channels for atmosphere and occasionally the more treacly passages of the underscore. Optional English SDH, French, and Spanish subtitles are available.

Extras


As with the first season set, extras consist solely of the self-congratulatory Aftershow discussions featuring creator Fogelman and the cast for each episode which first appeared online and are present on each disc with their respective episodes.

Overall


NBC's attempt to replace Must See TV's schmaltz allocation recently vacated by Parenthood (2010-2015) proved a crowd pleaser and award-winner in its first season, and has continued along the same lines for its second season.

---
DVD Compare is a participant in the Amazon Services LLC Associates Program and the Amazon Europe S.a.r.l. Associates Programme, an affiliate advertising program designed to provide a means for sites to earn advertising fees by advertising and linking to amazon.co.uk, amazon.com, amazon.ca, amazon.fr, and amazon.de.