The Film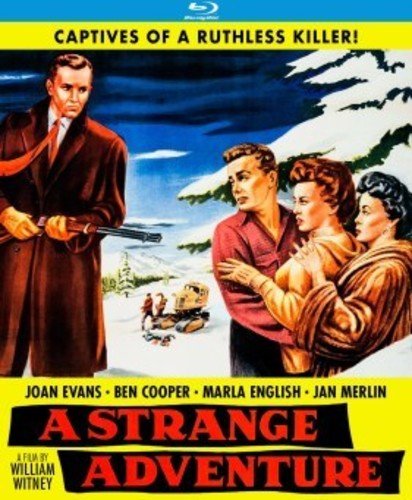 I had hopes that this would turn out to be an excellent crime thriller or film noir, but it is neither of these. This is strictly a B movie outing and expectations should be lowered accordingly. Director William Witney was a veteran film director, churning out countless Westerns and serials for Republic Pictures; he cut his teeth on plenty of oaters, being promoted to director at age 21, and helped revolutionize film making by filming fight scenes in segments rather than sequentially, thus keeping the stunt men and actors fresh instead of worn out and exhausted. The screenplay was from Houston Branch, Republicís in house scribe, who scripted over fifty screenplays for various studios; he favored westerns and action yarns. The title is an apparent misnomer because nothing strange really happens, but is a prime example of Ballyhoo in practice. Nevertheless this is an enjoyable short film that really could have used the acting chops of a strong leading man, say Dan Duryea for example, which would have helped the film considerably.

The plot consists of Hal (Ben Cooper) a teenager that has a passion for hot dames and hotter cars working at the motel owned by his mother Mildred (Emlen Davies); he is attracted to the woman staying in Room 17, Lynn Novak (Marla English), who claims to be a nightclub singer. Lynn is an outright flirt and seems skilled in using her feminine charms to exploit whatever sap that she sets her sights on. It is clear that Hal is clearly being used, but he fails to read the signs exhibited by this femme fatale. Two men arrive in a fancy car and claim to be the backup musicians for Lynnís group, but in reality they are part of a gang of armed robbers that are planning an armor car heist and Lynn is in on the deal. The two men, led by psychopath in the making Al Kutner (Jan Merlin) and his backup muscle Phil Davis (Nick Adams), have travelled from Omaha but their leader Woodie Wilson, who does not appear in the film but is mentioned repeatedly, has been arrested. That leaves Al in charge and he claims possession of Lynn as a bonus; plus it is one less person to split the loot with! Nick Adams, doesnít have much to do here, but act helpless because of a stuffed nose. There are plenty of double crosses ahead to keep the plot moving along: Hal sends the men a phony telegram that supposedly is from Woodie thus causing the men to flee the motel, Lynn plays Carl Johnson (Paul Smith) for a sap as well because he is the armor car driver and is easy pickings; it seems that no man is safe from Lynnís charms as she is a seductress supreme!

The armored car robbery comes off as planned and while Hal has been distracted in attending a picnic with bad girl Lynn in the mountains, the robbers show up with the plan being to kidnap Hal and use his souped up hot rod as the getaway car from the heist. Poor Carl is killed in cold blood and the foursome drive into the Sierras looking for a hideout spot to split the loot. Underlining Alís ruthless bloodlust is a scene where a highway patrolman is run down with Phil behind the wheel; the police officer escapes unharmed but he was lucky. The film then becomes a hostage scenario as the gang flees into the mountains with a huge storm following them. They stumble onto the home of an electric company weather checker Luther Dolgin (Peter Miller) and his teenage sister, Terry (Joan Evans). Trapped in snow country until Spring seems to be fine with Al as he and Phil beat Luther within an inch of his life after Luther sets his transmitter on fire so that the Electric company will dispatch someone in a snow cat (shades of "The Shining" (1980)) to see why Luther hasnít been making his bi-weekly reports on the snowfall. Harold jumps into the fray and saves the duo from being killed by pistol happy Al. After commanding that the radio be repaired, Al slinks off to conceal the money in the woods. Then in an outlandish plot move, Harold converts a radio into an intercom like device and this allows Terry to pretend to be a dispatcher from the company and she speaks in a Southern drawl to Luther, fooling the bad guys for the time being. Al is too sharp for the act and he recognizes Terryís voice and eventually he uses the device to listen in on a conversation that the hostages are having in the shed. Unwittingly, they reveal that a snow cat is being sent up the mountain to investigate what the problem is. Al plans on killing everyone except Lynn but he hasnít planned on being double-crossed by Phil who has been stealing cash from Alís stash and hidden it in the woods. Lynn has tired of Alís heavy handed treatment and so she slips Hal a pistol; a fight breaks out and Terry escapes the cabin in order to warn McIntyre (Al Wyatt) the man driving the snow cat that Al is armed and dangerous. Al comes outside with guns a blazing taking a shot at Terry but McIntyre shoots Al and kills him. Phil exits from the woods and feebly surrenders himself, thus ending the cabin saga. Lynn, Harold and Phil are all arrested with Harold being included in the gangís charges. Phil soon turns state evidence thus saving his skin, and Lynn turns on the charm once more, trying to get Harold to tell her where the cash is hidden. But Harold has seen Lynnís true colors and recognizes her for the temptress that she is, plus he is now in love with Terry and this time itís the real thing. In court it will be a battle of the sexes and who will the court believe: slinky Lynn and her man-eating ways or the fresh faced innocent Terry? Thankfully we are not forced to endure any trial footage and we simply conclude the film with a scene of the happy couple driving away in a car to get married. Haroldís good name is restored and he tales Terry for his bride. The final credits roll.

Video


Presented in widescreen 1.85:1 HD 1080p 24/fps mastered using AVC MPEG-4 compression. This is a brand new HD master taken from a 4k scan of the 35mm original negative provided by the Paramount Pictures archive. The picture looks great without showing any wear or tear considering the age of the film.

Audio


Audio is transferred in English DTS-HD Master Audio 2.0 mono. There's not much to talk about here but dialogue is clear and understandable. The soundtrack seems to grow louder as if to rouse sleeping audience at times. There are no optional subtitles.

Extras


The disc features an audio commentary by Film Historians Toby Roan and Jay Dee Whitney; Roan digs deep to include all types of facts about the making of this B film. Jay Dee Whitney is the directorís son but he doesnít really remember much about the film.

There are also a collection of bonus trailers for:

- "The Woman in the Window" (1:44)
- "A Bullet for Joey" (2:06)
- "Daisy Kenyon" (2:44)
- "99 River Street" (2:19)
- "Cry of the City" (2:32)

Packaging


Packaged in a standard Blu-ray keep case.

Overall


"A Strange Adventure" is a brisk low budget charmer with a slight JD tint due to the hot rod influences.
| | | | | |
| --- | --- | --- | --- | --- |
| The Film: A | Video: A | Audio: A | Extras: C+ | Overall: B- |