The Film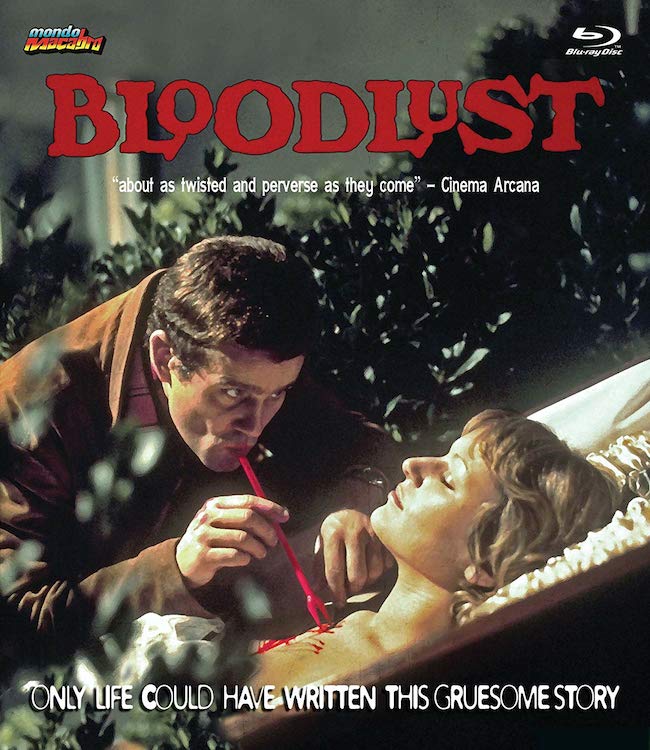 The film starts with a preface; a warning that the following story is based on a true story and that the events shown could happen again. An old proverb appears on the screen: "As the twig is bent-So grows the tree!" Within the preface is a warning that all adult behavior is the result of childhood influences and experiences and that this film is shocking evidence that the aforementioned axiom is absolutely true. There's nothing like the ballyhoo of the past to set the scene for this film. Merriam Webster's dictionary defines "Bloodlust" as the following: "the desire to kill or to see people killed." However there is a psychological condition that is applicable to this condition: paraphilia's are defined as "abnormal sexual behaviors or impulses characterized by intense sexual fantasies and urges that keep coming back. The urges and behaviors may involve unusual objects, activities, or situations that are not usually considered sexually arousing by others." (see the sexual conditions guide here). If that doesn't define the main characters condition, then I will eat my hat. Based upon the criminal acts of Kuno Hofman, he was better known as "The Vampire of Nuremberg." In April of 1971, authorities were shocked by a series of brutal desecrations where the bodies of the deceased were sexually attacked and bitten; there also were signs of bloodletting on the freshly dead. Hofman later turned to murder because he was seeking fresher victims and in turn he killed three people. He was captured in 1972 after being caught kissing a corpse and Hofman was imprisoned for life.

Years ago I was lucky enough to find this film on videocassette and even though it has been a while, the film made a lasting impression on me. Certain films have the ability to give the viewer a feeling of being more than simply entertained. The films of David Lynch often more resemble a feverish dream state than simply a movie. Certainly the films of filmmaker Alejandro Jodorowsky are like that as well. We can add this film, "Bloodlust", directed by Marijan Yajda, to that list as well.

The main character, who is unnamed (Werner Pochatch) is a deaf/mute that works as an accountant in an office. After suffering from an abusive childhood at the hands of his sadistic drunken father, the man unfortunately is unequipped to deal with the reality of the everyday world. At work he is openly teased by his fellow coworkers, who criticize him because of his inability to communicate. Living in a small town, he is apparently friendless and alienated. He lives in a cramped apartment where the walls are painted black and are adorned with various religious iconography including crucifixes, obituary notices and a large framed picture of his mother. In the apartment are a caged hamster and a large collection of dolls. The man apparently has a crush on his landlady's daughter, (Birgit Zamulo), a spaced out young woman that is prone to daydreaming and dancing, but since he cannot express his attraction to her, he silently suffers. One day he is witness to her father beating his son and the man suffers from a flashback to when his father molested his younger sister. The father regularly beats on the man and during one such opportunity, he tramps on a doll, shattering it violently. It is due to these beatings that the man loses his voice and hearing. Many of the man's experiences are traumatic and are shown in flashback sequences. He spills red ink on his papers in school and experiences a catatonic spell. The doll being destroyed becomes a symbol for female sexuality and he is imprinted, preferring voyeurism to actual love making. The man regularly pays for the services of a prostitute, but instead of having sex with her, he embraces her and gazes off into space. After a while the man steals some tools from his landlord's tool shop and armed with these he begins to systematically enter various crypts and funeral sites where the dead are on display prior to burial. He is drawn to the bodies of dead females and he mutilates them with a straight razor. One victim has her eyes removed and stolen. Fortunately the special effects in these scenes are poorly done, but the overall effect is certainly one of horror. The entire film has a dreary look about it with the majority of scenes indoors. There are scenes of the man riding about town on his motorized scooter with a frantic look on his face as he is overcome with the desires to act out his obsessions on the dead. Unfortunately the film is terribly dubbed and the subtitles often do not match the dialogue only adding to the bizarreness of the final product. As the man's bloodlust increases, he becomes bolder and finally kills a guard that discovers him in a crypt. His office mates discuss the drastic events that are covered in the paper, but the accountant is unaware of their conversations, as he sits at his desk, drawing with red ink. Frequently he also writes the word mosquito on the walls of a desecrated funeral site with a marker, a sort of macabre calling card. Eventually his needs increase until he purchases a glass pipette that he uses to drink the blood from the corpse. There are long drawn out shots of the man with blood dripping from his mouth and covering his hands and face. One day the daughter is on top of the house dancing around carelessly and her mother enters the man's room to seek help. The young girl plunges to her death and this is the last step in a strange pattern that will culminate with the man violating her fresh grave and stealing her corpse. Overcome with emotion, he cannot bring himself to harm the body and instead he abandons her on a nearby bench. The film continues on as the man's becomes more and more violent in his actions until the final scene where the authorities arrest the man while he is sitting at his desk. This ending while conclusive is not exactly satisfying and only causes the viewer to ponder why exactly he watched this exercise in morbidity.

Werner Pochatch is an excellent actor and somehow he manages to be both sympathetic and repellent simultaneously. Pochatch shows us plenty of his emotions merely with the use of his facial expressions and body language. The soundtrack of the films is another reminder that we are dealing with a greatly disturbed individual; alternating between what sounds like a musical saw and someone playing an organ while having an epileptic fit, this alone will make your hair stand on end. The cinematography is very good, with the man being framed often alone, thus underscoring his appearance as an isolated individual outside of society and its rules. This is a true discovery for die hard horror fans and for lovers of cult films and is a must see. Collectors will definitely want to seek this item out to impress their friends with.

Video


Mondo Macabro's print is from a brand new 2k transfer from film negative so the picture quality is first class. Presented in 1.78:1 HD 1080p 24/fps mastered using AVC MPEG-4 compression. The small European town used for the filming looks extremely authentic and very much of the 1970's. Claustrophobic sets and small enclosed rooms lead themselves to the suffocating feel of death which helps give this film a realistic look and feel.

Audio


Two audio tracks are included in English Dolby Digital 2.0 mono and German Dolby Digital 2.0 mono. The mono soundtrack is unnerving and grating at times but the musical saw that keens in the background is the appropriate for the scope of the film; guaranteed to make the viewer uncomfortable at times. There are optional subtitles available in English only.

Extras


The disc features and exclusive interview (11:00) with the assistant director who is the son of the director. He talks about his father and how he feels regarding this film.

Exclusive interview with actress Birgit Zamulo (20:11), she speaks openly about her career and the filming of this picture.

Original UK theatrical trailer (2:49) is also included.

There are also some Mondo Macabro promo reel featuring a bevy of breasts, beasts and a midget assassin. (13:28).

Packaging


Packaged in a standard Blu-ray keep case.

Overall


"Bloodlust" is an unusual story loosely based on a real life criminal, Yajda's film is steeped in a wash of human depravity. Twisted and delightfully perverse, this is a forgotten horror presented in a dynamic new way.
| | | | | |
| --- | --- | --- | --- | --- |
| The Film: A | Video: A | Audio: A | Extras: A | Overall: A |