The Film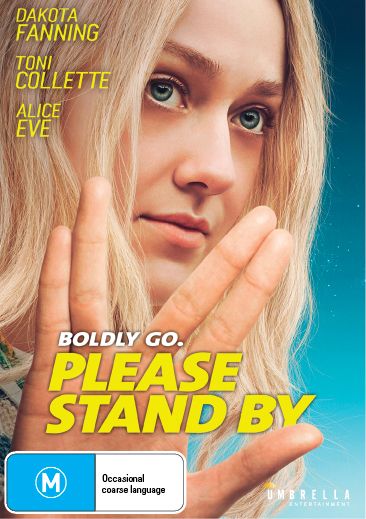 "Please Stand By" (2017)

21 year old Wendy (played by Dakota Fanning) is the biggest "Star Trek" fan there could be. She continues to watch reruns, knows every little detail about every episode and every character from every series down to the most obscure detail. Paramount Pictures is having a Star Trek script contest in which a $100,000 prize would go to the chosen script. Wendy diligently works on typing the incredibly detailed 500 page script, and is nearly ready to be mailed in, but there are issues in Wendy's life that are making it difficult to complete. First, she is Autisic and lives in a care home run by Scottie (played by Toni Collette). Wendy is free to go out, has a pet dog named Pete and even has a job at the local Cinnabon where she works part time, but she also must live by set rules such as where she can go and can't go, and daily routines that she must abide by, all for her safety and helping with her cope with basic "normality".

While she does have some basic freedom, her ultimate goal is to leave the care house and return to live with her sister Audrey (played by Alice Eve). But Audrey does not see that as an option. She is married and has a young baby to take care of, and being in the process of moving, taking care of an Autistic sister is not something that is part of her future. Wendy is willing to prove herself by writing the script and sending it in to win the prize, and with the money she would be able to leave the care house and live with her sister. But when the post office mark deadline is missed, Wendy must do something that is not part of her daily routine, and that is to take a road trip to Hollywood by herself and hand deliver the script, becoming the first time she would take a trip alone.

Autistic characters in film have always caused criticism and also fascination. From the incredible memory of seen in "Rain Man", the isolation and sadness in "Mary and Max", the levels of Autism in people can vary extremely from person to person. When one sees an Autistic character on screen it is easy to pigeonhole the character, but symptoms, behavior, and intensity will never be the same as an Autistic person the viewer may know or have seen in media prior. Wendy's character in "Please Stand By" is not the most extreme form at all but one with a person that is learning to deal with the issue step by step, yet still having basic issues such as communication with others and unable to control frustrations. Dakota Fanning's performance is both quirky and uncomfortable, but she is able to give true character to Wendy and her issues dealing with her difficulties. While the film is a fine indie drama, it never truly shines with all of the supporting characters. The character of the sister Audrey and her home life is given enough backstory but her screentime and presence is felt far too little. Scottie dealing with her son and their relationship is only glimpsed at but never told to its fullest. Patton Oswald makes a memorable appearance as a Klingon speaking police officer, and Maria Gibbs as the sweet elderly woman who truly wants to help Wendy give memorable moments but like many road trip films, their characters come and go far too quickly. Thankfully Fanning makes the film work with her performance and it's a fun little road trip filled with silly happenings and scary moments throughout.

It has been said that many suffering from Autism have gravitated to "Star Trek", both the original series and "The Next Generation", as the characters of Mr. Spock and Data click with people with Autism, Asbergers, and other types of similar conditions. Mr. Spock is half human half Vulcan who faces the issue of not understanding human emotions very well. Data is an android that has no programmed emotions, but is eager to learn about human behavior. It's clear why Wendy connects to "Star Trek" and her fascination continues to grow along with it. It's strange to see that people like her caretaker Scottie or her sister Audrey see anything about trying to connect with her through "Star Trek" for all the time gone by. But then again is it possible she only fairly recently became infatuated with the show through the reruns on TV?

"Please Stand By" first debuted at film festivals such as in Austin, Texas and in Rome and then receiving a simultaneous theatrical and on-demand release by Magnolia Pictures in the United States on January 26, 2018. Theatrical and direct-to-video releases continued worldwide throughout 2018 and received a DVD release in Australia by Umbrella Entertainment in October 2018.

Note this is a region 0 NTSC DVD.

Video


Umbrella Entertainment presents the film in the 2.35:1 aspect ratio in the NTSC format. Being a recent film shot in HD the transfer is as great as expected. Colors are bright and sharp, detail is clear, and it is properly framed in the theatrical aspect ratio. There are no issues of damage or errors to be found in the transfer. Considering it is in standard definition, it is a fine looking presentation.

The film's runtime is 92:40.


Audio


English Dolby Digital 5.1
The original 5.1 track is presented in standard Dolby Digital. Dialogue is centered while music and effects are placed in the surrounds for the most part. It is not an audio track that is heavy on surrounds, though it is well balanced with the dialogue, music, and effects altogether. Voices are clear and easy to understand and there are no issues with fidelity or errors in the track.

There are no subtitles offered, though the minor portions in Klingon have burned-in English subtitles.

Extras


Unfortunately there are no extras offered on the disc. Not even the trailer. The currently available US Blu-ray and DVD from Magnolia has a featurette and deleted scenes but these have not been ported over to Australia. The trailer courtesy of Umbrella Entertainment is embedded below.



Packaging


The case mentions the disc to be region but it is in fact region 0.

Overall


"Please Stand By" is a good quality road trip drama with a great performance by Dakota Fanning, though it fails to grab the high marks with the fairly simple tale and the supporting characters not having enough as part of the plot. The Umbrella Entertainment DVD has good quality video and audio though the lack of extras makes it a little disappointing,
| | | | | |
| --- | --- | --- | --- | --- |
| The Film: B- | Video: A | Audio: A | Extras: F- | Overall: C |