The Film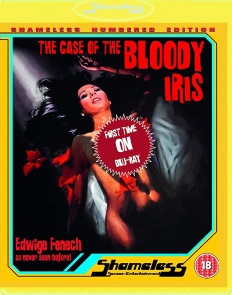 Topless wrestling? Check. Brutal murders? Check. A trippy sex cult? Check. Edwige Fenech in various states of undress? Triple check! Debonair George Hilton? Of course! Shameless proudly presents giallo s own royalty, the iconic Fenech-Hilton dream-team in their third sensuous outing on Shameless: THE CASE OF THE BLOODY IRIS.
Now for the first time ever on Blu-ray in this 2K restored special edition.

After two beautiful women are murdered in an apartment block, Jennifer (Edwige Fenech) and Marilyn (Paola Quattrini) move into the flat of one of the slaughtered girls. But before long, the unknown predatory pervert turns his salacious attentions to the gorgeous Jennifer. The list of suspects includes a woman and her deformed son, a crazy lesbian and even Jennifer s own lover.

Serenaded with Bruno Nicolai's enrapturing score and featuring lush cinematography from Stelvio Massi, this long-sought-after 70s sleaze gem, directed by Giuliano Carnimeo (of jaw-dropping RATMAN fame), is now available for your delectation. Shameless invites you to solve THE CASE OF THE BLOODY IRIS!

Video


Another rock solid giallo (=sexy, violent horror-thriller), this time starring the "Queen of the Giallo", Edwige Fenech ... and her most frequent male companion in these films, George Hilton.

It's very much a product of it's time with plenty of bad fashions amongst the plot twists and a fair amount of wit involving the coppers on the case; stamp collecting obsessed Commissioner Enci (Giampiero Albertini) and his long suffering assistant Redi (Franco Agostini).

Gorgeously shot on Italian locations and very much set amongst the middle class in posh surroundings with a hummable score by Bruno Nicolai. Slick entertainment.

I always put the next few paragraphs into a review of a film from a Techniscope source, so the more technically knowledgeable can skip this section, but those who need bringing up to speed on Techniscope please read ....

TECHNICAL BIT

Before I discuss the image quality of this disc I need to mention the widescreen filming process called Techniscope. This was a cheaper alternative to genuine anamorphic Scope formats like Panavision. It was created by Technicolor Italia in the early 1960s to aid low budget productions.

Normal 35mm filming (both flat and widescreen anamorphic processes) used a frame of film that had 4 perforations (or sprocket holes) to the left and right of each single film frame. The anamorphic lens attached to the camera during filming would open up the image and squeeze a wider 2.35:1 image aspect ratio onto the frame (the normal dimensions of which would be 1.37:1 = Academy ratio or 4:3). During projection in cinemas a lens would be attached to the projector which would unsqueeze the image, giving the viewer the 2.35:1 widescreen experience on the big screen. Due to the special lens this was obviously a more expensive filming process but due to using the full frame of film (with 4 perforations), it offered a high quality image.

Techniscope was the cheaper alternative and cut each frame in half so only 2 perforations (=2perf) were used and the native image in the frame would be 2.35:1 without any specialised lens needed. This meant you got a clean, undistorted 2.35:1 image (4perf anamorphic lens curved the image on the extreme left and right of the frame). The downside is that the inherent definition of each frame was halved and thus looked grainer and rougher and softer.

And, this is where we come to The Case of the Bloody Iris being shot in this budget format. Incidentally, the process was used in the US on the likes of George Lucasí American Graffiti (1973).

END OF TECHNICAL BIT

Colours are vibrant emphasising a warm, rich colour palette with plenty of strong reds. The film is well shot and and is typical of the genre and style of the time. Those who know their giallos will know what I mean; lush locations and interiors beautifully, glossily lit. High fashion, expensive suits, big apartments, flash cars, plenty of sex & nudity. Skin tones are natural but rich, fabrics have some detail but there are some issues (see below).

Black levels are generally pleasing with crush only really occurring in lowlight conditions but nothing that should worry the punters. Once again, this is most likely down to the nature of the production and rather than the master itself.

Contrast is mostly good with no blown out highlights in whites unlike the old DVDs which suffered in this way. Consequently, detail is at itís most pleasing in closeups but the image is generally very soft partially due to the 2perf process but also due to some noise reduction baked into the Italian master used. Donít expect crystal clear images, nor top drawer Techniscope restoration ala Arrow's Zombie Flesh Eaters (1979).

Grain is present, but encoding is not top drawer; I did notice some issues like clumping and the odd hole in the grain. However, this is unlikely to bother regular purchasers; only the technically adept and sensitive will really notice and those with bigger screens. It's an adequate older transfer of a Techniscope source so this is to be expected.

1080/24p / MPEG-4 AVC / 2.35:1 / 94:43

Audio


English LPCM 2.0 Mono
Italian LPCM 2.0 Mono
Subtitles: English

Solid mono tracks both, although the English track has greater depth. The Italian track has had some filtering work done, but is still the preferable option as it seems to match the lip movements best. These are very narrow tracks typical of the period so don't expect robust activity. There's the odd moment of very mild distortion but it's nothing to worry about. Subtitles are provided for use with the Italian track.

Extras


"Flowers of Blood" interview with actor George Hilton (20:43)
Solid, career spanning interview with the great man of giallo cinema. The film is covered nicely as well. Hilton is a very distinguished looking silver fox!

"Marilyn" interview with actress Paola Quattrini (11:51)
Chatty actress interview deals mainly with the film at hand but mention is made of other work. Quattrini comes over as a very likeable, twinkly character.

Start-up Trailers:
- "All the Colours of the Dark" (1:08)
- "Strip Nude for Your Killer" (1:30)

Fun trailers play in load-up with All the Colours of the Dark out n BD. Hopefully Shameless will get around to upgrading Strip Nude for Your Killer to BD at some point.

Overall


A solid if unremarkable disc of a fondly remembered Fenech-Hilton giallo set amongst the wealthy with great settings and a top notch Bruno Nicolai score. Sound is solid, picture is acceptable bun I'm surprised to see this is from a new 2K master. It's a definite improvement on the DVDs but could this be improved upon. A 4K restoration by the team at Arrow would work wonders with the Techniscope source. Extras are brief but on point. An Alan Jones-Kim Newman-Mikal J. koven commentary would've been perfect here.
| | | | | |
| --- | --- | --- | --- | --- |
| The Film: B- | Video: C+ | Audio: A | Extras: C+ | Overall: B |