The Gravy Train Goes East
R2 - United Kingdom - Simply Media
Review written by and copyright: Rick Curzon (14th November 2018).
The Show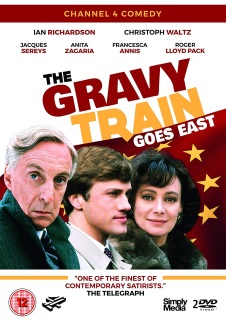 A second slice of Malcolm Bradbury's satirical look at EU politics starring Ian Richardson and Christoph Waltz.

As romantic novelist Katya Princip (Francesca Annis) is appointed as president of the newly independent and post-communist Eastern European enclave of Slaka, she promises to push for entry into the EU to take advantage of the benefits of its free market economy.' But can an economy based on tin and beetroot (and tinned beetroot), ever be fit to join the gravy train?
We again follow the hapless Hans Joachim Dorfmann (Christoph Waltz), champion of 'glasnost with plums' within the European Union, who is quickly swept back to Brussels where he will have to face familiar' friends and enemies, as well as fresh faces.'

As Dorfmann visits Slaka with the secretive Galina Vitali (Ccile Paoli), who tells him about a missing Slakan fortune, it's apparent that the entire nation is completely corrupt. And with indecisive business agent Ferenc Plitpov also deeply involved (Roger Lloyd Pack), Dorfmann and his superiors may have bitten off more than they can chew.'

What the Press Said:
One of the finest of contemporary satirists. The Telegraph

Video


These three productions typify UK television production around the late '80s early '90s. All three were shot on 16mm film in an aspect ratio of 1.33:1. Consequently the images are quite soft as they're obviously presented in standard definition for Simply Media's DVD releases.
All have florid, strong colours, warm palettes that generally favour a naturalistic tone. Zastrozzi is more moodily lit as befits the time in which the original book was written and feels more nourish. The two Gravy Train productions are more flatly lit as befits modern drama.

Blacks are deep and rich but do show signs of crush but this is down to the nature of 16mm shoot fast and quick TV production rather than any fault of the DVD transfer. I'm guessing, but these masters seem to be off the shelf with no restoration. Contrast is boosted ever so slightly, which is a standard practice with some DVD transfers to make up for the lack of detail and I also suspect a small amount of DNR has been applied; I could detect no signs of edge enhancement.

Despite all this, detail is generally pretty good for a standard definition DVD with close-ups fairing the best. At the beginning of Zastrozzi, there is some small white text that is hard to read unless you're very close to the screen; I was scrutinizing on a 58" 4K Hisense monitor calibrated using a Joe Kane setup disc.

It's very p[possible that a newer 2K transfer from the OCNs would yield better results. Overall, these are decent unrestored SD transfer.

All three series are sourced from PAL broadcast masters which were in turn taken from the original 16mm A&B roll negatives. All three are in the original TV aspect ratio of 1.33:1.

The Gravy Train Goes East (1991) 216:31

Audio


English Dolby Digital 2.0 Mono
Subtitles: None

All three mini series feature very satisfying 2.0 mono tracks that have a good balance between dialogue, music and sound effects. There's no distortions that I could detect beyond a mild low-level hiss but that's par for the course with a soundtrack of this kind for the era. Nicam stereo was tentatively being used during the 1988-92 period, but these programmes were obviously not beneficiaries of the format. In any case, these are fine as is; plenty of base, lots of depth in the scores and dialogue is always clear.

The lack of subtitles is a real shame for such dialogue-driven programmes as these.

Extras


None. Very disappointing as I'm sure there was plenty of promotional material that could've been sourced and commentaries from TV historians like Andrew Pixley or Dick Fiddy would've been welcome.

Overall


Decent, off the shelf unrestored masters of these well remembered but rarely revived television drama series. All have been shot on 16mm film for 1.33:1 exhibition and they look decent considering they're dated transfers. With TV rarities like these, it's somewhat pointless to carp. They obviously could be handled much better on DVD by creating brand new transfers, but being all on film they could be stunning in HD and 1080/50i (the original UK format).
| | | | | |
| --- | --- | --- | --- | --- |
| The Show: B | Video: B | Audio: B | Extras: F | Overall: B- |

---
DVD Compare is a participant in the Amazon Services LLC Associates Program and the Amazon Europe S.a.r.l. Associates Programme, an affiliate advertising program designed to provide a means for sites to earn advertising fees by advertising and linking to amazon.co.uk, amazon.com, amazon.ca, amazon.fr, and amazon.de.