The Film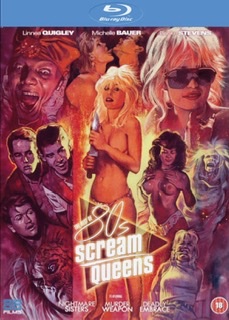 When people think of VHS-era SCREAM QUEENS three names come to mind: Linnea Quigley, Michelle Bauer and Brinke Stevens - the threesome of fear that sliced and seduced a generation of gorehounds and whose greatest hits can finally be seen in HD from the schlock-lovers at 88 Films!
In this charming and chilling collection, addicts of excessive violence, gratuitous nudity and breathtaking bloodshed can rock out to the likes of DEADLY EMBRACE (1989) which highlights AIRWOLF's main man Jan‑Michael Vincent as a hunky Beverly Hills husband with babes to spare. However, before long he is being stalked by a heartbroken high heeled pin-up and the result is both creepy and creatively nasty!

Also included in this behemoth of a boxed set is NIGHTMARE SISTERS (1988), in which our frisky Scrsam Queen threesome are in fine form once again. This time around, they mutate into monstrous but marvellously sexy male-hunting mutants in this low budget wonder that features ample flayed flesh and an equal enthusiasm towards sublime set-pieces of splatter movie madness!

Finally comes MURDER WEAPON (1989) - a hard to forget frightener that also offers a number of laugh-out-loud moments of pre-SCREAM comedy-laceration, not to mention some truly demented scenes of slice 'em up insanity that may well leave a few viewers with their jaws on the floor. In the style of NAIL Gun MASSACRE (1985) this scantly-funded and darkly comic marathon of macabre ideas is finally restored for its 88 Films debut!

Directed by the legendary Z-movie expert David DeCoteau and with each nostalgic pot-boiler packed with an enthusiastic fondness for breast-baring babes and skull-bashing set pieces - 88 Films is proud to introduce our finest compendium of carnage yet, a Scream Queen celebration that is dying to be experienced!!

Video


The first thing to say here is that the films have been taken from their OCNs (Original Camera Negatives) in transfers sourced from Vinegar Syndrome in the USA.

Nightmare Sisters (on disc one) is from 35mm and obviously looks all the better for it, despite being an ultra-cheap backyard effort (it was shot apparently in writer-director David DeCoteau's house). The inherent definition in the film stock used ensures that this party movie very much ha sa film look with plenty of fine grain in evidence. 88 Films have done a bang up job on the encoding so nothing to worry about there; no digital splats or holes and no clumping.

Colours are vibrant and very much reflect the late '80s. There isn't as much of that wonderful MTV / hazy look favoured around that time (see Slaughterhouse Rock shot the same year) but that is down to the bright, flat lighting favoured to shoot this fast and dirty over the course of approximately a week in less that optimal conditions. Black levels are deep and rich and contrast is subtly set to allow detail to shine through, although being shot fast means the look is soft. Detail is still in evidence across all three focal plains (foreground & close-ups, midground and background). I could detect no signs of digital manipulation or corresponding artefacts. Flesh tones are natural and healthy ... which is important from the 39 minute mark because the whole raison d'etre for the films is the scream queen and nerdy guy flesh on display.

Murder Weapon and Deadly Embrace on disc two are much the same only softer and grainier, which is befitting the fact they were shot in 16mm. Colours are bright and rich favouring a wonderful, warm palette with plenty of healthy reds, blues and greens.

Murder Weapon is a sex and gore slasher set on a few sets where a bunch of beefcake dudes get their asses handed to them by a psycho. It's a similar mix of the flat and moodily vivid as Nightmare Sisters. The fiery climax looks very good.

Deadly Embrace is a sun drenched neo-noir and DeCoteau has ensured that he pays homage to the films of the '40s at times with occasional long, deep shadows; well, at least as much as he can on a budget that would've bought Charleton Heston his lunch on Touch of Evil (1958).

My comments on the colour palette, flesh tones, black levels, detail and contrast on the first film apply to these two as well. These are top notch HD masters done by one of the best companies in the business: Vinegar Syndrome, who specialise in bringing low budget, independent features back onto the market.

Occasionally, framing dies seem cramped or off. These films were shot with home video and TV broadcast in mind so the cropping to widescreen can chop the top off of a head or two. For the most part

David DeCoteau is one the THE key veterans of the boom in such fare in the '80s and '90s and takes his rightful place on the alter with Charles Band, Roger Corman, Albert Pyun and Jim Wynorski (amonst many others no doubt).

1080/24p / MPEG-4 AVC / 1.85:1 (Nightmare Sisters, 35mm source), Murder Weapon & Deadly Embrace (1.78:1, 16mm sources)

Audio


Audio
English LPCM 1.0
Subtitles: English HoH

Basic mono tracks of the period; decent fidelity and no distortion. I was surprised these weren't Ultra-Stereo as most low budget efforts of the period. Music and dialogue are mostly clear and don't interfere with each other but on occasion dialogue does get lost in the odd scene and should've been boosted in the mix more successfully. Subtitles are welcome and sometimes essential.

Extras


Nothing which is a shame because all three have been released in the USA by Vinegar Syndrome, and all three had extras licensed directly from writer-director David DeCoteau:

Nightmare Sisters (1987)
Optional Director's Intro (2:06)
Audio Commentary by director David De Coteau and actress Linnea Quigley
Full-Length TV Edit (81:34)
Interview with writer/effects artist Kenneth Hall (11:58)
Bloopers (8:15)

Murder Weapon (1988)
Audio Commentary by director David De Coteau and actress Linnea Quigley
Director's Intro (2:26)
Video Trailer (1:24)

Deadly Embrace (1989)
Audio Commentary by director David De Coteau and actress Linnea Quigley
Director's Intro (1:55)
Outtakes (2:53)

I suspect that 88 Films realised what marginal titles these were and figured that the best value was to not pay for the extras and slap them into a 3-film set; to be honest they may well be right. True seekers can get the US discs (over two separate releases) and more casual fans who just want to party with these video era cult hits, then the UK 2-disc set is top value. I've rated the extras a 'D' rather than the usual 'F' for barebones purely because it offers value for money with the extra films.

Overall


88 Films have very wisely licenced the superb restorations of these three cult items from the 1987-89 period; they heyday the straight to video "masterpieces". All three are pleasingly framed in widescreen having only been previously available in 1.33:1 open matte form.

Picture and sound is as good as can be considering the sources which means there are some baked in flaws inherent like dialogue being overwhelmed by music and effects on a couple of occasions.

Sadly, the nice extras have not been ported over from the US Vinegar Syndrome, but the value off all three together makes up for this somewhat.
| | | | | |
| --- | --- | --- | --- | --- |
| The Film: D | Video: A+ | Audio: B- | Extras: D | Overall: B |