Lost Gully Road
R0 - Australia - Umbrella Entertainment
Review written by and copyright: James-Masaki Ryan (18th November 2018).
The Film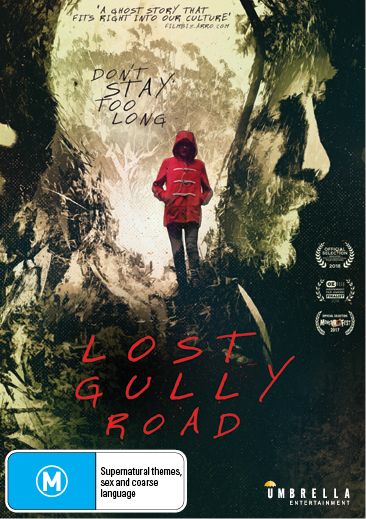 "Lost Gully Road" (2017)

Lucy (played by Adele Perovic) travels alone to a secluded house where she is planning to meet up with her sister Cassie (played by Eloise Mignon) sometime soon. Arrangements for them to stay have already been made with the owner of the house (played by Jane Clifton) by Cassie, but Lucy is not at all happy to spend time alone waiting. Located in the woods with no television, internet, or other form of communication, there is not much for her to keep herself entertained. Going to the local store for food and drinks only gives for awkward conversation with the older shopkeeper (played by John Brumpton) and waiting around while not going insane is the only thing she can do. Cassie sometimes calls on a specific phone and tells Lucy not to contact anyone else or use her standard phone as they could be tracked. But what exactly is Lucy and Cassie escaping from? And will they be able to escape it fully?

"Lost Gully Road" is a fairly interesting and unsettling film that deals with trauma, abuse, the supernatural, and isolated madness that feels timely yet a story that is not particularly specific to an exact time period. The character of Lucy is running from something and during her stay at the cottage alone there seems to be something that is there as an entity. But is it all in her head or is something following her that others cannot see? Her mental state during her time alone does start to deteriorate with conversations on her own to increased paranoia, and while things take their natural progression, the film also leaves more questions than answers by the end and that is one of the bigger flaws of the production. Things are revealed little by little but as the concrete answer to the cause of Lucy's isolation had potential to move in a few different directions. If it was the filmmaker's intention to make things open ended for audiences to speculate then she has done quite that.

Writer/director Donna McRae does give a voice to the women who can't. The film does delve into sexual harassment and abuse but indirectly as a supernatural themed horror film, but unfortunately the messages never feel as impacting as they should. On the plus side the very small film looks and sounds very good. It is a fairly quiet film with most of it centered on a single character with very little dialogue, relying on her actions rather than words. With that said, it might be surprising that the surround soundscape is an extremely lively one, with creepy music by Dave Graney and Clare Moore, the atmosphere of the wooded areas from the wind, the leaves rusting, the fireplace, to the sounds of birds, it is always active. Visually speaking the cinematography by László Baranyai also looks great with the emphasis on the night scenes and darkness, plus the bright red coat that feels like an homage to "Don't Look Now".

"Lost Gully Road" premiered at MonsterFest 2017, then screened at various festivals including Perth International Film Festival 2018 and La Femme International Film Fesetival 2018, where it won Best Feature.

Note this is a region 0 PAL DVD

Video


Umbrella Entertainment presents the film in the 2.35:1 aspect ratio in the PAL format. Shot in HD and being a recent film the transfer looks good as it should in the standard definition format with deep blacks for the various night scenes and colors fully brought out especially with greens and reds. Being in standard definition on a single layered disc there are a few instances of artifacts popping up in backgrounds but they are very rare to see. Overall it is a good transfer from Umbrella.

The film's runtime is 76:57.


Audio


English Dolby Digital 5.1
The 5.1 surround track is an incredibly active one considering the film is mostly one person alone in a cottage. The ambient noises, the active score, the sounds of the forest, and the occasional dialogue sound very good, with the surround channels getting most of the workout in the process. It is a well balanced track with one portion never overpowering another, with minute details able to be heard clearly. An excellent track.

There are no subtitles for the feature.

Extras


Sadly there is nothing. Not even a trailer, although it is embedded below, courtesy of Umbrella Entertainment.



Packaging


The packaging says the disc is region 4 but it is in fact region 0.

Overall


"Lost Gully Road" has some interesting concepts but overall feels lacking in the final execution. The Umbrella Entertainment DVD offers good video and audio but unfortunately without any extras.
| | | | | |
| --- | --- | --- | --- | --- |
| The Film: C+ | Video: B+ | Audio: A | Extras: F- | Overall: C+ |

---
DVD Compare is a participant in the Amazon Services LLC Associates Program and the Amazon Europe S.a.r.l. Associates Programme, an affiliate advertising program designed to provide a means for sites to earn advertising fees by advertising and linking to amazon.co.uk, amazon.com, amazon.ca, amazon.fr, and amazon.de.