Behaving Badly
R2 - United Kingdom - Simply Media
Review written by and copyright: Rick Curzon (22nd November 2018).
The Show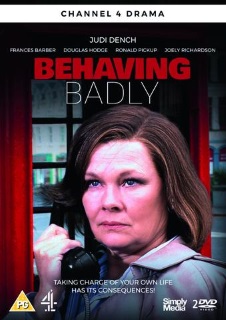 Bridget (Judi Dench) is a professional and respectable upper middle-class wife to Mark (Ronald Pickup) and mother to Serafina (Joely Richardson).

But upon finding out that the husband she has been doting on for 20 years has been having an affair with much younger woman Rebecca (Frances Barber), he demands a divorce. Bridget is surprised by the news, but tries not to let it faze her.

Instead, without moaning, she quietly adjusts to her new independent life, using her days to hold down a part-time job, attend church and evening classes. That is until one day she realises that now single, her life has become emotionally stale.

Bridget suddenly decides to stop being so pleasant about the situation she has been thrown into. She decides to move out of the flat her ex-husband sent her off to five years ago, back to the family home, leaving a path of chaos as she starts to have her own fun and revenge on her family and friends.

Video


A late 1988's drama shot on highband, broadcast standard PAL videotape, and it's entirely on videotape with no film content. This lends it a consistent look for location work and interior studio scenes.

TV was going in this direction at the time; previously, and ongoing for a few years after this, 16mm film was frequently used for any location work. In the '90s it became either all film, or all videotape but everything was transferred to standard definition video and final editing and post production occurred at this point. For film originated productions this has proven a big problem in the HD era due the lack of any film based source, which has led to any of these productions (i.e. Star Trek: The next Generation) having to expensively be rebuilt.

Anyway, technical history lesson over.

This being shot entirely on standard definition videotape means the image has an inherently soft look. Colours are naturalistic but tending toward the bright side; flesh tones are warm but not hot. Black levels are mostly deep and rich but occasionally can be dark gray, this partially down to the bright light used to shoot these kind of productions which was designed to ensure maximum visibility on home screens during initial broadcast. Contrast is designed to make the image pop for similar reasons but I could see no loss of detail as a result.

The series is spread across two single layered DVD discs. There some minor signs of compression artefacts but mostly in darker scenes, nothing unexpected and probably less than would've been seen on broadcast.

Short of a Blu-ray release, this is the best we're likely to get. Recently, the BBC has been releasing standard definition videotaped material on Blu-ray - Doctor Who Seasons 12 and 19, The Hitchhiker's Guide to the Galaxy and Quatermass and the Pit - and improvements can very definitely be made. However, the series' chosen have all got strong cult and or commercial potential. Behaving Badly is unlikely to warrant such a release, so this will most likely nbe the best we can expect to get.

PAL / 204:26 (x 4 episodes)


Audio


Standard Dolby Digital 2.0 mono track of the period. Clear sound well represented with dialogue taking prime position. Music never interferes and there are no signs of distortions or other issues.

Extras


Nothing, disappointing but not unexpected. I'm sure there will be promotional material and talk show interviews in the archive that could have been sourced.

Overall


Solid, decent, unremarkable standard definition release on DVD of this largely forgotten TV drama serial from 1988. Picture and sound are decent and that's all we can expect from an off the shelf master like this with little or no restoration. Sadly, there are no extras.
| | | | | |
| --- | --- | --- | --- | --- |
| The Show: C+ | Video: B | Audio: B | Extras: F | Overall: B |

---
DVD Compare is a participant in the Amazon Services LLC Associates Program and the Amazon Europe S.a.r.l. Associates Programme, an affiliate advertising program designed to provide a means for sites to earn advertising fees by advertising and linking to amazon.co.uk, amazon.com, amazon.ca, amazon.fr, and amazon.de.