Travel Man - 48 Hours in ... : Series 1
R2 - United Kingdom - Simply Media
Review written by and copyright: Rick Curzon (22nd November 2018).
The Show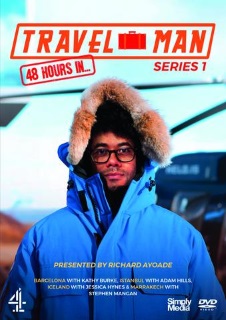 Nominated for the BAFTA for Best Features in 2017 and winner of the Best Factual Programme Royal Television Society Midlands awards from 2015 - 2017.'

Starting in Barcelona with Kathy Burke, the pair experience the more unusual aspects of the Catalan city. The pair visit the famous football stadium, sample local cuisine, and disaster strikes at a cava tasting session.'

Richard Ayoade then shows Adam Hills how to weekend away in style as they travel to Istanbul. They get a very close shave at the Turkish barbers, and haggle at Bazaars before sharing an embarrassing moment at the local baths for a massage.'

Next on to Iceland with Jessica Hynes, where they enjoy the Golden Circle Tour the Nordic isle's most gorgeous waterfalls, glaciers and geysers - in style in a helicopter before sampling the local delicacy of shark!'

The final episodes features Stephen Mangan in the bustling city of Marrakech. They experience the famous street food, including the local delight of steamed sheep's head.'

Richard Ayoade won audiences over with his portrayal as the lovable and dopey Moss on The IT Crowd, and has since become a presenting sensation hosting shows from Gadget Man to The Crystal Maze.'


Video


What we have a is a modern, HD-lensed production presented in standard defintion on these DVDs. We have two seperate releases of the first two series and the technical comments apply to both.

Colours are bright and natural without any of the digital desaturation grading often applied to dramatic productions so they have a well-lit, matter of fact quality similar to light entertainment or news broadcasts. Reds really pop and if anything the makers have emphasised a vivid look. Flesh tones are nice and balanced without being too hot or too cool.

Black levels are deep and rich where intended and although these have been shot on the fly hand held I could see no signs of intended black crush. Contrast is bright and designed to help these programmes "pop" in standard definition. However, detail hasn't suffered appreciably if you accept that these are standard definition and not the full HD.

There are signs of compression in darker areas but this is to be expected and shy of a full-on HD transfer on a Blu-ray this will be unavoidable. These are on single layer DVDs but that is adequate for the approximately 90 minutes of material each has. These do have a softness inherently built in but that is to be expected. It's unlikely a show like this would ever get a Blu-ray release in the UK, the market just isn't big enough. It's possible that if Travel Man: 48 Hours in ... has been shown in the US or Germany, a Blu-ray might appear there.

PAL / Series 1: 89:35 (x 4 episodes); Series 2: 93:56 (x 4 episodes)

Audio


A good basic Dolby Digital 2.0 stereo track that has been taken directly from the lossless original. As such it lacks fine detail and depth; the more you increase the volume the more you'll be able to tell it's lossy. However, for a show like this chances are no one will care. It's efficient and gets the job done.

Sadly, there are no subtitles on this release so the hearing impaired are out of luck.

Extras


Nothing, not a bean ... no making of or behind the scenes, no interviews. Nadda.

Overall


A solid, very basic barebones rendering of a comedy travel show originally made in HD but presented here in SD. It is what it is and is an agreeable budget release. Picture and sound are as good as can be for the format shy of being put on a dual-layered disc with a maxed out bitrate, but to be honest only a Blu-ray release will improve on it. A show as ephemeral as this is unlikely to get anything better. Sadly not extras or subtitle option has been given.
| | | | | |
| --- | --- | --- | --- | --- |
| The Show: C+ | Video: B | Audio: B | Extras: F | Overall: B |

---
DVD Compare is a participant in the Amazon Services LLC Associates Program and the Amazon Europe S.a.r.l. Associates Programme, an affiliate advertising program designed to provide a means for sites to earn advertising fees by advertising and linking to amazon.co.uk, amazon.com, amazon.ca, amazon.fr, and amazon.de.