Mr. White Goes to Westminster
R2 - United Kingdom - Simply Media
Review written by and copyright: Rick Curzon (22nd November 2018).
The Show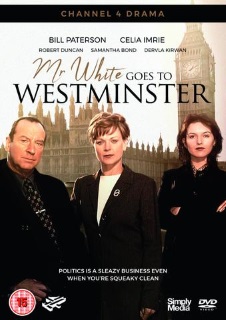 Bill Paterson stars in this feature-length political comedy drama from Channel 4 in 1997.' Ben White is a journalist who quits his job for a career in politics. Based on former BBC correspondent Martin Bell's campaign to be elected to Parliament on an anti-sleaze ticket.'

Ben White (Bill Peterson) is a man fed up with all the sleaze and corruption in British politics. So much so, he decides to quit a prestigious job as a TV foreign correspondent to stand as an independent candidate in the next election.'

During the General Election, he defeats by a landslide the disreputable Conservative MP Paul Madison (Robert Duncan) and his loud-mouthed wife, Victoria (Celia Imrie).'

But now elected successfully to Parliament, can the squeaky clean Mr. White handle all the corruption, deceit and media interruption life in British politics has to offer at Westminster? Or will a potential scandal involving old, and now married, flame MP Helen Nash (Samantha Bond) be his undoing?

Video


We have three very '90s, Digibeta, standard definition productions presented in native standard definition on these DVDs; all three date from before filmisation of Digibeta tape productions became the norm. This was the process that became the norm over the next few years whereby the 40 fields per second Digibeta, standard def video would be treated in post production to ensure a film-like appearance by altering the frame rate to resemble 24 frames per second film.
Sadly, they also date from the days when 4:3 TVs were the norm and although shot in widescreen (1.78:1) are presented letterboxed within a 1.33:1 / 4:3 frame. This means that approximately 1/3 of the available picture area is taken up with black bars and thus the resolution of the image is reduced.

Colours are mostly natural without any of the digital desaturation grading often applied to dramatic productions in the 2000s, so they have a well-lit, matter of fact quality similar to light entertainment or news broadcasts of the time. That said, the colour palette is slightly naturally desaturated when compared to the norm of a few years previously; this may be down to how this off the shelf master has been handled downstream rather than a choice made at the time, but equally the reverse is possible; I don't recall ever seeing these at the time of broadcast. Flesh tones are pleasingly natural.

Black levels are deep and rich where intended with no signs of black crush. Contrast is bright and designed to help these programmes "pop" in standard definition. However, detail has suffered appreciably due to the letterboxing. The lower resolution means you will see aliasing and bleeding when zoomed on a modern widescreen display to fill the screen. It's not egregious and the discs remain very watchable.

Shy of a complete rebuild from the original elements in 16x9 widescreen and presented upscaled on Blu-ray, we aren't going to get to see these prestigious and popular productions in anything like the true glory they could be seen in. These are off the shelf masters and taken from the dark ages of the late '80s through the early 2000s where TV was letterboxed and / or assembled on videotape in standard definition.

PAL / Letterboxed 4:3 (1.78:1) / (75:04)

Audio


English Dolby Digital 2.0 Stereo
Subtitles: None

Good basic Dolby Digital 2.0 stereo tracks that represent the original NICAM stereo of the original broadcasts; they have been taken directly from the lossless originals. As such it lacks fine detail and depth; the more you increase the volume the more you'll be able to tell it's lossy. It's efficient and gets the job done.

Sadly, there are no subtitles on this release so the hearing-impaired are out of luck.

Extras


Nothing, not a bean ... no making of or behind the scenes, no interviews. Nada.

Overall


Solid, very basic barebones renderings of '90s drama productions from the era when widescreen productions were presented letterboxed within the 1.33:1 frame. These discs are what they are and are agreeable as budget releases. Picture and sound are as good as can be for the format with only a total rebuild of the original productions in proper 16x9 enhanced widescreen being the way to improve. This is unlikely to happen anytime soon as the commercial potential will preclude the cost of doing so.
| | | | | |
| --- | --- | --- | --- | --- |
| The Show: C+ | Video: C- | Audio: B+ | Extras: F | Overall: B |

---
DVD Compare is a participant in the Amazon Services LLC Associates Program and the Amazon Europe S.a.r.l. Associates Programme, an affiliate advertising program designed to provide a means for sites to earn advertising fees by advertising and linking to amazon.co.uk, amazon.com, amazon.ca, amazon.fr, and amazon.de.