Bodily Harm
R2 - United Kingdom - Simply Media
Review written by and copyright: Rick Curzon (22nd November 2018).
The Show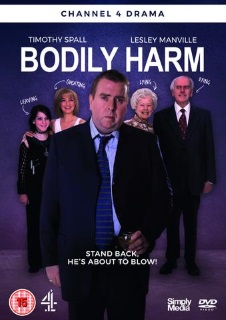 Timothy Spall, Lesley Manville and Annette Crosbie star in a dark comedy drama about a stockbroker's breakdown in response to a series of unfortunate events in his life. Stand back, he's about the blow!

This two-part drama was written by Tony Grounds (Our Girl) for Channel 4 in 2002. Directed by Joe Wright (Darkest Hour), it is an emotional portrayal of modern family life.''

Mitchel Greenfield (Timothy Spall) is a happy family man living in suburbia, with a respectable job as a stockbroker. He has a lovely wife Mandy (Lesley Manville - Phantom Thread), adores his teenage daughter Nic (Sadie Thompson) and is caring for his older parents Signey (George Cole) and Sheila (Annette Crosbie).'

But below the surface of his apparent perfect life, cracks are beginning to show. On the eve of Mitchel's 44th birthday he loses his job, finds out his wife is having an affair with their neighbour, and discovers his dad is dying of cancer. What results is a mad flash of anger, leaving him threatening people with golf clubs and frightening strangers.

Lesley Manville was nominated for a Royal Television Society Award in 2003 for Best Female Actor for her portrayal as Mitchel's philanderer wife.

Video


An early 2000s Digibeta shot, standard definition which has been filmised. This was the process that became the norm over the previous half decade whereby the 40 fields per second Digibeta, standard def video would be treated in post-production to ensure a film-like appearance by altering the frame rate to resemble 24 frames per second film. This would continue until around 2007-08 when HD lensing became the norm.

Colours are bright and natural and the grading in post-production has preserved the well-lit, matter of fact quality similar preferred at the time. Reds really pop and if anything the makers have emphasized a vivid look. Flesh tones are nice and balanced without being too hot or too cool.

Black levels are deep and rich with no signs of intended black crush. Contrast is bright and designed to help these programmes "pop" in standard definition. However, detail hasn't suffered appreciably if you accept that these are standard definition and not the full HD.

There are signs of compression in darker areas but this is to be expected and shy of a full-on HD upscale on Blu-ray this will be unavoidable. These are on single layer DVDs but that is adequate for the approximately 90 minutes of material each has. These do have a softness inherently built in but that is to be expected.

PAL / 1.78:1 / 134:32 (2x episodes)

Audio


A good basic Dolby Digital 2.0 stereo track that has been taken directly from the lossless original. As such it lacks fine detail and depth; the more you increase the volume the more you'll be able to tell it's lossy. It's efficient and gets the job done. Music and dialogue have clear separation and the surrounds get some use for the score and occasionally for ambience.

Sadly, there are no subtitles on this release so the hearing-impaired are out of luck.

Extras


Nothing, not a bean ... no making of or behind the scenes, no interviews. Nada.

Overall


A solid, very basic bare-bones rendering of a 2-part miniseries. It is what it is and is an agreeable budget release. Picture and sound are as good as can be for the format and for an off the shelf master, although an upscale to HD for a Blu-ray would be beneficial for those who desire it. This was not a production I'd ever heard of and as far as these things go it's decent and must have some eager fans out there due to the acting talent on display.

Sadly not extras or subtitle option has been given.
| | | | | |
| --- | --- | --- | --- | --- |
| The Show: C+ | Video: A | Audio: A | Extras: F | Overall: B |

---
DVD Compare is a participant in the Amazon Services LLC Associates Program and the Amazon Europe S.a.r.l. Associates Programme, an affiliate advertising program designed to provide a means for sites to earn advertising fees by advertising and linking to amazon.co.uk, amazon.com, amazon.ca, amazon.fr, and amazon.de.