The Film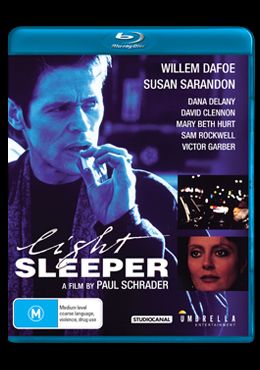 "Light Sleeper" (1992)

John LeTour (played by Willem Dafoe) leads a life as an upper class drug dealer selling to the rich for quite some time. Suffering from insomnia and directionless in life, things start to change when his boss Ann (played by Susan Sarandon) says she is looking to go straight rather than stay where she is at as a druglord. While John makes his usual runs, he randomly bumps into his former wife Marianne (played by Dana Delany) who is at the hospital looking after her mother. John immediately remembers the good times he had when they were together and is happily looking to rekindle the relationship. But she is in a vulnerable state and his work is leading to danger with the cops on his tail constantly. Will he ever be able to redeem himself and escape from the darkness?

Writer/director Paul Schrader tackled the idea of a lonely man trying to escape from his world with drastic means in the past. His screenplay of "Taxi Driver" is well regarded as one of the greatest films about isolation ever written. "American Gigolo" which he also directed also received wide acclaim. "Light Sleeper" could also be added as the third in an unofficial trilogy of lonely city men in an existential crisis by Schrader, though when considering Schrader's filmography, "Light Sleeper" is barely mentioned somehow fading into obscurity despite its excellent cast. Possibly because many of the themes have already been discussed before in similar ways.

The character of John is a wanderer without direction though he is seen starting to write, which becomes a way to cope with his insomnia, and while some of the writing does reflect his views on life, there is a bit of disconnect and an unnecessary feeling to the plot and the drive of the story. The more impacting moments come from seeing Dafoe playing John and interacting with people. He may have conversations but these are never "friends", but are rich junkies looking to score where he has the power, or with Ann or the cops where he feels much lesser. He feels no equal to speak to until he is reunited with Marianne, and the scenes between Dafoe and Delany are some of the most powerful in the film, showing a great deal of love and hate between them. How they remember their past together are clearly different - with him remembering the good times while she only remembers the bad. He wants to start over to emotionally connect and redeem himself while she is only looking for comfort to cope with caring for her dying mother. Dafoe gives a great performance in the film as does Sarandon as Ann, whose appearance may be less on screen but gives a strangely powerful presence being basically a woman at the top. There is no exaggeration or sadistic approach but she is somehow able to pull it off with a hint of sexuality and a sense of pure confidence. The supporting roles by Delany, Victor Garber, Jane Adams and David Clennon are also minor yet great, plus small appearances from up and coming David Spade and Sam Rockwell are interesting to see before they were household names.

Visually the cinematography by Ed Lachman certainly grabs the look and feel of the dirty streets of New York of the time period. The darkness from the many night scenes, the filtered colorful scenes of the lovemaking scene, and the heaps of garbage bags all across the outer locations due to a garbage strike that happened for real give great visuals throughout, as well as the colorful garb designed by Giorgio Armani. In addition to the visuals, the dark soundtrack segments with tracks by Michael Been of The Call serves very well with the picture. But "Light Sleeper" follows the simple linear line of darkness to redemption and that sadly makes it not take big enough risks or challenge the audience to new levels. The ending without too many spoilers is very similar to "Taxi Driver" and "American Gigolo", as well as "Pickpocket" for that matter, and while those films had quite a buildup to the climactic endings, "Light Sleeper" seems to have it a little on the rushed side making it more jarring than satisfying. Overall the film has its issues even with its great performances, and that may have been why the film fell to the lesser side of Schrader's filmography.

The film was given a few nominations including The Golden Bear at the Berlin Film Festival and screenplay and cinematography nods at the Independent Spirit Awards, but the only winner came from the Sant Jordi Awards with Best Actor for Dafoe. It was largely ignored by audiences as well, grossing only $1 million on a $5 million budget.

Note this is a region ALL Blu-ray

Video


Umbrella Entertainment presents the film in the 1.85:1 aspect ratio in 1080p, using the AVC MPEG-4 codec. This marks the Blu-ray debut for the film, and while it does looks somewhat pleasing it does have its drawbacks. First of all, this is a seemingly dated HD transfer of a print that has not gone through any large restoration efforts, so specs, dust, and other damage are easily visible throughout the film. Colors are mostly on the fair side, not showing extreme depth but adequate in terms of skin tones and dark tones, along with some of the color filtered scenes. On the positive side, it is well balanced in color, has fairly good detail, and no major damages like splices or deep scratches.

The film's runtime is 103:21.

Audio


English DTS-HD Master Audio 2.0 mono
The original mono track is offered in lossless 2.0. 1992 seems like a time that most major films are at least in stereo, though it was mixed and released in mono. The dialogue, effects, and music score by Michael Been of The Call are mixed well with one never overpowering the other. The songs come in clear and dialogue is always easy to understand with no issues of hiss, pops, or cracks in the track.

There are optional English HoH subtitles for the feature in a white font.

Extras


Audio commentary with film critics Emma Westwood and Sally Christie
The two film critics have a chat about the film discussing its production as well as other topics regarding the film. They note the influence of film noir and French New Wave, give biographical information on many of the actors and actresses plus some of the crew, the parallels with other Schrader films, and break down out some of the more brilliant moments of the film such as the meeting between John and Marianne at the hospital, and more.
in English Dolby Digital 2.0 with no subtitles

Q&A with Cinematographer Ed Lachman & Director Paul Schrader (30:42)
In this retrospective Q&A from Shooting Down Pictures, the Lachman and Schrader discuss about the film with an audience. They talk about the idea of midlife crisis, the influences, a meeting with Bob Dylan for music, the setups, the troubles of on location shooting in New York during the garbage strike, and more. The Q&A can also be found on YouTube, and like it appears there, expect a low definition picture with macroblocking and pixelation, with some of the comments from Lachman being a bit difficult to hear,
in 720p (upscaled) AVC MPEG-4, in 1.78:1, in English Dolby Digital 2.0 with no subtitles

Trailer (1:58)
Heavily pixelated, cropped, and with sound that is 10db too loud, a YouTube rip would even be ashamed.
in 720p (upscaled) AVC MPEG-4, in 1.33:1, in English Dolby Digital 2.0 with no subtitles

VHS Promo (1:51)
Strangely, this VHS promo from an analog tape looks and sounds better than the above trailer. Itís still washed out and cropped, though.
in 720p (upscaled) AVC MPEG-4, in 1.33:1, in English Dolby Digital 2.0 with no subtitles


The commentary and the Q&A are exclusive to this Umbrella release and have not been issued on DVD before. Although there was a 17 minute commentary with Dafoe and Sarandon that was available on some DVD editions which was not ported over to this release. An excerpt from the film can be seen here, courtesy of Umbrella Entertainment.



Packaging


The case mistakenly states region B only. This is a region ALL Blu-ray.

Overall


"Light Sleeper" has some great performances but overall lacks the depth and execution seen in other works by Paul Schrader. It is worth a look but one expecting a lost masterpiece may be a bit disappointed. The Umbrella Entertainment Blu-ray presents a good selection of extras though the picture quality is slightly lacking.
| | | | | |
| --- | --- | --- | --- | --- |
| The Film: B- | Video: C+ | Audio: B+ | Extras: B | Overall: B- |