The Film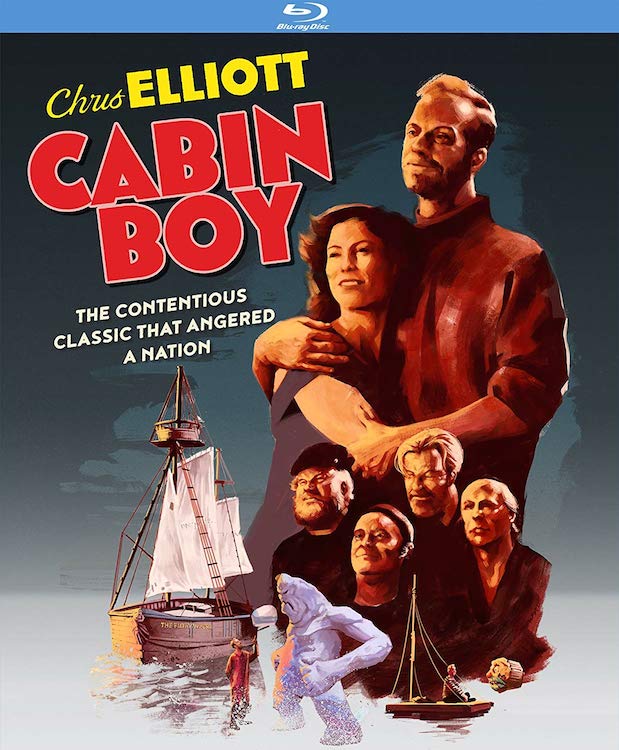 Ah, the early 90's were a strange time for film goers. At the box office there was an uninteresting array of choices: "Forrest Gump" (1994), "The Lion King" (1994), "True Lies" (1994), "Dumb and Dumber" (1994). Blah, Hollywood was still serving up the usual selection of mainstream delights as they have been doing for countless years; however in January there would be a wild card injected into the deck as Touchstone Pictures released onto an unwitting public, the fantasy-comedy "Cabin Boy" starring Chris Elliott. Critics were puzzled, audiences were bewildered, and after being a resounding bomb at the box office, the film was quickly ushered off to hopefully find a new demented audience via the medium of the VCR format. This is where I happened to discover it. Now after many years, Kino Lorber once again comes through in the clutch, and has issued this film once again in a bright shiny package, jam packed with extras. Fans of the offbeat can now cross this one off of their lists.

Before I commence with the usual plot synopsis, I need to supply the reader with a little bit of history concerning the film and its star. Chris Elliott had been hired as a writer for Late Night with David Letterman in 1983 and sporadically he began to appear in a series of odd ball skits portraying an unusual assortment of strange characters. Elliott developed his own unique brand of comedy, often interjecting himself into the show by haranguing host David Letterman with threats and coercions, often in the character of "The Conspiracy Guy." This was a disturbed person that lived under the audience's seats and was often needed to be subdued by security. Elliott specialized in parodying pop culture figures and excelled at displaying a certain nuanced unhinged type of individual given to excessive anxiety, extreme panic and overreacting to a situation. One of my favorites was when Elliott would portray a bizarre Marlon Brando and do an awkward dance to the tune of "Alley Cat." Elliott's real life father, Bob Elliott, was a member of true comedy royalty as he was one half of the famed duo of "Bob and Ray "long time stars of radio, television and film. As fate would have it, Elliott's path crossed that with writer Adam Resnick and the rest is history, as these two comic foils would inspire each other to insipid hilarity on the Letterman show. These two damaged souls collided together to bring us a film that caused the critics to crack wise with all types of nautical themes putdowns and pundits such as this courtesy of the Los Angeles Daily News: "Elliott Loses Sea Legs in Witless 'Cabin Boy.'" Thanks guys!

Elliott stars as Nathanial Mayweather, a bewigged and completely scathing, finishing school graduate, heir to the Mayweather fortune of hotel chain ownership. Elliott is at his best here, absolutely loathing everyone in his path and almost unable to merely walk down a country road due to his spoiled upbringing. In fact we have to go back to the comic stylings of Joe Besser to find a comedian with a similar style of grating comedy than Chris Elliott. When Besser was featured on "The Abbot and Costello Show" (1952-1953), he regularly appeared as the character of Oswald "Stinky" Davis, a bratty, loudmouthed child dressed in an oversized Little Lord Fauntleroy outfit, shorts, and a flat top hat with overhanging brim." If Elliott is not at least a relative to Oswald "Stinky" Davis, then he must be fairly close as source material. With his frequent temper tantrums, aggravating style of over reacting to any situation, and man-child manners, Besser must have been a poster boy for the aspiring Elliott.

Steered wrong by a country rube selling sock monkeys portrayed with over the top zaniness by David Letterman, Mayweather is told to board a nasty fishing vessel, called The Filthy Whore. Here he encounters fist mate Kenny (Andy Richter), a simpleton beyond even Mayweather's comprehension who is manning the ship while the rest of the crew tie a load on. Mayweather thinks that he has boarded a ship where the crew is acting out some crazed theme show complete with costumes and appropriate bad manners. From here on in, it is anything goes as Elliott is the literal "fish out of water" as he and the crew engages in some scramble brained comedy. The casting of the crew is first rate however with the talents of such gravel voiced actors as Brian Doyle-Murray, Brion James, James Gammon, and Ritch Brinkley as the Captain. Some critics have complained that Elliott's caustic comedic stylings overstay their welcome and that a small dose goes a long way and indeed it does, but either you are a fan of Elliott's man-child or you aren't. You should know this much going in. I however find Elliott to be an acquired taste and regret that he never had a chance to properly shine in this vehicle.

Director Tim Burton was the first choice for the director's chair and you can see how the script played to Burton's strengths especially during the second half of the film when the crew of The Filthy Whore encounters some odd characters when they sail into the uncharted waters of Hell's Bucket; a wretched dream that may have been concocted by a fevered Rankin/Bass special effects team. Burton was coming off a string of box office hits and Touchstone was wetting itself in the hopes of luring the boy wonder director to helm the film, but alas, it was not meant to be. Burton did however act as a producer of the doomed project and his fingerprints are visible in certain scenes such as the appearance of Chocki (Russ Tamblyn), the half-man, half-shark hybrid or the six armed vamp with blue skin played by Ann Magnuson that helps Elliot graduate from mere cabin boy to cabin man. "These pipes are clean" declares Mayweather as he debarks with a newly arrived sense of manhood. The film ends on a happy note as the crew and Mayweather learn to overcome each other's shortcomings and learn to function as a team.

Yes, the plot is a pastiche of Captains Courageous and some other coming of age tale but I found the film to be enchanting in its earnestness. Even though the crew is a vulgar lot, there is no utterance of the F-word, and for the most part the humor works on several levels at best. I think that the blame must be shouldered by first time director Adam Resnick and that he possibly got in over his head once the production began in earnest. Resnick has since moved on from the early growing pains of "Cabin Boy" and has produced and written the screenplay for several episodes of "The Larry Sanders Show" (1992-1998) and the HBO produced show "Bored to Death" (2009-2011). Both Elliott and Resnick combined forces once again to produce the Fox produced television series "Get a Life" (1990-1992) for two seasons.

Video


Presented in the film's original theatrical ratio of 1.78:1 widescreen in HD 1080p 24/fps using AVC MPEG-4 compression. The production looks great with colors bright and sharp. The impressive production gives the film a great visual density and it shines for home viewing on a big screen television.

Audio


The English DTS-HD Master Audio 2.0 stereo track doesn't get utilized too much, but dialogue is clear and features a light score by Steve Bartek. Optional English subtitles for the hearing impaired is included so you don't miss any of the inside jokes.

Extras


The disc features an audio commentary by star Chris Elliott and director Adam Resnick moderated by Mike Sacks for the length of the film. This alone justifies buying this Blu-ray!

There is a new interview (45:40) with star Chris Elliott and director Adam Resnick that's also worth exploring.

There are also a series of archival cast interviews (8:13) featuring Chris Elliott, Ritch Brinkley, James Gammon, Brian Doyle-Murray, Brion James, Melora Walters and Russ Tamblyn.

Audition tapes (5:40) features the taped auditions for Melora Walters and Andy Richter

B-roll footage is included (5:57) along with some edited outtakes (6:29).

A collection of five TV spots (3:30) also appear on the disc.

The film's original theatrical trailer (1:44) rounds out the video supplements.

Packaged in the case is a limited 12-page edition booklet essay by film critic Nick Pinkerton.

Packaging


Packaged in a standard Blu-ray case with newly commissioned reversible cover artwork by Jacob Phillips with a cardboard slip-case.

Overall


The film is considered a cult classic by some revered viewers and Kino Lorber has done an excellent job of presenting it on Blu-ray with several interesting extras including a full length audio commentary.
| | | | | |
| --- | --- | --- | --- | --- |
| The Film: A | Video: A | Audio: A | Extras: A | Overall: A |