The Film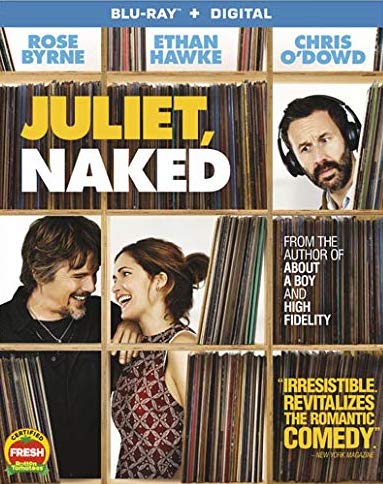 I must confess that this genre of film, the Romantic-Comedy is not my favorite style of film and I am often left wondering where the comedy parts of the equation were left? True, there's plenty of romance afoot, but even those scenarios aren't exactly my cup of tea either. Perhaps this is a film that is in search of an audience, but to be honest, "Juliet, Naked" left this reviewer feeling hopeless and a bit sad after the credits rolled. The main characters in the film are all excellent, given their limited and somewhat damaged personalities, and perhaps I should find fault with the source material, a novel by author Nick Hornby. Hornby hit it big in 1995 with his novel "High Fidelity" which struck a chord of recognition with readers of a certain age and then was made into a hit film in 2000. Unfortunately it seems to me that Hornby is a writer that is working the same vein of pathos with limited results and that he certainly appeals to a specific type of individual that is a bit neurotically obsessive about whatever niche field they are interested in; music, comic books, pop culture, etc. I, too, have been labelled as one of these people and perhaps that is why I dislike seeing such characters and the way they are portrayed as geek losers in film and other media, and "Juliet, Naked" is no exception.

We are introduced to the character of Duncan (Chris O'Dowd) via a scene where he is featured in a video that appears on a website that is dedicated to a reclusive 90's musician Tucker Crowe (Ethan Hawke) and his music. Duncan, a familiar overly zealous fan boy type, is expounding on the merits of Crowe's music, focusing on a single album titled "Juliet". O'Dowd is a perfectly fine comedian and hearing his voice and delivery lifted my hopes that this film would make great use of O'Dowd's abilities, but we quickly realize that he is the typical Hornby protagonist and that he will badger us about just how incredible Crowe is as a musician and that he deserves our utmost respect. Not a good sign, I murmured to myself, but I kept on watching in hope for some easy laughs. At first, we are led to believe that this is Duncan's story and we would follow along as he struggles to find a suitable soul mate and in the end possibly grows a little in the process. But no, that is not to be. The main character of the film actually turns out to be Duncan's long suffering girlfriend, Annie (Rose Byrne) and I must admit that she is much more interesting than her partner. Annie is a curator of an English seaside museum that she has inherited from her father, and she turns out to be a much more complex character than the single minded Duncan. What we have is the makings of a romantic triangle with the couple in the center suffering from the boredom of a long term relationship without the sparks to sustain it, but waiting in the wings, visible but yet unengaged, is the character of Tucker Crowe, who is about to enter the dynamic and alter it for good.

The plot is certainly contrived and rather too easily played out, but the film is determined to illustrate what happens when two people cease communicating and become isolated from each other. Annie posts a negative review of a bootleg copy of Crowe's "Juliet" album that arrives at the house through the post and god forbid, actually plays and listens to it before Duncan does; Duncan acts like an immature child as he has a fit over these events. It is as if Annie has no alternative to be heard than to speak directly to Duncan through his own fan site; a sad commentary on the state of communication in our times for sure. And then, as unlikely as it sounds, Crowe reaches out from his self-imposed silence to tell Annie that her opinion of the album is correct and that he wholeheartedly agrees. Please feel free to roll your eyes now as I did at this clichéd scenario. Nevertheless she responds and eventually the two of them are engaged in a long distance romance via e-mail, even though she refuses to inform Duncan that she is indeed corresponding to his idol. We are shown scenes of Tucker at home, living in a garage behind his third ex-wife's house, playing reclusive rock star and answering Annie's e-mails. Why Annie, an attractive and intelligent female, falls for the typed responses from this damaged middle aged Lothario, is amongst the many reasons why I disliked this film. I can understand her romantic stagnation with Duncan, but the fact that she is so empty and damaged that no other male in her English village interests her, and yet an unknown man in America wins her heart through a series of e-mails is beyond my understanding. I guess that's why it is labelled a Romantic-Comedy after all.

As the plot continues to make the unbelievable happen, we learn that Duncan needs to make a trip to England and wouldn't Annie be interested in meeting her correspondent in the flesh after all? Of course she would is the response and before we know it, Crowe and his son Jackson (Azhy Robertson, who is the real star of this film) are on a plane flying to England where Annie waits. However, fate intervenes as Crowe suffers a mild cardiac infraction while at a hospital and his date with Annie is postponed. What follows next is a scene that is ultimately grating and is supposed to illustrate how much of a complicated mess Crowe's past relationships are as several of his children, two ex-wives with a current husband in tow, and poor Annie all crowd into Crowe's hospital room at the same time. All I could think was that if Annie doesn't realize that this would be suitor is actually a chump and that she better head for the nearest exit and leave him immediately; however this is Hollywood and not reality and I should know better than that.

Duncan ends up having a relationship with another instructor that works at the same school that he teaches at and this forces Annie's hand and she finally calls it quits with this spoiled man-child. This only propels her into a pseudo-relationship with Crowe and while visiting her, he is awkwardly forced to perform in front a small gathering at Annie's museum. Ethan Hawke, as Crowe, sings a cover of The Kinks song "Waterloo Sunset", and he is pretty good. The soundtrack is okay for what it purports to be: think a watered down Soul Asylum. As the film heads toward its conclusion, we see Duncan come back, begging for a second chance, and thankfully Annie doesn't consider his offer and she is better off for it. Annie ends up leaving her safe environment and moving to London where life is more interesting and exciting, but the film closes with a pre-planned meeting between Annie and Crowe at a coffee shop. The film ends on a somewhat unanswered moment, and we are left to consider what is going to happen to Annie? I groaned and happily ejected the disc, feeling like I had just wasted some valuable time watching a film that did not really engage me as a viewer.

Video


Presented in widescreen 2.40:1 ratio in HD 1080p 24/fps mastered in AVC MPEG-4 compression. The imagery involved displays a workman like quality but I find fault with the screenplay material. The camera work is uninspired and traditional with the basic composition helping to tell the story, but there is nothing to really comment about here. The color palette is correct and skin tones are passable, but this just goes to frame the story and does nothing to really enhance the film's purpose.

Audio


Two audio tracks are included in English DTS-HD Master Audio 5.1 surround and Spanish Dolby Digital 5.1 surround. The English audio receives an "A" for the effort that obviously went into the creation of a fictitious singer/songwriter and that Ethan Hawke performs as a wounded 90's alt-rocker. Dialogue is reproduced well but the character's accent's encourages the use of subtitles. Subtitles are included in English, English HoH, and Spanish.

Extras


Scant extras are included from Lionsgate and include a single featurette entitled "Making Juliet, Naked" (9:45) is the usual making-of promotional EPK short which features some interviews of cast and crew members.

A collection of bonus trailers are included for:

- "The Big Sick" (2:20)
- "First Reformed" (2:20)
- "A Simple Favor" (5:14)
- "Stronger" (3:14)
- "Beatriz at Dinner" (1:47)

Packaging


Packaged in a standard Blu-ray keep case.

Overall


The plot did not perform as I had hoped that it should and even though all the main characters are well performed by the actors, they personally just got on my nerves and ended up annoying me with their selfishness. This may fare better with primarily a female based audience or as an acceptable date film, fans of Ethan Hawke are encouraged to rent this film instead of purchasing it.
| | | | | |
| --- | --- | --- | --- | --- |
| The Film: C | Video: B+ | Audio: A | Extras: C | Overall: C- |