The Film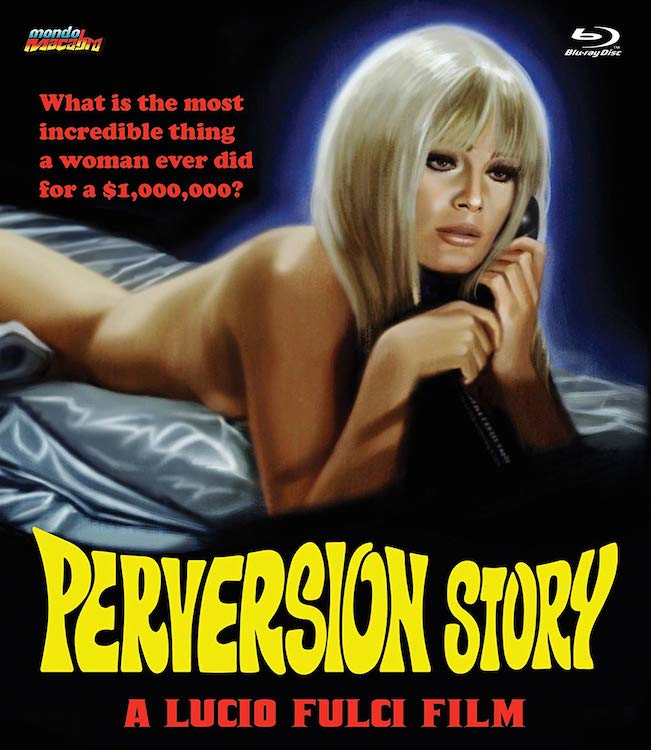 Lucio Fulci was a man mostly known for his excessive horror films such as "Zombie 2" (1979) and "The House by the Cemetery" (1981), but a look at his filmmaking career reveals that Fulci was much more than a schlock master. Fulci had started his career initially as a director of comedies such as "I Ladri" (1959) and many more successful films starring the Italian comedy team of Franco Franchi and Ciccio Ingrassia throughout the 1960's. He was also a writer, co-director, and eventually producer of a number of different films including Westerns, Giallo's and Suspense Potboilers. To merely label Fulci as a horror director is a huge mistake and many of these early films have been unavailable to fans until now. "Perversion Story" is one of the first of five Giallo's that Fulci directed and it offers some interesting twists on this popular genre. Fulci's film is noted for its restrained use of violence and is more along the lines of an Alfred Hitchcock suspense thriller than a full-blown Giallo.

First to those not familiar with the genre, the definition of Giallo is "a 20th-century Italian thriller genre of literature and film. Especially outside Italy, Giallo refers specifically to a particular Italian thriller-horror genre that has mystery or detective elements and often contains slasher, crime fiction, psychological thriller, psychological horror, exploitation, sexploitation, and, less frequently, supernatural horror elements in Italy." The word Giallo translates to the color yellow which became synonymous with a series of cheap pulp paperbacks that were published in Italy during the post-fascist period. Trademarks of Giallo's were a black gloved killer, plenty of female nudity, a subjective first person point of view, and themes of madness, alienation and paranoia. Many well-known directors have dabbled in the genre including Mario Bava Dario Argento.

The plot breaks down thusly: Dr. George Dumurrier (Jean Sorel) is the wealthy owner of a San Francisco based clinic that he runs with his younger brother, Henry (Alberto de Mendoza), but he is running into financial issues. The clinic is likely to declare bankruptcy unless there is an influx of cash injected into the budget. Dr. Dumurrier is caught in a series of lies to the press regarding the various scientific successes that the clinic has been experiencing; he has done this to add value to the status of the clinic and his brother disapproves. As well as being a heel, Dumurrier is having an affair with photographer Jane (Elsa Martinelli) while Dumurrier's wife Susan (Marisa Mell), an ailing asthmatic sits at home suffering alone. The call comes while Dumurrier is at Jane's apartment that his wife has died and Jane is relieved that she can now marry the unfortunate doctor. Suddenly all problems are solved as Dumurrier has been named the sole heir of Susan's estate and the insurance policy pays off plenty. To celebrate his newly found fortune, the couple head off to the local strip joint to party in full style. Just prior to sipping some champagne, Monica Weston (also played by Marisa Mell) takes the stage, but hold the phone, because Weston is a dead ringer for the recently decreased Mrs. Dumurrier. With the exception of her blonde hair and green eyes, Weston could be Susan's twin! Meanwhile the authorities are eyeing the doctor as their number one suspect in a case of homicide with the apparent motive being the insurance money. The doctor is instantly smitten and immediately jumps into bed with Weston, but who is the pursuer and who is the pursued? The plot thickens as Fulci turns on the heat and the cast list continues to grow including American actors John Ireland as Inspector Wald and Faith Domergue as Marta. Fulci sustains to throw various red herrings into the plot including borrowing elements from Henri-Georges Clouzot's "Les Diaboliques" (1955) and Alfred Hitchcock's "Vertigo" (1958) to create a heady stew of intrigue and suspense.

The doctor is practically knocked out at the appearance of Monica Weston, who does a provocative striptease while atop a motorcycle and features some carefully placed body paintings. The San Francisco setting of the strip club is called "The Roaring Twenties" but it should have been called "The Naughty Sixties" as the place screams psychedelia and abounds in big hair, bare breasts and mod fashions. The cinematography of Alejandro Ulloa is dazzling with bright colors assaulting the viewer's eye while the jazzy score supplied by Riz Ortolani is hip and mood setting. Fulci makes good use of a Brian De Palma-esque split screen device several times throughout the production to show the action in various other settings rather than using jump cuts. The entire production is extremely well done and makes excellent usage of footage from locales such as Reno, San Francisco and San Quentin.

The police steadily plod on, including a Fulci cameo as a handwriting expert, and they eventually question Weston about her role in this web of intrigue and try to discover if she really is the doctor's wife and not dead after all. George ends up in the slammer with a death sentence attached and then in a surprise reveal, Henry the younger brother, shows up at San Quentin and spills the beans revealing that he and the late Mrs. Dumurrier were lovers and that she is actually alive and yes, she was in actuality Monica Weston in disguise, and that she is now in France waiting for him to arrive (Gasp!). Indeed, who saw that twist coming? What, you cry, the bad guys are going to get away with this? How could Fulci do that? Well, hang on, because this rollercoaster ride of subterfuge isn't over just yet. In Paris the two lovers are reunited and they meet at a restaurant when suddenly a former lover of Monica's storms in and kills them both. Huh? Yes, there was some sap that was at Monica's apartment when the cops turned the place upside down, but he was just a minor character out of many that appear and disappear and now here he is as a vengeful spurned lover with a pistol. Fulci, indeed, has the last laugh as he once again shuffles the cards. This is the sign of a true master filmmaker and I bet that no one would have predicated this offbeat ending.

Mondo Macabro has assembled a "composite version" also known as the "full extended European version" of the film that compiles all existing footage from the various versions for a longer 107 minute 54 second runtime.

Video


Presented in the film's original theatrical ratio of 1.85:1 widescreen, mastered in HD 1080p 24/fps using AVC MPEG-4 compression, the image was created from the film's original camera negative. As a result the picture quality is very good considering the age and low budget nature of the film, with plenty of colors and the skin tones that appear appropriate. Footage shot both indoors and outdoors display plenty of depth and the zoom crazy Fulci trademark is present, but not abused.

Audio


There are two standard audio tracks on this Blu-ray release an English DTS-HD Master Audio 1.0 mono and Italian DTS-HD Master Audio 1.0 mono. Audio is well presented despite the limitations of a mono track, the soundtrack by Riz Ortolani is crisp and clear with no distortion. Optional English subtitles are provided for the Italian track.

Extras


The disc features "On Death Row with Jean Sorel" featurette (29:47) basically an interview with the actress in French with English subtitles.

"The Last Diva with Elsa Martinelli" featurette (9:58) is another interview and is in Italian with English subtitles.

"Stephen Thrower on Perversion Story" featurette (38:22) is also an interview with musician.

The film's original theatrical trailer (5:00) is featured.

"More from Mondo Macabro" (11:10) is more than a trailer reel filled with disembodied heads, bared breasts and plenty of bloodshed and features montage of clips from: "Snake Sisters" (1984), "Nikkatsu Erotic Cinema", "The Queen of Black Magic" (1981), "Silip: Daughters of Eve" (1985), "Mystics in Bali" (1981), "The Blood Rose" (1970), "The Bollywood Horror Collection", "Snake Dancer" (1976), "The Devil's Sword" (1984), "Lifespan" (1975), "Don't Deliver Us from Evil" (1971), "Satan's Blood" (1978), "Virgins from Hell" (1987), "For Y'ur Height Only" (1981), "The French Sex Murders" (1972), "The Deathless Devil" (1973), "Living Doll" (1990), "Satanico Pandemonium" (1975), "Panic Beats" (1983), "Clonus" (1979), "The Killer Must Kill Again" (1975), "The Mansion of Madness" (1973), "Alucarda" (1977), "The Diabolical Dr. Z, Aswang" (1966), "The Living Corpse" (1969), "Blood of the Virgins" (1967), "Seven Women for Satan" (1976), "Lady Terminator" (1989), "Crazy Love" (1987), "Mill of the Stone Women" (1960), "Dangerous Seductress" (1995), "Girl Slaves of Morganna Le Fay" (1971), "Don't Open till Christmas" (1984), "The Girl in Room 2A" (1974), "How to Seduce a Virgin" (1974), "Countess Perverse" (1974), "Striptease" (1996), "The Snake God" (1970), "Lorna the Exorcist" (1974), "The Wife Killer" (1976), "Tango of Perversion" (1974), "The Slave" (1962), "The Fan" (1996), and "A Lizard in a Woman's Skin" (1971).

Packaging


Packaged in a standard Blu-ray keep case with original artwork by Justin Coffee.

Overall


This stylish thriller displays why Fulci should be reconsidered as a master craftsman and fans that are only familiar with the maestro's horror films should consider retaking stock and consider purchasing Mondo Macabro's definitive edition of this early film.
| | | | | |
| --- | --- | --- | --- | --- |
| The Film: A | Video: A | Audio: A | Extras: A | Overall: A |