The Film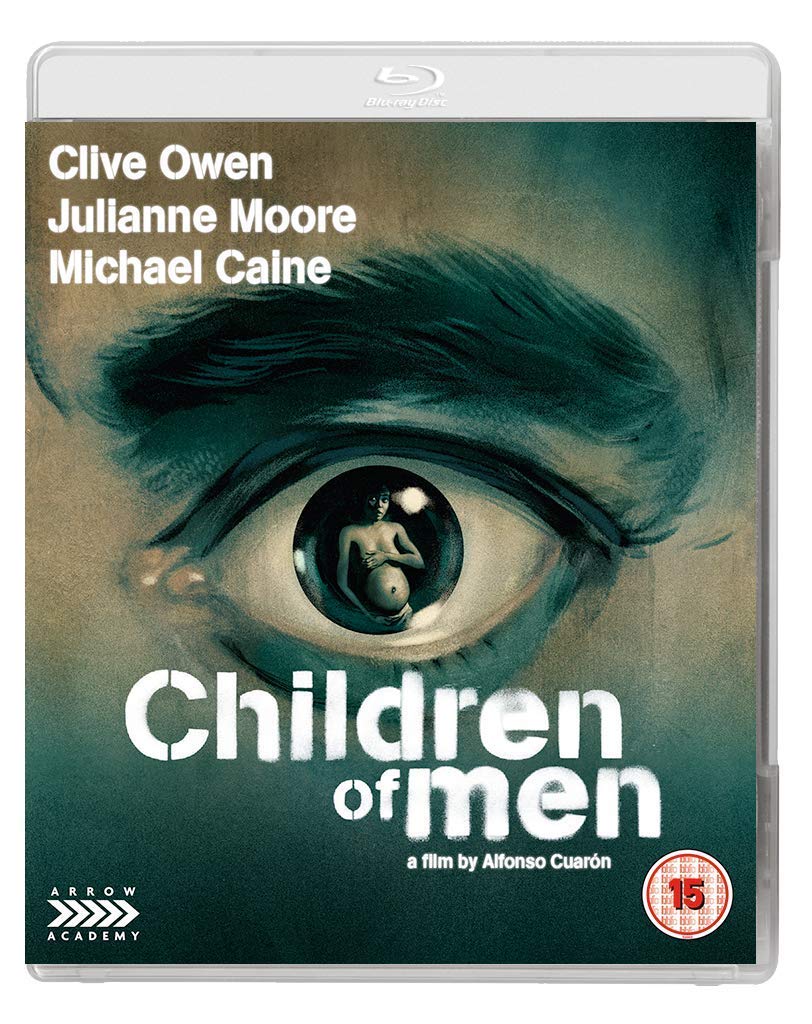 Children of Men (Alfonso Cuaron, 2006)

In 2027, 18 years after the last baby was born, Theo Faron (Clive Owen) works as a civil servant in London – until his daily routine is disrupted, firstly by a newsreport declaring the murder of the world's youngest person, 'Baby' Diego; and secondly by a bomb which detonates in a café. Theo uses these twin events as a pretext to bunk off from his job and visit his friend Jasper (Michael Caine), who lives in the countryside and makes a living by growing and selling marijuana.

Returning to the city, Theo is abducted by a terrorist group, The Fishes. He is taken to their headquarters where he is interrogated before it is revealed to him that the leader of the faction is Theo's ex-wife Julian (Julianne Moore). Many years prior, Theo and Julian had a son together, Dylan, who died in a tragic accident; this event resulted in Theo and Julian parting, the former radical Theo becoming both deeply embittered and recuperated into the system against which he had previously fought. Julian tells Theo that the bomb from which he narrowly escaped was set by the government 'to keep people afraid'. She asks Theo to speak with his cousin Nigel (Danny Huston), a government official, to arrange transit papers for a refugee, Kee (Clare-Hope Ashitey), offering him £5,000 to help her.

Theo meets with one of Julian's men, Luke (Chiwetel Ejiofor), and tells him that he could only get joint transfer papers – which means that Theo will have to travel with Kee. As the group – Theo, Julian, Kee, Luke and a former midwife named Miriam (Pam Ferris) – drive through the countryside, their vehicle is attacked. Julian is shot in the throat and killed. The remaining members of the group seek refuge at a farm owned by people sympathetic to The Fishes. There, Kee reveals to Theo that she is pregnant and asks him to help her get to a boat, The Tomorrow, which will take her to safety; the boat will pass by Bexhill, which is now an internment camp for unwanted refugees.


At night, Theo is awoken by a strange noise. He overhears a conversation between Luke and another man, Patric (Charlie Hunnam); the pair are plotting to kill betray Theo and Kee. Theo awakens Kee and Miriam, and the trio flee from the farm, managing to escape from the other members of The Fishes. They seek refuge at Jasper's home, and Jasper concocts a plan which involves one of the customers of his marijuana enterprise, Syd (Peter Mullan), a police officer who can get Theo and Kee into Bexhill, where they can intercept The Tomorrow. However, the trio have been followed to Jasper's home by The Fishes; Jasper is killed, but Theo, Miriam and Kee escape. They follow through with Jasper's plan, meeting Syd and gaining access to Bexhill. However, both The Fishes and government forces begin to close in on them.

Alfonso Cuaron, the director of Children of Men, had – and continues to – oscillated between Hollywood pictures and smaller-scale productions in Mexico: the two features Cuaron had directed prior to Children of Men entering production were the critically-acclaimed Mexican 'road move' Y tu mama tambien (And Your Mother Too) in 2001 and Harry Potter and the Prisoner of Azkaban in 2004.

Loosely an example of dystopic science-fiction, Children of Men was based on the 1992 novel by P D James (titled The Children of Men). Aside from making a subtle change to the title, by dropping the definite article, Cuaron's film adaptation moves the plot's setting in time from 2021 (the temporal setting of James' novel) to 2027. James' novel is narrated by its middle-aged protagonist, Theo, and takes place after a feminist civil war is initiated (in 1995) following a period in which the male population became mysteriously infertile. Through a woman named Julian, Theo becomes involved with a group of revolutionaries named the Five Fishes. The people of this group – including a former midwife, Miriam, a former priest named Luke, and another man named Gascoine – ask Theo to grant them an audience with Theo's cousin, Xan Lyppiatt, who is the despot in charge of England. Theo eventually discovers that Julian is pregnant. (In the film, the pivotal pregnancy is that of the 'fugee', Kee.)


James' novel has some remarkably prescient passages: notably the description/s of the spoilt Omegas, the youngest generation, which parallel current criticisms of 'millennials', and the manner in which the England depicted within the novel exploits foreign workers (Sojourners) who are brought in to participate in undesirable labour before being 'forcibly repatriated' once they reach a certain age. Much of this is changed, of course, in Cuaron's film – which, aside from alluding to the War on Terror, Abu Ghraib and Guantanamo Bay, drawing a parallel between these and Nazi 'roundups', focuses its thematic hooks more closely on the matter of immigration, a theme which has become increasingly relevant in the years since the picture's first release – but Children of Men retains James' novel's character-driven focus on Theo's movement from selfishness to selflessness. Interestingly, Cuaron's novel also shifts the focus of the material slightly from male infertility to female infertility.

Both James' novel and Cuaron's film adaptation are essentially about the manner in which society falls apart following a realisation that it has no future. The dystopic world depicted within Children of Men is without children and the possibility of hope, renewal/rebirth and growth that they represent. In James' novel, this leads to a deep apathy which results in society's infrastructures being neglected; this is suggested within Cuaron's film adaptation though not made particularly explicit, the London of the future being both instantly recognisable (and rendered utterly bleak through harshly-lit photography) and quietly futuristic – though small touches, such as the animated billboards, hoardings and 'T side' adverts on buses, have become recognisable features of the modern urban landscape in the years since the film's first release. The absence of hope is carried within the sequence in which Theo visits his cousin Nigel, who 'curates' a programme in which works of art are 'rescued' and archived within Battersea Power Station – which contains within it Michelangelo's David, the left leg of which has been shattered, and one of Pink Floyd's inflatable pigs. Theo asks Nigel how maintaining/rescuing these works of art 'can matter if there will be no-one to see it'. Nigel responds nihilistically, asserting simply that he tries 'not to think about it'.


Cuaron shows a tendency to capture events in bravura long takes, something which is present in his other films – including Y tu mama tambien, Harry Potter and the Prisoner of Azkaban and the later Gravity (2013). In Children of Men, Cuaron uses a long take to establish the social context of the narrative when, in the film's opening sequence, Theo wanders into a café where he sees on a wall-mounted television news of the murder of the youngest person in the world ('Baby' Diego); Theo buys a coffee, taking it into the street where he tips into it the hard liquor from his hip flask, before being shocked when an explosive detonates in the café that he has just exited. (Theo uses this event, and the death of 'Baby' Diego, as a pretext for his desire to skive off work and visit Jasper in the countryside.) Later in the picture, Cuaron uses another long take when Julian, Theo, Miriam, Luke and Kee are traveling in a car that is ambushed, with the result that Julian is shot in the throat and killed. In the film's final sequences, Cuaron uses a series of long takes to depict Theo and Kee's flight through the streets of Bexhill, the buildings ripped apart by automatic gunfire and explosions – with the result that this English seaside town begins to resemble Grozny during the First Chechen War, or Sarajevo during its four year siege. Despite these long takes, however, one of the film's most haunting sequences is much more subtle, at least on a technical level: fleeing from the Fishes, who Theo realises conspired to kill Julian and who mean him equal harm, Theo, Miriam and Kee seek shelter in a primary school. The building, its walls decorated with educational posters and childlike drawings/paintings, is of course derelict – there are no children left to teach – and nature has begun to reclaim it. It's an eerie setting, and as Theo wanders the hallways he encounters a deer at the end of a corridor. He freezes, and eventually the deer wanders off. The scene is a reminder of the transience of the human animal: with the human species obsolete, nature will continue on a far less destructive path.


Video



The film takes up just over 32Gb of space on a dual-layered Blu-ray disc. The 1080p presentation uses the AVC codec.

Running for 109:08 mins, Children of Men is presented in its intended aspect ratio of 1.85:1. The film has a coarse aesthetic, with much handheld photography; the palette is slightly desaturated and is given a sterile yellow hue and the film was reputedly shot wholly with available light. Detail is strong throughout Arrow's presentation. Contrast levels are pleasing, with richly defined midtones giving way to soft gradation into the toe. Low-light scenes fare well – such as the sequence in which Theo wanders through Tomasz farm at night and overhears Luke and Patric conspiring against Theo, Kee and Miriam. It's a solid presentation though seems almost identical to the previous Blu-ray release; however, Arrow's release contains what seems to be a stronger encode, which retains the structure of the source material (shot on 35mm film).

Full-sized screengrabs are included at the bottom of this review. Please click to enlarge them.






Audio


The disc offers the viewer the option of watching the film with a DTS-HD MA 5.1 audio track or a LPCM 2.0 stereo audio track. Both audio tracks are clean and clear, with strong range. The 5.1 track offers some more atmospheric sound separation without sacrificing depth. Optional English subtitles for the Hard of Hearing are included. These are easy to read and free from errors.


Extras



The disc includes:
- Audio commentary by Bryan Reesman. Journalist Reesman reflects on the film's dystopic themes and discusses aspects of its production. It's a lively, information-packed track, Reesman clearly having conducted some good research into the picture's production.

- 'There is No Future' (22:22). Philip Kemp discusses the handling of the picture by its studio and the initial response to the film, and he comments on the film's relationship with the source novel by P D James.

- 'Fertility and Progeny' (22:28). Critic Kat Ellinger narrates a video essay focusing on the film's examination of population stagnation, framing this as an abiding theme within science fiction more generally. (One might disagree with this as a premise, but the analysis is still interesting.)

- Archival Featurettes:

- 'The Possibility of Hope' (27:16). This featurette, featuring some intellectual heavyweights (Slavoj Zizek, Naomi Klein, Fabrizio Eva, Saskia Sassen), examines the film's contemporary relevance, reflecting on the real-world parallels within the film's narrative.

- Comments by Slavoj Zizek (5:44). Zizek offers an intellectual analysis of the film as an example of 'ideological despair of late capitalism'.


- 'Delivering a Baby' (3:07). This short featurette focuses on the manner in which the film's birthing scene was captured.

- 'Futuristic Design' (8:33). This featurette focuses on the film's production design and features interviews with members of the crew.

- 'Theo & Julian' (4:40). Cuaron, producer Marc Abraham, Clive Owen and Julianne Moore talk about the relationship between Theo and Julian within the picture, and what Clive Owen and Julianne Moore brought to their roles.

- 'Under Attack' (7:36). Cuaron, Owen and other members of the crew reflect on the shooting of the film's action sequences.

- Deleted Scenes (2:23).

- Image Gallery (2:50).


Overall



Twelve years after its production, Children of Men remains relevant – especially in its depiction of immigration and an ongoing state of crisis. Despite its technically bravura sequences, it's the film's quieter moments, such as Theo's encounter with the deer in the abandoned school, that are the most punctive. However, the film's depiction of a neo-fascist police state and its suppression of 'fugees' is arguably a little didactic – perhaps necessarily so, some might argue. Nevertheless, it remains an impressive achievement, taking its place amongst some of the best dystopic science fiction pictures.

Arrow Academy's new Blu-ray release contains a pleasing presentation of the main feature, though it's not hugely different from the presentation that appeared on the film's previous Blu-ray release. However, Arrow's new release of Children of Men contains some very good new contextual material, which is presented on the disc alongside the more familiar archival featurettes (which have previously appeared on the film's other DVD and Blu-ray releases).

Please click to enlarge: