The Film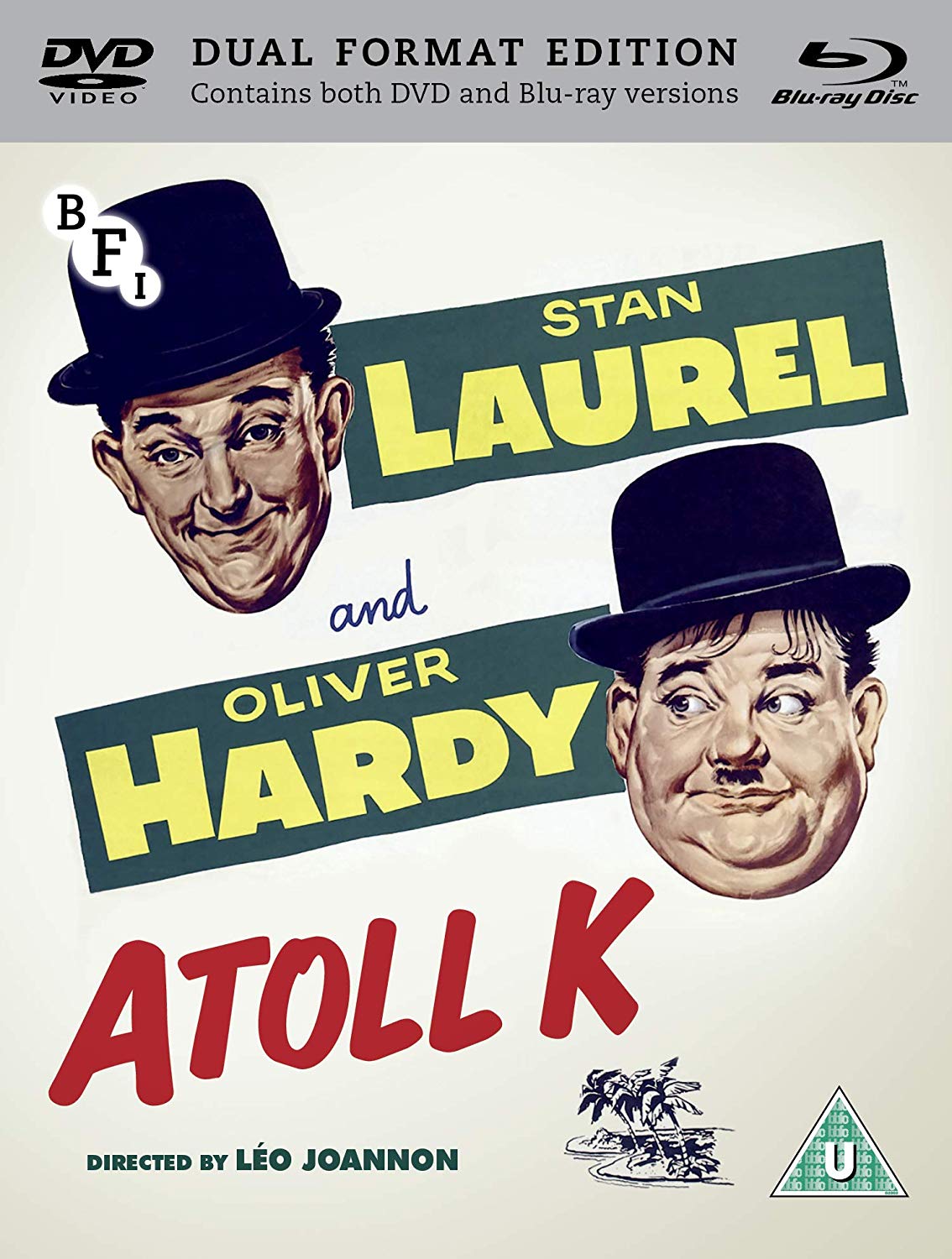 "Atoll K" AKA "Robinsoe Crusoeland" AKA "Utopia" (1951)

Stan (played by Stan Laurel) and Ollie (played by Oliver Hardy) learn that Stan has acquired quite an inheritance from a recently passed uncle, though due to various taxes they are basically given nothing but a yacht and a private island in the Pacific. With no experience in sailing, the bumbling duo are accompanied by Antoine (played by Max Elloy) a stateless refugee with no place to call home and by Giovanni (played by Adriano Rimoldi) a mechanic who helps them sail forth. But during a storm, the ship lands on an uncharted desert island. In addition to them the Cherie (played by Suzy Delair), a nightclub singer who is fleeing from her fiancee also drifts on shore joining the four men. But when her fiancee Jack (played by Luigi Tosi follows and sees a newly discovered land, it becomes a media storm overnight, bringing countless people onto the land and causing chaos to all the already wacky happenings.

The comedy duo of Laurel and Hardy had been fixtures on cinema screens since the silent period and continued their incredible teamwork into the sound era, with a total of 107 films together from shorts at the Hal Roach studios to the feature films in the 1940s with major studios Twentieth Century Fox and MGM. They were at their creative and original best in their early years, by crafting their physical antics and timings in the silent era, then experimenting with vocal gags in the sound era, but their studio film productions such as "The Flying Deuces" (1939) at RKO and "Great Guns" (1940) at Fox proved they were still bankable stars, as their low cost comedies reaped huge profits. Their stardom reached worldwide audiences especially in Europe throughout the years, with their vaudeville tours attracting sizable audiences in addition to the people who flocked to see them arriving via ship at the docks. During WWII their films were not available in the European markets and they were unable to tour the area, but the postwar era saw a resurgence in their stardom overseas while their popularity in America was dwindling.

Opportunity struck for them when a deal was offered to them for a French-Italian co-production. The shoot was planned for 12 weeks and would have Laurel and Hardy starring with French and Italian costars, and the island picture would be basically seem like a smooth sailing effort. Unfortunately the production was an unforeseen disaster with countless problems throughout. The script itself was not in a finished state. In addition, Laurel was unsatisfied with the story and the gags which went through rewrites, with Laurel bringing on trusted writers to help with the dialogue and scenes. Eventually a total of seven writers worked on the script and the rewrites to make it into a satisfactory state, but it also caused a completely inconsistent tone for the entire script. In addition to the writing of the English script, the production had trouble in the communication aspect. French director Léo Joannon was not adept in English and the duo had troubles with interpretation. To add more to the issue, Joannon was not particularly a comedy director, which also led to scenic shots being main focuses rather than the comedic timings and routines. The stars also spoke their own languages on screen, in English, Italian or French depending on the actor, and later to be redubbed in a singular language for the respective markets. Although it was a common tool for European co-productions, Laurel and Hardy expressed dissatisfaction due to comedic timing issues and not being able to play off the other actors as freely as a singular language production would be. The biggest issue with the production that could not be fixed were the health issues of Laurel and Hardy. Stan Laurel was diagnosed with Diabetes a few years prior which led to dramatic weight loss to his already thin figure, making many of the physical tasks quite demanding. Plus he developed colitis, dysentery, and a prostate ulcer during production which required hospitalization and time for recovery. Oliver Hardy on the other hand's weight rose to 330 pounds and having physical issues with his obesity. Constant delays in production led the three month scheduled shoot to extend to a full year until completion, from April 1950 to April 1951.

Considering all the production issues, there are some good things happening in the production. The strongest moments come from Laurel and Hardy interacting with each other. The opening scene with the hand sandwich, Laurel throwing the luggage at Hardy causing trouble, the dialogue between them inside the ship where Hardy explains about the lifeboats. Their timing is impeccable and could only come from years of routines in which they could read each other. Besides the duo, the nightclub scenes of Cherie singing are a delight to see with the musical segments/ But are these supposed to be part of the same film? Whenever the Marx Brothers had musical segments in their films they were seamless transitions from comedy to music (though with a bit of implausibility), but in Laurel and Hardy's "Atoll K" it moves from one movie to a complete other breaking the flow radically. There is also the love/hate relationship story that is never fully realized between Cherie and Jack, the political comedy with the Antoine character, and the barely fleshed out character of Giovanni that seem like random multiple film plots all forcibly merged causing an inconsistent tone and flow. If comparing to the Marx Brothers it would be closest to their hodgepodge late production of "Love Happy" (1949) which like "Atoll K" would be the comedy team's final film together.

But how did the film fare when it opened? That depends on where and which version. The British premiere in September 1951 of the film entitled "Atoll K" ran 99 minutes but was not screened for general audiences. The French version which opened in October 1951 was at 93 minutes. The Italian version also opened in 1951 and ran 97 minutes. Throughout Europe in non-English speaking countries the film was a fair hit but not a blockbuster success. Critically it was hammered and it would take time for the UK and the US to find distribution. In 1953 the film opened in the UK under a new title "Robinson Crusoeland" in which the duo made a tour in the country for promotion. Shortened t 82 minutes, the film did not fix anything that troubled the feature and was basically ignored by critics and the public. The film was finally released in America a year later in 1954, under yet another title and another edit, as "Utopia" which like the UK version was not a hit at all. Over the years, the copyright for the film was not renewed and has lapsed into public domain everywhere, leading to questionable quality versions around the world. Thankfully, the BFI has restored the longer 99 minute English version of the film and for Blu-ray and DVD in the United Kingdom.

A disaster in production and also in execution, "Atoll K" is a fascinating piece of cinema history of how things could go wrong and how the behind the scenes truly reflect the finished product. It was not the end of Laurel and Hardy at all though. They continued on successful tours of their act following the film and their films and shorts were mainstays on the early days of television in reruns. Hardy passed away at the age of 65 on August 7, 1957 from a stroke - something he had multiple experiences with through his obese frame and unhealthy lifestyle. Laurel on the other hand passed away on February 23, 1965 at the age of 74, after suffering a heart attack. In the years since their legacy has only continued to grow, with an animated Hanna Barbera series from 1966, continued reruns of their films on television, parodies still recognizable, and most recently the biopic "Stan & Ollie" (2018) with Steve Coogan and John C. Reilly in the respective roles. In addition to their library of films available on DVD and continuing to be reissued on Blu-ray as well, their gags and loving characters will always be part of film culture.

Note this is a region B Blu-ray and region 2 PAL DVD set

Video


As stated the film had a shoddy release history with differing versions worldwide. The BFI presents the longest English language version of "Atoll K" in the 1.37:1 aspect ratio in 1080p in the AVC MPEG-4 codec. The original nitrate fine grain positive was scanned in 2K for the restoration, with digital restoration done at Pinewood Creative Services. It can easily be said that this is the best the film has ever looked on home video, but it is not anywhere near perfect or stellar. Contrast is inconsistent with some scenes having blown out whites and crushed blacks, detail is lacking, and some damage is easily spotted. But on the brighter side, digital cleanup has been done to remove much of the damage such as dust and scratches and correcting film stability. With how the film was sometimes shown on TV or issued in budget line DVDs in nearly unwatchable conditions, this new restoration is certainly a revelation.

The film's runtime is 98:44 on the Blu-ray and 94:48 on the DVD, accounting for 4% PAL speedup.

Note the screencaps are taken from the standard definition version


Audio


English LPCM 1.0
English Audio Descriptive Dolby Digital 2.0 mono
The Blu-ray has the mono track in LPCM. Laurel and Hardy's English voices are heard here recorded on set while all the other non-English speaking cast have been dubbed over in English, and to say not very well, making the mouthing movement mismatches noticeable. Like the film, the audio has been restored from the 35mm optical track negative held by the BFI. And like the film the audio also has its issues in fidelity being limited, hissy noise plaguing the dialogue and background, and flat bass. Dialogue, music, and effects all suffer from something weak, though it is easy to understand dialogue and there are no major dropouts or pops in the audio track. There is an audio descriptive track which is presented in Dolby Digital. In addition, the DVD has both the standard film audio track and descriptive track in Dolby Digital 1.0 and 2.0 mono respectively.

There are optional English HoH subtitles for the main feature in a white font.

Extras


The BFI's release of "Atoll K" is a dual format Blu-ray and DVD set with the film and extras on the Blu-ray and the DVD repeating the same contents in standard definition PAL.


DISC ONE (Blu-ray)

Audio commentary by Glenn Mitchell
Glenn Mitchell, writer of "The Laurel and Hardy Encyclopedia" gives an excellent solo commentary on the film here. He discusses the stars' careers from the early days to the post-Hal Roach works, biographies of the co-stars and the staff, comparisons to scenes from the film to their earlier shorts, differences between the various versions, and of course all the problems faced during the making and the release of the film.
in English Dolby Digital 2.0 with no subtitles

Laurel and Hardy Solo Comedies
Presented are vintage silent shorts from Laurel and Hardy both before and after their teaming in 1921, divided into two sections - "Ollie" for Hardy's shorts and "Stan" for Laurel's shorts.

- Ollie
-- "Mother's Baby Boy" (1914) (4:15)
-- "Something in Her Eye" (1915) (11:33)
-- "Should Men Walk Home?" (1927) (26:55)
"Mother's Baby Boy" features Hardy in one of his earliest film roles at the age of 22 and going by the name of Babe Hardy at the time, made by Lubin Films. In the short he plays Percival Peachskin a chubby mama's boy picked on by two others, but still loved by his suitor played by Nellie Farron. In "Something in Her Eye", a young girl has literally something in her eye making her wink, and men making men think she is coming onto them. Hardy plays one of the men in the gag filled short which was produced by the Crystal Company. Unfortunately the cast and crew information on the film has been lost over time and Hardy is the only actor that has been identified. "Should Men Walk Home?" was directed by Leo McCarey who transitioned quite well from silent to sound and his early comedy works are quite gems. This short about a male and female thieving couple has Hardy in a minor role, but he obviously uses the time for his physical antics. All three films have their issues being more or less a century old, but "Mother's Baby Boy" has surprisingly good grey scale.
in 1080p AVC MPEG-4, Music LPCM 2.0 with English intertitles

- Stan
-- "Do You Love Your Wife?" (1919) (14:11)
-- "Somewhere in Wrong" (1925) (22:24)
"Do You Love Your Wife?" is the earliest surviving film starring Laurel as a hapless janitor that gets strangely involved in a domestic dispute between a cheating husband and jealous wife. Lots of physical comedy and gags throughout, it certainly shows Laurel's physical grace with many nods to Charlie Chaplin. The homage continues in "Somewhere in Wrong" with Laurel playing a tramp that gets a job on a farm.
in 1080p AVC MPEG-4, Music LPCM 2.0 with English intertitles

Amateur Films
- "Laurel and Hardy in Tynemouth" with commentary by Glenn Mitchell (1932) (11:03)
- "Laurel and Hardy in Scotland" with commentary by Glenn Mitchell (1947) (3:23)
Shot by amateur cineclubs, these silent shots chronicle Laurel and Hardy&s first trip to the UK as a duo and their first postwar trip to the UK respectively. These include mandatory commentary by Glenn Mitchell who guides the viewers to the backgrounds of their trips and where they were in their careers at the points.
in 1080p AVC MPEG-4, in 1.33:1, English Dolby Digital 2.0 with no subtitles

Newsreel Footage
- "Railway Birthday Party" (1947) (1:35)
- "Laurel and Hardy Return to the UK" (1952) (1:49)
In these vintage Movietone newsreels, the first has Laurel and Hardy delighting people in Kent as they commemorate the new locomotive for the Romney, Hythe and Dymchurch Railway and next returning to the UK to promote the theatrical opening of "Robinson Crusoeland". The first newsreel is complete with narration, though the second newsreel the narration audio element is missing.
in 1080p AVC MPEG-4, in 1.33:1, English LPCM 1.0 with no subtitles

Stan Laurel Audio Interview (1957) (70:15)
Arthur B Friedman was invited to Laurel's home for a lengthy audio interview, taking place just a week after Hardy's passing. Many issues are talked about including Laurel's life and career, his relationship with Hardy, contracts, disputes, film work, touring work, his health, and more. This audio extra plays as an alternate audio track to the film. Once the interview ends, the audio reverts to the film's soundtrack.
in English Dolby Digital 2.0 with no subtitles

"The Boys Stay in the Picture" featurette (13:06)
In this new featurette, Laurel and Hardy aficionado Chris Seguin gives a short essay about the film "Atoll K" and it's production issues as well as insertions of vintage audio interviews with Laurel and Hardy. Accompanying the audio is rare still photos and promotional materials of the film plus others of the time period.
in 1080p AVC MPEG-4, in 1.78:1, English Dolby Digital 2.0 with no subtitles

US Trailer (1:39)
The 1954 trailer for "Utopia" promises it is a "new 80 minute comedy riot".
in 1080p AVC MPEG-4, in 1.33:1, English LPCM 1.0 with no subtitles

German Trailer (2:49)
Known as "Dick und Doof" in Germany, this trailer emphasizes a lot of the action that takes place in the film. There are English subtitles to translate the narration and text, though not burned into the image, they are forced and not removable.
in 1080p AVC MPEG-4, in 1.33:1, German LPCM 1.0 with forced English subtitles

Booklet
A 32 page booklet with essays, stills, credits are included. The first essay is "From Utopia to Dystopia" by Glenn Mitchell who gives a condensed version of his commentary down on the production. "Atoll Chaos" by Norbert Aping is also welcome, as he is the author of "The Final Film of Laurel and Hardy" the authoritative account on the making of the film. "Generations of Laughter" by Alan and Vic Pratt is an essay on the importance of the duo for the television generation. There are extensive notes on the short films and other extras, transfer information, and acknowledgements.

Overall


"Atoll K" having a history of being disaster on set, a mess in execution, and a failure in marketing sounds like a perfect premise for a Laurel and Hardy movie. Unfortunately most of it was in reality and even in reevaluation, it's mostly a failure rather than a rediscovery. It's not recommended for non-fans but Laurel and Hardy fans should be pleased that their most obscure feature does have a great Blu-ray and DVD set from the BFI that doesn't shy away from the complicated history. Excellent extras accompany the set to make this very recommended.
| | | | | |
| --- | --- | --- | --- | --- |
| The Film: C- | Video: B- | Audio: C+ | Extras: A | Overall: B |