The Film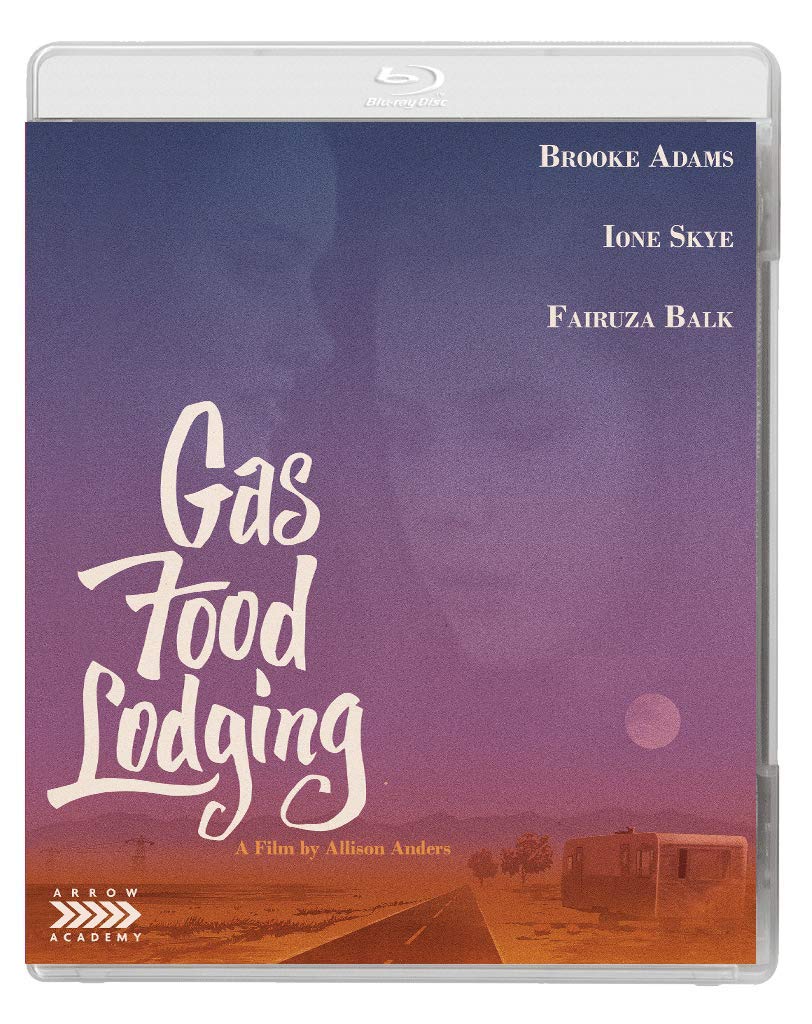 Gas, Food, Lodging (Allison Anders, 1992)

Adolescent Shade (Fairuza Balk) lives a modest life in a trailer park in Laramie, New Mexico, with her mother Nora (Brooke Adams), a waitress, and older sister Trudi (Ione Skye). Shade seeks escape from her life through the black-and-white films of Mexican actress Elvia Romero, which Shade watches at a local picturehouse. Watching Romero's films, Shade valises that 'what was missing from my life is a man [….] Not for me, for my mom'. Shade decides to try to play matchmaker for her mother.

Meanwhile, Nora has recently ended an affair with a married man, Raymond (Chris Mulkey). Shade is unaware of this and, by coincidence meeting Raymond one night, she decides that he is a perfect match for her mother and invites him to dinner, with disastrous consequences. Following this, Shade makes an attempt to track down her estranged father, John (James Brolin), with the hope that John and Nora may reunite. She encounters John, who expresses regret at having not had contact with his two daughters. He behaves kindly to Shade, though when he takes Shade home to meet his new lover, Kim (Leigh Hamilton), this provokes an argument between John and Kim that Shade witnesses and which reveals to Shade that her father's home life is as dysfunctional as Shade's own.

Shade's sister Trudi's love life is as problematic as that of the girls' mother. Trudi has a string of boyfriends. However, her interest is piqued by a young British man, Dank (Robert Knepper), who she meets whilst she is working as a waitress. Trudi and Dank, a visiting geologist, grow close. Dank is in the area to investigate cave rocks which glow under ultraviolet light. He gives Trudi one of these rocks, which she passes on to her younger sister. One night, Dank and Trudi drive out to a cave where Dank is collecting samples. They make love under the luminescent glow of the rocks there, and afterwards Trudi reveals to Dank that she as a younger girl, she was gang raped - something of which Nora, with whom Trudi has a tense relationship, is unaware. After Trudi and Dank declare their love for one another, Dank leaves the area to investigate caves near to another town, but he promises to return. However, Dank does not return to Trudi, and Trudi discovers she is pregnant. Nora suggests that Trudi should seek an abortion, but instead Trudi decides to leave for Dallas, where she will give birth and the child will be given up for adoption.


Meanwhile, after comically dressing up as Olivia Newton-John in order to seduce her male friend Darius (Donovan Leitch) - who, unbeknownst to Shade, is gay - Shade becomes friendly with Javier (Jacob Vargas). Javier is a projectionist at the cinema where Shade watches the films of her idol Elvia Romero. Owing to his heritage, Javier is also the target of racial abuse by the likes of Trudi and Shade's friend Tanya (Julie Condra).

The early 1990s saw a boom in independent filmmaking within the US, and it seemed that indie films were finding easier channels of distribution to cinemas than in the 1980s (or, for that matter, at any time since the 1990s). They offered a more diverse palette than Hollywood pictures: Emanuel Levy has stated that these pictures were made 'uncompromisingly, often on shoestring budgets' and 'succeeded in reaching specific (niche) audiences, defined by race, gender, and sexual orientation' (Levy, 1999: 23). Allison Anders' 1992 film Gas, Food, Lodging was no exception, delivering a female-focused picture that was to some extent poorly marketed, with posters which misleadingly depicted the two young female leads (Fairuza Balk and Ione Skye) in 'come hither' poses.

Anders was one of the few female filmmaking voices to emerge from the indie cinema 'boom' of the 1990s, and Yvonne Tasker has described Anders' style as 'tough and intimate, humorous yet deeply felt' (Tasker, 1999: 9). Anders' films tend to feature ensemble casts and focus on the realities of women's lives (in contrast with Hollywood's cornering of the 'women's picture' as a form of high melodrama). Early in her filmmaking career, Anders also worked on Wim Wenders' Paris Texas (1984) and Gas, Food, Lodging channels some of Wenders' cool style: like Travis in Wenders' film, towards the end of Gas, Food, Lodging, Shade revisits the memories of a happier time within her family by watching a home movie. Where Wenders' Paris Texas was a road movie, Yvonne Tasker describes Gas, Food, Lodging as an 'off-the-road' movie, opening with a shot of the highway and ending with static shots of the town in which Shade and her family live - conveying a sense of stasis amidst the promise of movement offered by the nearby highway. Amidst the photographic naturalism of most of the picture, there are moments of expressive romanticism: when Trudi and Dank make love within the cave in which Dank is collecting his samples, the scene is lit expressionistically by the ethereal glow of the rocks that Dank is collecting.


Anders' film is adapted from Richard Peck's 1972 novel Don't Look and It Won't Hurt, a book targeted at a teenaged readership; Anders' adaptation retains much of the structure of Peck's novel though changes some details, including the names of the principal characters (for example, 'Carol' becomes 'Shade'). Anders channels Peck's naturalistic depiction of dysfunctional families, as seen through the eyes of the adolescent protagonist-narrator - a core element of both the novel and Anders' film adaptation. Into this material, Anders injected some semi-autobiographical elements: when Trudi tells Dank that, as a younger girl, she was gang raped - a revelation which is hidden from Trudi's mother Nora, from whom Trudy has become deeply alienated - the moment is handled in a deeply punctive manner because Anders herself was gang raped as a girl (see Levy, op cit.: 380). As contemporaneous articles about the film frequently suggested, Anders' experiences of own broken childhood (her father abandoned her family, and Anders was sexually abused throughout her youth), and raising her own two daughters as a single mother, results in a picture which is deeply sympathetic towards Shade, Trudi and Nora. As Emanuel Levy notes, Gas, Food, Lodging 'cuts deep into the dreary life and anxieties of single women' (ibid.). 'Women are lonely in the Nineties; it's our new thing', Nora tells Raymond.


The film takes its title from signs on American highways which advertise the basics of life ('Gas, Food, Lodging'), and it's fair to say that when the audience first meets them, Shade, Trudi and Nora are simply existing: they live a minimalistic life in a trailer park, able to afford the bare necessities ('gas, food, lodging') but little else. The film depicts 'thankless jobs, trailer homes—and a yearning for something meaningful to happen' (Levy, op cit.: 380). Shade's escape from this life is via the local picture house, where she watches unsubtitled Spanish-language films featuring her favourite actress, Elvia Rivero: these films-within-a-film are lensed in black-and-white, intercut with shots of Shade watching from her seat in the auditorium. The films, in which Shade's heroine is shown in a variety of romantic and stereotypical roles associated with women in film (including as a chaste nun), are set against the narrative of Gas, Food, Lodging itself - a picture which attempts to offer a more 'rounded' depiction of womanhood - and, through them, Anders offers a sly self-aware commentary on how women have been represented in cinema. The films of Elvia Romero offer Shade a route of escape from her day-to-day existence, and they also inspire her to act as matchmaker for her mother, Nora. 'If it weren't for Elvia Romero', Shade tells the audience via voiceover at the start of the picture, 'this story wouldn't be worth telling [….] Elvia Romero was the one who made me laugh when I needed to laugh. She made me cry when no-one was looking'. Shade's fascination with Mexican cinema also points to the film's exploration of the parochialism of the young people with whom Shade is associated, including the casual racism of Shade's schoolmate Tanya - who tells Shade that because of his Mexican heritage, Javier must be a cholo who kills for pleasure and gang rapes young women as part of their initiation into gang culture. As she grows to know Javier better, however, Shade comes to realise that the reality of his life is very different: Javier lives alone with his mother, who is deaf but enjoys dancing to the vibrations of loud music. Javier and his mother share a warm, happy relationship: their family is the only 'functional' family unit within the narrative, something which Shade acknowledges.

Ultimately, Gas, Food, Lodging is about the collision between Trudi's perception of her proletarian home town as limiting and Shade's (and Dank's, for that matter) belief that the desert holds within it promise of growth and acceptance. After meeting Dank, Trudi tells Shade that 'Living her's not so bad. We went to the desert, Dank and me, and he showed me: it's alive out there. Colours, lights and sounds'. However, with Dank's departure Trudi reverts to her feeling of being constricted within her surroundings, and she flees to Dallas. Shade, meanwhile, demonstrates her optimism within her voiceover: 'A lot of people say you're stupid for having expectations', she says, 'but they're just afraid of disappointment. Me, I guess I'm more afraid of not having any daydreams left. Disappointment is easy: you can get over it. But what do you do with yourself if you can't imagine the future the way you want it to be?'


Video



Filling just under 28Gb of space on a dual-layered Blu-ray disc, Gas, Food, Lodging is given a 1080p presentation that employs the AVC codec. The film is uncut and runs for 101:19 mins.

The film features some interesting photography. Much of the film is shot very naturalistically, in available light, with the small town setting communicated through a series of static shots of gas stations and trailer parks which are reminiscent of the work of photographers associated with the New Topographics movement, such as Stephen Shore. However, other scenes, such as Trudi's night-time excursion with Dank to the caves, are shot using strong primary coloured gels.

Photographed on 35mm colour stock, Gas, Food, Lodging is handsomely presented on this Blu-ray release. The level of detail is pleasing, with fine detail being resolved very nicely. Little to no damage is present within the presentation, other than some marks on the emulsions. Contrast levels are very pleasing: midtones are rich and defined, and there is subtle gradation into both the shoulder and the toe. Colours are natural and consistent throughout. Finally, a strong encode to disc ensures the presentation retains the structure of 35mm film.

Some full-sized screengrabs are included at the bottom of this review. Please click to enlarge them.





Audio


Audio is presented via a LPCM 2.0 stereo track, which displays depth and range - though is by no means a 'showy' track. Optional English subtitles for the Hard of Hearing are included. These are easy to read and free from errors.


Extras



The disc includes:
- 'The Road to Laramie: A Look Back at Gas, Food, Lodging' (29:54). Allison Anders speaks about the film, in conversation with screenwriter Josh Olson. They talk about the critical reception to the film, and Anders talks about her career to that point - making Border Radio with Kurt Voss and Dean Lent in 1987. Anders reflects on how Gas, Food, Lodging entered production, and she discusses her response to Richard Peck's novel Don't Look and it Won't Hurt and the first draft of the script. She discusses the production in detail and talks about how some of the unique elements of the finished picture (in comparison with Peck's novel and the first drafts of the screenplay) evolved, including Shade's fascination with Elvia Romero. It's an excellent, in-depth interview, and Anders is a refreshingly frank interviewee.

- Cinefile: 'Reel Women' (34:15). This 1995 documentary for the series Cinefile, made by Chris Rodley, focuses on female filmmakers in the age of the New Hollywood. It includes comments by filmmakers such as Jane Campion, Anders, Kathryn Bigelow, Sally Potter, Paula Weinstein Gale Anne Hurd and others.

- Image Gallery (7:30).



Overall



Critically well-received at the time of its initial release, Gas, Food, Lodging remains as impactful today as it was in 1992, thanks to Anders' sensitive direction and some superb performances — from Fairuza Balk and Brooke Adams, in particular. The film's raw examination of small town life is commendable, though admittedly there are narrative loose ends galore, which may or may not be frustrating depending on one's point of view. (A viewer might wish to know more about Darius' story, for example.) Gas, Food, Lodging benefits greatly from some subtle but powerful photography: the open shots of the desert set against the claustrophobia of the trailer park in which Shade's family live; the naturalism of most of the film set against the expressionistic lighting within the cave in which Dank and Trudi make love. Listening to Anders' comments in the new interview on this disc, and reflecting on the film's focus on dysfunctional families, it's hard not to recall the organic nature by which Dennis Hopper's similarly-themed Out of the Blue (1980) came to evolve from first concept to finished picture.

Gas, Food, Lodging gets a very pleasing and film-like presentation on this new Blu-ray release form Arrow, and the main feature is supported by some excellent contextual material. The interview with Anders is frank, entertaining and informative, and the episode of the always-excellent Cinefile focusing on female filmmakers is a superb blast from the past.

References:
Levy, Emanuel, 1999: Cinema of Outsiders: The Rise of American Independent Film. New York University Press

Tasker, Yvonne, 2002: 'Allison Anders'. In: Tasker, Yvonne (ed), 2002: Fifty Contemporary Filmmakers. London: Routledge: 9-16

Please click to enlarge: