The Film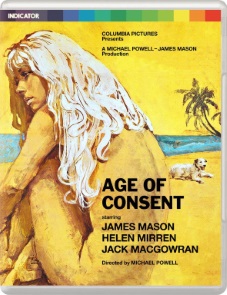 Based on Norman Lindsay's controversial autobiographical 1935 novel, Age of Consent is the story of an artist (James Mason), grown tired of producing art for wealthy Americans, who moves to the wilds of Australia's Great Barrier Reef where he meets Cora (Helen Mirren), a teenage girl who inspires him and becomes his muse – as well as the object of his desire.

The penultimate film from the great Michael Powell (Black Narcissus, The Red Shoes, Peeping Tom), Age of Consent explores the obsessive nature of an artist approaching the twilight of his career. Misjudged and mis-handled on its initial release (when the distributor removed key scenes and re-scored the film), Age of Consent is now regarded as one of Powell's key works.

Video


A strange dreamy, laid back, mildly melancholy little film that is gorgeous to look at and shot almost entirely on location. Cora is meant to be about 18 and the whole piece builds towards the last scene where Cora expresses disappointment that all she means to Morahan is his model, but he realises that he loves her as a woman ... and we get a sappy song about Cora reaching the age of consent. It's a mild black mark on an otherwise fine, if minor little film that was quietly funny and amusing.

Early on it seems raggedly edited at a couple of points but soon settles down to be a modestly slick production. Mason and Mirren really struggle with their Aussie accents and it's rather unintentionally hilarious when the latter is billed as being part of the Royal Shakespeare Company in the closing credits!

Very much a character piece with Jack McGowron turning up as Morahan's shady spiv pal and Mason's wife Clarissa Kaye as "Brisbane Bird'" who shares his bed; the latter's entire role is played in the nude ... and Mirren doffs her togs frequently. No doubt a boon to the marketing folks, although the studio cut the film about and rescored it to lesser effect for general release.

The image comments apply to both edits of the film, although I viewed all the way through the longer, preferred director's cut. I checked out substantial chunks of the shorter studio cut and it would *seem* that both share the same sources and are seamlessly branched.

The image is typical of a location-lensed production done on a relatively low budget. Colourful, grainy and with a certain gritty edge. The opening scene in New York feels entirely different from the remainder of the film with very different sharpness and density levels. Overall this section is darker and more conventional. It's also set at night. I suspect this was a deliberate artistic choice made by Powell to differentiate between Morahan's different modes of existence. He wants to shuck his old, more cosmopolitan existence flogging abstract art to wealthy Yanks and find his older, original artistic self. These sequences are quite different to the main body of the picture set in Australia.

The overall look is soft, with fine grain but detail is much in evidence in closeups, medium shots and in backgrounds. The grain is ever present and is at it's coarsest in darker moments but is also very noticeable in skies on the location shots. Black levels are rich and deep with intermittent shadow detail and some crush; most of the film is shot in bright daylight, including the Australian interiors which seem to also be shot on location.

Contrast is gentle and doesn't allow for blown out whites or eclipsing detail which is a definite bonus on such a bright, daylight-heavy location shoot as we have here; the transfer has been expertly handled. There are no signs of digital artefacts or damage to the print. The encoding is up to the usual high standards set by Powerhouse's other Indicator releases being expertly handled by superstar David Mackenzie and Fidelity in Motion.

Taken from older masters this good as can be shy of a 4K UHD disc and a brand new 2018 transfer. We have a generous bitrate and the usual roomy BD50 disc. This is one candidate where a 4K UHD would be a very desirable option; this is such a sunny, bright, textured film. Seeing it projected on as large a screen as possible and in as high a definition as possible could blow the viewer's mind.

I haven't gone UHD Blu-ray yet, but this is one film that would probably provide the impetus to do so were it available.

1080/24p / MPEG-4 AVC / 1.85:1 / 106:30, 99:27

Audio


A solid lossless, mono track typical of the period. Dialogue is very clear and easy to follow, music is clearly levelled in the track never becoming overbearing. The soundtrack hasn't got the levels of music modern films can have and there are no phasing issues or other distortions. A decent track about as good as we can expect it to be.

Subtitles are welcome and necessary for the hearing impaired as this is a verbose film.

Extras


Audio Commentary by film historian Kent Jones from 2009 on the director's cut

Laid back commentary from journalist and programmer Jones. He knows his stuff and the track is packed with info but he does have a rather quiet, low tone that is almost annoying ... at least for me. In any case, this is a good track that contains a wealthy of good trivia and is a must for fans of director Michael Powell.

"The Beauty of the Image: The John Player Lecture with Michael Powell Conducted by Kevin Gough-Yates at The National Film Theatre, London on 10 January 1971" (85:06, as an alternate audio track over the film)

And, the great man appears here in another of the wonderful, vintage lectures from the National Film Theatre. An older recording and it occasionally shows it's age being quiet low and quiet (jack the volume up a notch or two) and it's in mono. A superb track with bags of fascinating facts and anecdotes. Powell was a wily old bird and proves to be very amusing, frequently eliciting laughs from the audience.

"The Guardian Interview with Michael Powell and Emeric Pressburger Conducted by Ian Christie at The National Film Theatre, London on 28 July 1985" (105:55, as an alternate audio track over the film)

A different beast to the earlier track with a more serious tone and and much better sound quality. Both Powell and Pressburger appear hear together and are on fine, if muted form. The most interesting section is where they discuss The Lion Has Wings (1939) a propaganda piece they made.

"Age of Innocence: Ian Christie on Age of Consent" 2018 featurette (37:46)

A new piece with Christie discussing Powell and his career dealing mainly with his last phase where he was recuperating from the blowback from Peeping Tom (1960) and it's controversy.

"Making Age of Consent" 2009 featurette (16:41)

A legacy piece ported over from the US DVD release with unit manager Kevin Powell, composer Peter Scullthorpe and editor Anthony Buckley discussing their experiences making the film.

"Martin Scorsese on Age of Consent" 2009 featurette (5:12)

Legacy piece. Scorsese is a fan of Powell and was one of the greatest champions of his work and was partially responsible for restoring the director's cut of Age of Consent. Lots of good stuff about Powell very much from a professional fan point of view, one who was lucky enough to befriend the man.

"Helen Mirren: A Conversation with Cora" 2009 featurette (12:20)

Another legacy featurette. Mirren mainly discusses the themes of the film.

"Down-Under with Ron and Valerie Taylor" 2009 featurette (10:03)

Legacy piece is most interesting; an interview with the Taylor's who also worked on many other films including Jaws (1975). Depressing to hear about the deterioration of the Great Barrier Reef.

Theatrical Trailer (2:18)

This vintage trailer plays ups the exotic, erotic and comic elements.

Image Gallery: Original Promotional Material (63 images)

Solid HD gallery of promotional photos.

"The Boy Who Turned Yellow" 1972 Children's Film Foundation short film (53:59)

Classic CFF comic fantasy short restored to the same high standards as the main feature with full 1080/24p and lossless LPCM 1.0 sound.

40-page liner notes booklet by Samm Deighan and Vic Pratt, archival recollections by the cast and crew, an overview of contemporary critical responses, and film credits.

Another superb, extensive booklet; almost worth the price of the disc by itself. At some point in the future I hope Powerhouse Films do what Arrow did and publish these booklets in hardback collections.

Overall


Another fine release from Powerhouse Films presenting two different edits seamlessly branched. Although taken from older masters which do have some relatively minor issues this represents the best this film has looked on home video. Extras are bountiful and up to the usual Indicator series' high standard. Special mention for the inclusion of the 53 minute short feature The Boy Who Turned Yellow.
| | | | | |
| --- | --- | --- | --- | --- |
| The Film: B | Video: A | Audio: A | Extras: A+ | Overall: A+ |