The Inheritors [Blu-ray]
Blu-ray ALL - America - Mondo Macabro
Review written by and copyright: Robert Segedy (16th December 2018).
The Film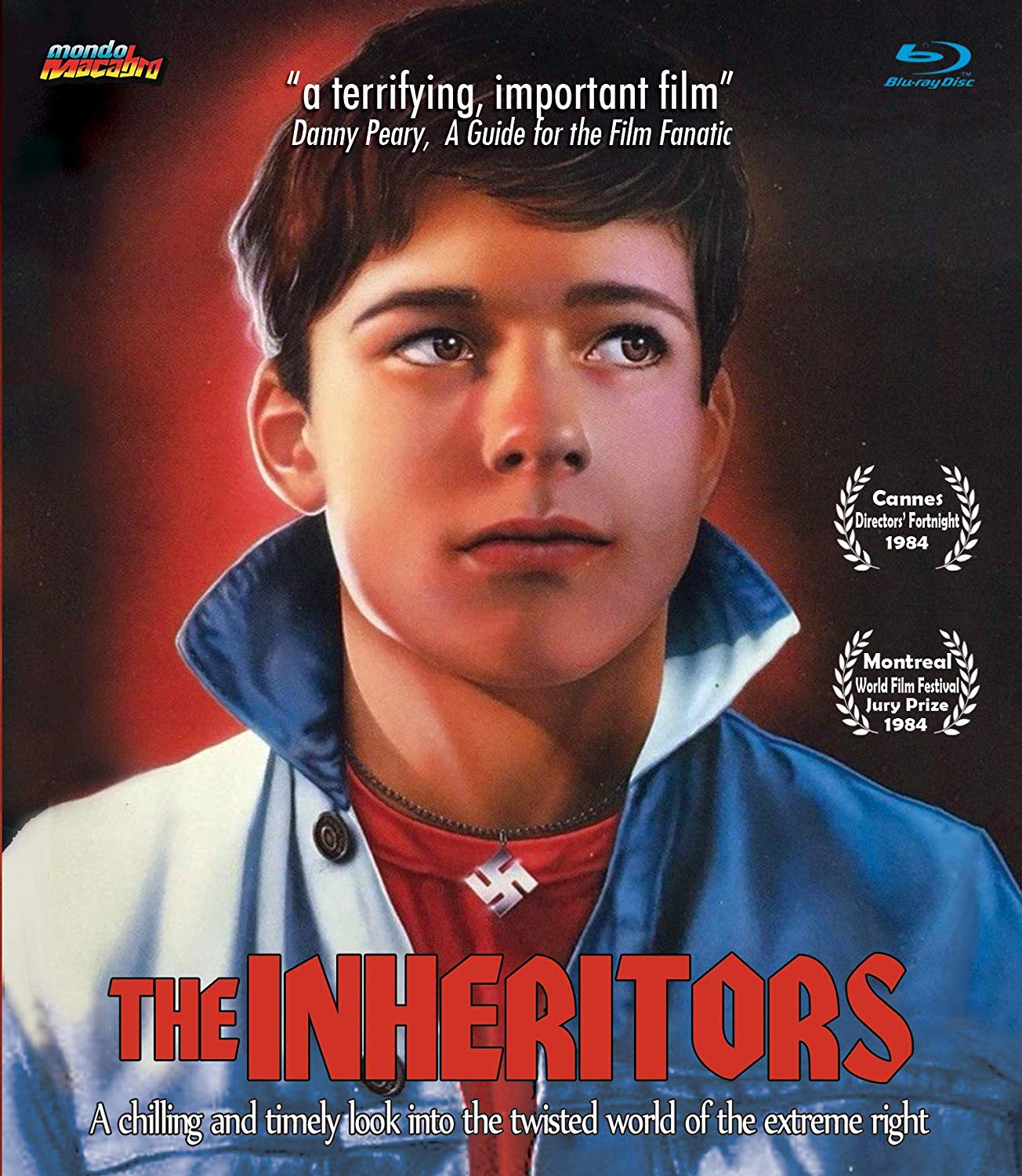 It seems like the extreme right is back in the news again, which makes this film even more timely than before, on November 11, 2018 The New York Times Magazine, featured a cover story on White Nationalism and the threat that it poses to the United States. I was thinking about that article when I watched this film and it goes without saying that the shadow of the Third Reich never really faded away after the end of World War II. Neo Nazism still thrives on and no matter what name it is currently using, its warped thinking and racist preachings still packs a punch. Walter Bannert stated that he was inspired to make this film after he and some friends were attacked in a pub by a Nazi Youth group in Vienna.
The film focuses on how certain Germanic Neo-Nazi organizations selected certain disaffected youths from broken homes and recruited them with the goal of having them join the Nazi party. Steadily brainwashed by lies and propaganda, the boys are easily seduced by flashy costuming and easy access to weapons and before they realize it, they have embraced the lie and are part of the growing number of the entourage. We have seen similar tactics employed by infamous juvenile gangs such as The Crips, The Bloods, The Latin Kings and various outlaw motorcycle clubs such as The Hell's Angels, The Pagans, etc. Full devotion to the cause is demanded by all members and the group often strikes in a pack, easily subverting any opposition through brute force and by illegal means.

The film opens innocently enough focusing on the character of 16 year old, Thomas Feigl (Nikolas Vogel) who falls in with the wrong group of guys, especially the character of Charly (Roger Schauer), who becomes his best friend as the film progresses. Charly and Thomas are complete opposites in many ways: Charly is from a working lower class family and his family is depressed and they live in complete fear of his father (Frank Dietrich), a heavy drinking lout. Thomas' family life is completely dominated by his demanding mother (Anneliese Stöckl-Eberhard), his ineffective father (Jaromír Borek) and his cello playing younger brother, Ernst (Klaus Novak). The two youths are hardly home because they are too busy hanging out at the newly opened youth center that is secretly masterminded as a Neo-Nazi recruiting front. We see the boys are engaged in conversations with older mentors and between screenings of WWII combat footage, they manage to meet some Fräulein's and engage in sexual relations. Charly seems to be the older and more dominant partner as we see him eyeballing a girl; he then beats the girl's boyfriend up and simply rapes her. Thomas voyeuristically looks on from the other room as Charly strips the girl and climbs on top. We see Thomas being slowly brought into the group's clutches as he is shown a darkroom with equipment. Thomas acknowledges an interest in photography and he is recruited to make copies of photos of a prominent speaker in the party. Slowly but surely Thomas is being befriended and utilized by the group while he distances himself from his hateful mother and her endless tirades. The youth exchanges membership from one family to another group where its faux military stance and snazzy uniforms excites him in a serious manner. A slow process of brainwashing begins as Thomas is gradually corrupted by the Nazi's and before you know it, he is being exiled from school, leaves his family behind, and is totally a tool of the other side.

The film begins to focus on Thomas even though Charly is still involved with the organization and their demonstrations and protests. There is a subplot involving a Neo-Nazi and his plans for political advancement but that plot doesn't really go anywhere; it is just there to show what a farce the political scene was in Germany in the 80's. When the man is being interviewed by a local television program, he extorts the importance of family values and denies any ties with a Neo-Nazi organization. The emphasis on rewriting history and blatantly denying that any Jews were gassed during the Holocaust is almost laughable, but then you realize that this is part of the way that the Right Wing agenda advances their cause, with lies and slogans and rousing marching songs. Part of me sat there, dazed by the bizarre behavior on the screen and another part of me recoiled when it was all too clear that this film is now available for wide consumption after being banned in Germany since 2015. Creepy make believe horrors and acts of violence are all too easy to dismiss, but this film with its total credibility and message regarding the New Right and their upsurge as of late, is much too frightening to simply ignore unheeded. It's difficult to recommend the purchase of this film but it is an important testimony to today's political arena with its "fake news" and revolving door on the White House.

Video


Presented in widescreen 1.85:1 HD 1080p 24/fps using AVC MPEG-4 compression. The cover claims that this is a "brand new 2k transfer from the film negative." The picture quality is very good and unflawed, with scenes both indoors and outside, the quality of the film is excellent.

Audio


English/German Dolby Digital 2.0 mono soundtrack is pretty impressive with a gorgeous Gustav Mahler soundtrack that does for "The Inheritors" what Beethoven did for "A Clockwork Orange" (1971). Scenes of harsh physicality are juxtaposed with a beautiful score. Features newly created English subtitles.

Extras


This production cries out for some type of audio commentary track by the director or at least a critic. The cover promises an 8-page booklet by Michael Gingold enclosed but my copy did not include such an item.

The disc includes the original English theatrical trailer (1:16) as well as the original German theatrical trailer (2:12).

Mondo Macabro includes a promo reel featuring plenty of odd ball selections with a snazzy soundtrack.

Packaging


Comes packaged in a standard Blu-ray keep case.

Overall


"The Inheritors" is an unusual film that explores the resurgence of the New Right and their struggle to recruit new members in 1980's Germany.
| | | | | |
| --- | --- | --- | --- | --- |
| The Film: A | Video: A | Audio: A | Extras: B | Overall: A- |

---
DVD Compare is a participant in the Amazon Services LLC Associates Program and the Amazon Europe S.a.r.l. Associates Programme, an affiliate advertising program designed to provide a means for sites to earn advertising fees by advertising and linking to amazon.co.uk, amazon.com, amazon.ca, amazon.fr, and amazon.de.