Single White Female [Blu-ray]
Blu-ray ALL - Australia - Umbrella Entertainment
Review written by and copyright: James-Masaki Ryan (17th December 2018).
The Film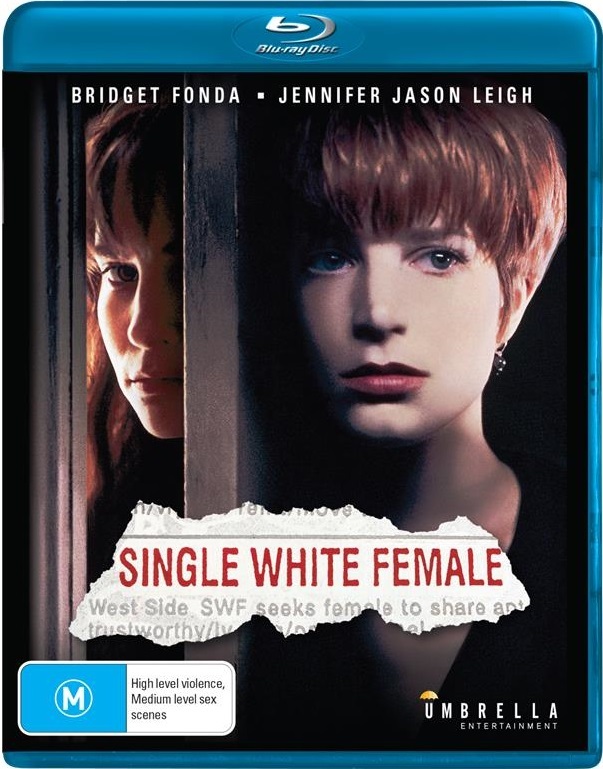 "Single White Female" (1992)

Allie (played by Bridget Fonda) needs to find a new roommate for her New York apartment after a bad breakup with her boyfriend Sam (played by Steven Weber) leaves her emotionally drained. Taking out an ad in the paper, the candidate she chooses is Hedra (played by Jennifer Jason Leigh), who actually becomes quite the ideal roommate for her unstable time by being caring for Allie's personal issues in both relationships and her work. But when Sam returns to the fold to try to make things work again, the new relationship of the two women is disrupted, causing Hedra to spin out of control with jealousy...

Released the same year as "Basic Instinct" and "The Hand That Rocks the Cradle", "Single White Female" was yet another female led suspense film that both enticed and creeped out audiences, with all three films having slightly differing styles and in the genre. In "Single White Female" the focus is on the characters of Allie and Hedra. Allie being an intelligent career woman going through emotional crossroads personally and professionally. Some of her decisions are questionable, such as how easily she returns to Sam, how she doesn't seem to see how her neighbor Graham (played by Peter Friedman) looks after her, and how she doesn't see many obvious warning signs. But that is how human she is and the faults are part of her true character. As for Hedra, audience seem to relate with her loneliness after Allie's sudden return to Sam and how she's willing to be there for her best friend. It is in the second half when she starts to show signs of psychotic unbalanced activity that the shift turns from relatable to discomfort, and it is done extremely well in the production. Both Fonda and Leigh are excellent in their roles and the complexities and changes they must go through in the course of the production, with the climax being highly intense both physically and mentally.

Based on John Lutz's 1990 novel "SWF Seeks Same", the film was director Barbet Schroeder's third English language production one that showed female empowerment very well in both vulnerability and in confidence. On the other hand the men in the film are closer to stereotypes. The neighbor Graham is the trusty neighbor who is not given too much screen time but does leave his mark of being a trusting figure. Stephen Tobolowsky as Mitch is the sleazy boss who tries to take advantage of his female employees including Allie, and is very noticeable from the start where his intentions lie. The character of Sam is the typical asshole boyfriend, but it's also easy to see why Allie falls for him with his charm, but at the same time he does have a series of badly ended relationships talked about but never fully explored. One of the bigger faults of the story is the box that Hedra keeps with her. The contents of the box are central to how Allie pieces the puzzle to Hedra's past but as for why Hedra keeps a box of her traumatic past with her, it only seems like a convenient MacGuffin to give answers to the behavior. But faults and all, "Single White Female" works well as a suspense film in its execution and stands as one of the more memorable of the time period. It also was a hit at the box office with a gross of $48 million. A mainstay on cable and rentals plus a DVD in the early 2000s, the film finally hits on Blu-ray from Umbrella Entertainment in Australia.

Note this is a region ALL Blu-ray.

Video


Umbrella Entertainment presents the film in the 1.78:1 aspect ratio, in 1080p using the AVC MPEG-4 codec. With a fairly dark color palate used throughout, colors are reproduced fairly well with the blue hues of the cool nights contrasting the warm skin tones in many of the scenes. But on the other hand some macroblocking is evident in some scenes and there are a few small bits of spec marks seen. On the more positive side the digital transfer retains the film grain and almost all specs and dust have been removed. The HD transfer is fairly good but it does show some signs of age.

The film is uncut with a runtime of 107:53.

Audio


English DTS-HD Master Audio 2.0 stereo
The original Dolby Stereo soundtrack has been encoded as a lossless DTS-HD MA track. The balance of the stereo track is a bit too spread out, with dialogue, music, and effects being stretched out rather than having an evenly centered sound for the dialogue. It does feel slightly unnatural on a surround sound set-up but fairs better on a standard 2 speaker stereo option. The track is well balanced, has no issues with dropouts or errors to speak of.

There are no subtitles offered for the film.

Extras


Unfortunately no extras are on the disc. There is no menu either. Once the disc is in the player, the film begins. Once the film ends, the disc stops. Considering Shout! Factory in the US just released a Blu-ray edition of the film featuring a new audio commentary and interviews, it's unfortunate that Umbrella couldn't secure those extras or have any ones made on their own.

Packaging


The case mistakenly states region B only and the runtime as 110 minutes.

Overall


"Single White Female" is still a creepy suspense film with great leads and direction. Umbrella Entertainment's Blu-ray has good video and audio but having no extras makes it a difficult recommendation.
| | | | | |
| --- | --- | --- | --- | --- |
| The Film: B+ | Video: B+ | Audio: B | Extras: F- | Overall: C+ |

---
DVD Compare is a participant in the Amazon Services LLC Associates Program and the Amazon Europe S.a.r.l. Associates Programme, an affiliate advertising program designed to provide a means for sites to earn advertising fees by advertising and linking to amazon.co.uk, amazon.com, amazon.ca, amazon.fr, and amazon.de.