Charlie Bubbles [Blu-ray]
Blu-ray ALL - United Kingdom - Powerhouse Films
Review written by and copyright: Rick Curzon (18th December 2018).
The Film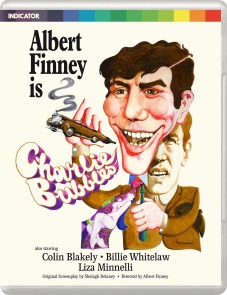 After achieving international renown as one of the finest actors of his generation in films such as Saturday Night and Sunday Morning (1960) and Tom Jones (1963), Albert Finney turned director for this surreal comic twist on the 'kitchen sink' dramas in which he'd made his name.

Finney plays Charlie Bubbles, a successful writer suffering a mid-life crisis, who attempts to re-connect with his northern working-class roots and estranged family. Based on a screenplay by Shelagh Delaney (A Taste of Honey), the script clearly references both her and Finney's personal experience of their shared working class origins (both were Salford natives), and the consequences of achieving great success.

Video


Initially goofy but mostly grimly funny slice of life drama about a very successful author (Albert Finny) who returns to his home town of Manchester and finds he has more in common with the people he left behind than those with whom he associates now he's rich.

My favourite bit is the "food fight" at the begining between Finney and his old school chum Colin Blakely who cover themselves in food at a posh London club and then pop on down the road to buy themselves some natty new duds.

Extremely well done all round but it is steeped in melancholy and all rather grim. Alan Lake has a great bit as a working class RAF officer who hitches a lift with Finney and Liza Minnelli (as his girlfriend and secretary); luminously lovely as always.

There has been some talk online that this is a disappointing transfer lacking in detail and suffering from some minor digital tinkering. It is true that this being a Universal-sourced film there is the greater possibility of this due to that company's notoriously overzealous use of digital tools in the past for their masters. Whilst I would say that this transfer isn't up to the usual extremely high standards we've come to expect from Powerhouse Films due to Universal's master, it must be pointed out that due to the impeccable encoding job from David MacKenzie and Fidelity in motion coupled with a very high bitrate and a BD50 means that any issues are massively minimised. Some mild DNR and edge enhancement may have been applied but I didn't notice it sitting at a distance of ten feet and viewing on a 55 inch 4K display.

As with the image quality typical of UK-lensed productions of the era done on relatively low budgets, grainy and with a certain gritty edge. The image is by design very colourful with a rich palette throughout and a naturalistic grade. There are mild density issues in optical transitions but again that's par for the course.

The overall look is soft, with fine grain but detail is much in evidence in closeups, medium shots and in backgrounds; as usual, skin textures and fabrics come off very well. The grain is ever present and is at it's coarsest in darker low-light conditions. Black levels are rich and deep but shadow detail very occasionally suffers from some mild crush; I suspect that much of this will be down to lighting conditions during production. I saw little or no signs of print damage.

1080/24p / MPEG-4 AVC / 1.75:1 / 89:11

Audio


English LPCM 1.0
Subtitles: English HoH

Sound is a standard English LPCM mono track typical of the period. Nice clear dialogue reproduction with Misha Donat's score coming through clearly and when required. Obviously, compared to a modern track this is very primitive but in many ways these old mono tracks are more skilfully handled because in mixing for 1.0 everything has to be clear with far less technology available. Subtitles are essential for such a wordy film as this.

Extras


Audio Commentary by film historians Thirza Wakefield and Melanie Williams

Very listenable, knowledgeable yaktrak by two UK academics with whom I was previously mostly unfamiliar. Both specialise in the era and have published works discussing such. A must listen and probably the extra I shall be returning to most on this disc in the future.

Cast and Crew Interviews:
- "A Very Personal Film: Producer Michael Medwin on Charlie Bubbles" (3:22)
- "Down to Earth: Cinematographer Peter Suschitzky on Charlie Bubbles" (8:35)
- "Off the Cuff: First Assistant Director Terence Clegg on Charlie Bubbles" (8:47)
- "Finney and Football: Actor Timothy Garland on Charlie Bubbles" (16:04)
- "Motorway Café Society: Actor Susan Engel on Charlie Bubbles" (8:54)
- "Entirely Harmonised: Composer Misha Donat on Charlie Bubbles" (14:32)

A decent selection of newly created interviews that collectively form an absorbing and fascinating portrait of the production. A subtext that I noticed was that the contributors felt Finney did a creditable job as director and it's a shame he hasn't ever directed again. Collectively these run 60:14, but sadly there's no play all function.

"To Shape the Country: Danny Leigh on Charley Bubbles" (4:09)

An appreciation by journalist Leigh; he has obviously seen the film many times and has a great love for it.

"Another World: John Harding on Shelagh Delaney and Charley Bubbles" (21:48)

A fascinating overview of the life and career of the late writer, focusing on the film.

CCTV Test Footage (2:04, with or without captions)

Footage shot for the scenes in Finney's house.

Theatrical Trailer (2:22)

Amusing promo piece typical of the era.

36-page liner notes booklet by Thirza Wakefield, Charlotte Delaney on her mother and the film, archival recollections by Albert Finney and Liza Minnelli, an overview of contemporary critical responses, and film credits

Typically exhaustive booklet from Powerhouse Films with plenty of detail, photos and interest.

Overall


One of the more unsung '60s British classics gets the deluxe treatment in this worldwide Blu-ray debut from Powerhouse Films who continue to bring worthy and forgotten films like this back into play. The film is a mashup of comedy and kitchen sink realism with a satirical edge that covers a rather melancholy subject: The working class mad made good and contrasting the two facets of his life. The picture quality is as good as can be given a mildly problematic master and the sound quality is well up to par.
| | | | | |
| --- | --- | --- | --- | --- |
| The Film: B+ | Video: A- | Audio: A+ | Extras: A+ | Overall: A |

---
DVD Compare is a participant in the Amazon Services LLC Associates Program and the Amazon Europe S.a.r.l. Associates Programme, an affiliate advertising program designed to provide a means for sites to earn advertising fees by advertising and linking to amazon.co.uk, amazon.com, amazon.ca, amazon.fr, and amazon.de.