The Film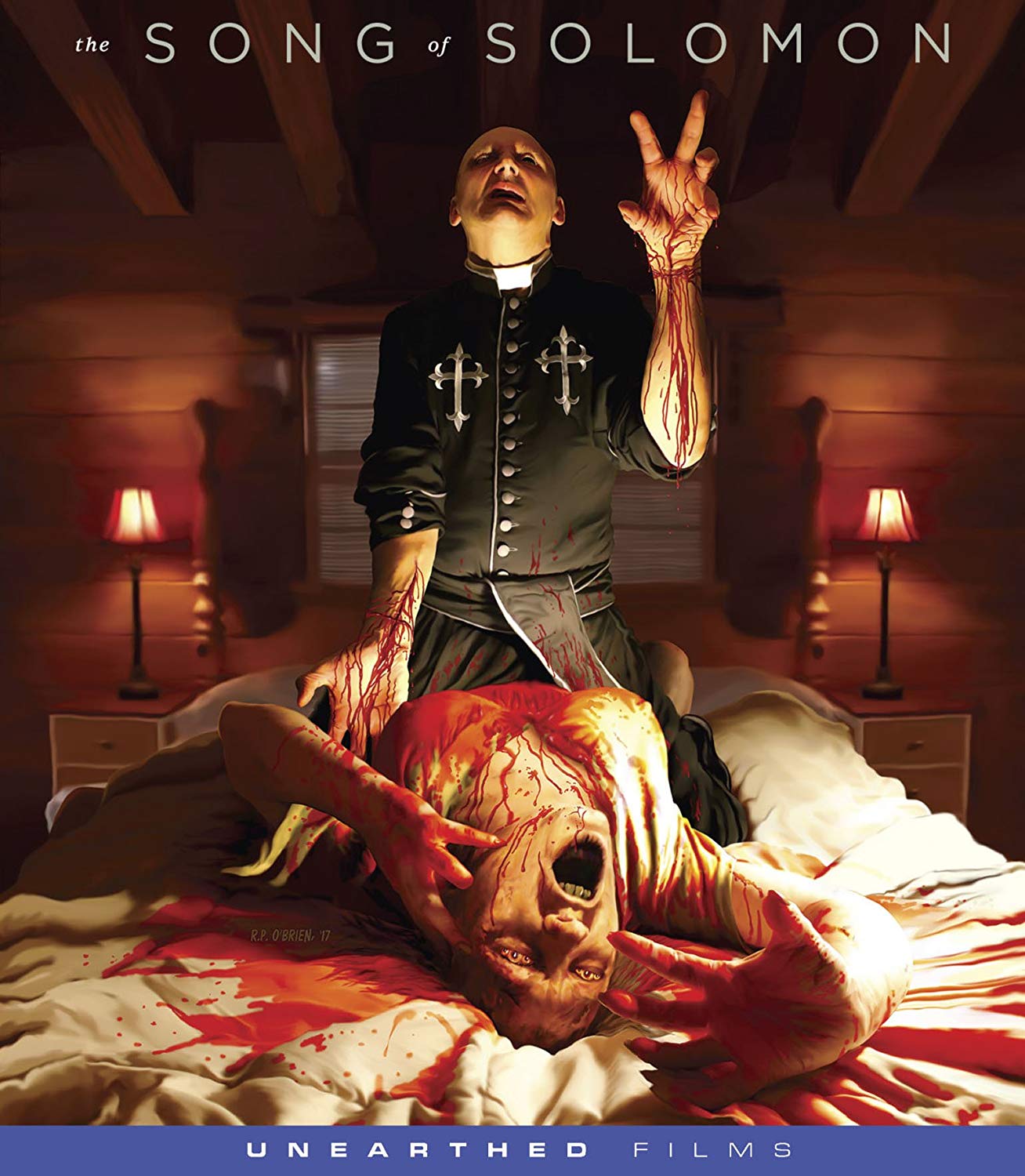 I wanted to like this film, I really did, since I do fancy myself a horror fan, but to be honest, this just wasnít my cup of grue. That being said, there is plenty of reasons why I feel that way, but anyone interested in this type of film, well, they certainly donít need my approval to dig this slice of exploitation laced blood and guts style of film making. A long time ago, I was raised Catholic and I endured being educated by both nuns and priests; in fact, I have the scars to show for the experience. With that in mind, I thought that "The Exorcist" (1973) was a thrill ride of a film; it managed to push some buttons for me and made excellent use of the rite of exorcism to create a frame work for its storyline. I truly wish that "The Song of Solomon" AKA "American Guinea Pig: The Song of Solomon" had the same level of artistry, but sadly it doesnít. And since I am the sort of critic that really tries to see the positive side of a film no matter what, let me say that this film has a specific type of film fan in mind. Fans of the Japanese film series "Guinea Pig" (1985-1988) will enjoy this type of horror film. Letís say that fans of certain Lucio Fulci films will dig this with a spoon as well.

The story is fairly straight forward; a girl, Mary (Jessica Cameron) finds herself possessed by a demon. Various holy men are dispatched to her bedroom to battle with the demon and ultimately loose; bad things happen, special effects are readily on display, some to a stomach churning ultimatum. There is no end to the revolting things that happen - vomiting of intestines for example. That doesnít impress you? What about several wretched scenes of the priests suffering horrible deaths before expiring. Still not impressed? We also have some spooky voices, creative use of colored contact lens, plenty of manifestations of demonic control and that ultimately may be part of the problem. While this set up is interesting in a macabre sort of way, it wears thin very quickly. The action is centered in the possessed girlís house and even though there is talk about the end of days, famine, droughts, lamentations and suffering, we just arenít shown any of it other than the girlís possession. And that bothered me. There just wasnít enough shown to convince me that other people were being affected by these global disasters. What we do have is a parade of special effects that left me feeling slightly nauseous and ultimately bored.

The film starts with a slightly hysterical man (Stephen Biro) yelling at someone about how he is left little choice other than the big knife clutched in his hand. After this monologue, the man cuts his own throat and then, instead of just dying, he gives himself what is commonly known as an ďItalian necktie.Ē This is fairly gruesome and exact and should be more than enough for most folks. If this sort of stuff floats your boat, then hold on, because there is plenty more in store. There is lots of Latin thrown around, some relics used to little effect, and a bare bones storyline. One priest, (Jim Van Bebber) sporting a shaved head and a piss poor attitude is armed with an ornate crucifix that conceals a dagger and is used to dispatch a predecessor. The men have all been recruited by a high ranking church official (Andy Winton) to try their luck wrestling with the demon and that is about all that you need to know. The acting is a tad spotty at times but that isnít why you are watching.

The special effects are completely on display and they were done by Marcus Koch and Jerami Cruise of Oddtopsy FX and Toetag EFX respectively. These dudes are ready to give Tom Savini a run for his money and it is their show. Jessica Cameron twitches, vomits and ultimately gives birth to Satan, in the lead role. This is a film that is made to showcase the special effects and is not for the faint of heart, they are wet and wild with an emphasis on the chunk-blowing school of thought. Now if you happen to be that type of viewer, please let me recommend this gem of a film to you wholeheartedly. However if your palette is a bit more reserved, if you desire more than a never ending series of over the top effects, than please steer clear.

Video


Presented in widescreen 1.78:1 HD 1080p 24/fps using AVC MPEG-4 compression, This film is clearly shot on digital film, color reproduction is very good and the black levels are strong. Video production is extremely well done and much of the film is shot in close up.

Audio


The English LPCM 2.0 Stereo track is balanced and the instrumental tracks are clear and well done. There are no optional subtitles.

Extras


There is more than enough featured here as far as extras go. First up is an audio commentary track featuring director Stephen Biro and actress Jessica Cameron.

There is also an audio commentary with director Stephen Biro and Marcus Koch and Jerami Cruise who did the special effects featured. Absolutely no CGI used!

There's a "Behind the Scenes" (70:22) documentary that takes us on a journey through the film's production.

Outtakes (8:31) the usual unused clips.

A picture gallery displays a series of production stills.

Interview with actress Jessica Cameron (20:52), talking about eating and gagging on her own intestines.

Interview with director Stephen Biro (23:37), comments on making the film and working with the cast.

Interview with effects supervisor Marcus Koch (28:07), talking about his craft.

Interview with director of photography Chris Hilleke (35:15) takes us through the filming process and his stylistic choices.

The film's original theatrical trailer is also included.

Rounding out the extras are a collection of bonus trailers for:

- "American Guinea Pig: Bouquet of Guts and Gore"
- "American Guinea Pig: Bloodshock"
- "American Guinea Pig: Sacrifice"
- "Dreaming Purple Neon"
- "Red Krokodil"
- "Atroz"
- "Francesca"
- "100 Tears"
- "Where the Dead Go to Die"

Packaging


Packaged in a standard Blu-ray keep case.

Overall


The only thing here is the over-the-top effects and the nonstop gore, otherwise skip it.
| | | | | |
| --- | --- | --- | --- | --- |
| The Film: C | Video: A | Audio: A | Extras: A | Overall: B+ |