Under the Tree [Blu-ray]
Blu-ray B - United Kingdom - Eureka
Review written by and copyright: Eric Cotenas (1st January 2019).
The Film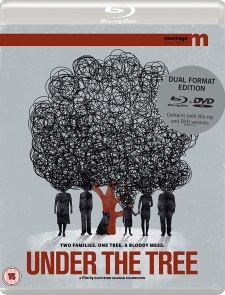 When his wife Agnes (Stormland's Lára Jóhanna Jónsdóttir) catches him masturbating to a porn video that turns out to feature him and ex-girlfriend Rakel (The Cliff's Dóra Jóhannsdóttir), she throws Atli (The Quiet Storm's Steinþór Hróar Steinþórsson) out and cuts off communication with him completely. This development coincides with the start of the summer holidays so he has an excuse to visit his parents Baldvin (Rams's Sigurður Sigurjónsson) and Inga (Stella for Office's Edda Björgvinsdóttir). Things have not been quite the same since the "disappearance" of Atli's older brother Uggi. Everyone believes that he committed suicide but Inga who has objected to her husband's attempts to attain closure by having their son declared legally dead. Atli's attempts to speak to Agnes are complicated by his own temper but the line is crossed when he attempts to see his daughter Asa (Sigrídur Sigurpálsdóttir Scheving) at daycare and the instructors attempt to bar him since he is not the "primary custodian" although they have not thus far broached the subject of separation (even though it seems inevitable). While his actions have Agnes threatening legal action, and Rakel of all people offering him legal advice for custody; Atli can only scoff at the seemingly mundane turf war going on between his parents and neighbor Konrad (Trapped's Þorsteinn Bachmann) whose younger wife Eybjorg (Selma Björnsdóttir) has complained about the shadow cast on their porch by the tree in the other couple's yard. Konrad and Baldvin seem to treat each other civilly even if they each have issues with the pace at which each handles things, but Agnes dislikes Eybjorg intensely, from her role as "the younger model" to her fitness regime Agnes believes she undertakes to stave off turning forty; Eybjorg, in turn, objects to the allowances people make for Inga's brusque behavior in light of her loss. Things escalate quickly from Agnes tossing a bag of dog waste at Agnes while accusing her of letter her dog run freely in their yard to someone slashing all four of Baldvin's tires. When Agnes' cat disappears, the men become angry in defense of their wives, and then Eybjorg's dog disappears. When Konrad comes home on day with a new chainsaw, Baldvin pitches a tent in his yard to guard the tree. Atli joins him to commiserate about the mess he has made of his life, and they come to realize that Inga affected by Uggi's death. It has been incredibly awkward for those caught in the middle, but it's about to get a lot worse. Neither domestic drama nor grotesque comedy, Under the Tree is an oddly successful tragedy in which what initially seems like black comedy is only so from the audience inhabiting the roles of the sort of neighbors who find amusement observing the airing of dirty laundry like the chill couple in the tenants meeting at Agnes' and Atli's apartment who are the subject of a noise complaint for their sexual behavior by a pair of uptight neighbors who probably have a point but come across as those who think their own way of being should be the model for all (not unlike the fundamental gulf between Inga and Eybjorg). Co-writer/director Hafsteinn Gunnar Sigurðsson – whose debut film Either Way was remade stateside as Prince Avalanche – has a knack for stupefying the audience with the lengths the characters will go whether onscreen or implied and then horrifying rather than amusing with the punchline (the bit with the dog in particularly). Sigurðsson eschews a sentimental wrap-up for the climax and instead moves into violent excess without detracting from the revelation that Under the Tree is ultimately a tragedy.

Video


Digitally-photographed, the 1080p24 MPEG-4 AVC 2.35:1 widescreen Under the Tree looks rather dim and colorless at the outset, but this turns out to be a stylistic choice of the low-lit interior of the protagonist's urban apartment and environments in contrast to the sunny suburbia; but the colorlessness of Iceland with its overcast skies, blues, greens, whites, and grays predominates in a cliché of what we may have come to expect of what we have come to expect of Scandinavia from Bergman to Nordic Noir.

Audio


The sole audio track is a DTS-HD Master Audio 5.1 track that is generally front-oriented given the settings and the dialogue-heavy nature of the film. Optional English subtitles are included and free of errors.

Extras


Extras are restricted to the film's trailer (1:45) and a "Behind the Tree: The Making of Under The Tree" (23:38) which is not an EPK featurette but a TV special featuring behind the scenes footage with the director intercut with an interiew with stars Steinþórsson and Björgvinsdóttir. The main thrust of the program is director Sigurðsson's decision to cast actors known for comedy to invest the film's tragedy with black comedy without slipping over into melodrama.

Overall

---
DVD Compare is a participant in the Amazon Services LLC Associates Program and the Amazon Europe S.a.r.l. Associates Programme, an affiliate advertising program designed to provide a means for sites to earn advertising fees by advertising and linking to amazon.co.uk, amazon.com, amazon.ca, amazon.fr, and amazon.de.