Brutal [Blu-ray]
Blu-ray A - America - Unearthed Films
Review written by and copyright: Eric Cotenas (1st January 2019).
The Film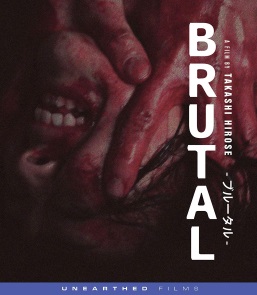 A man (Butch) kidnaps young women, brutalizes and dismembers them, and keeps their heads with which to hold conversations about true love. A woman (Ayano) comes the conclusion that all men are the same while mutilating the genitals of various hookups in the park. As the bodies stack up, it becomes apparent that the man's show of his strength with physical brutality is a façade, and the question he asks of his victims "Do you know why I'm doing this?" is not a taunt, and the talking heads of his victims frustrate him by withholding the answer and causing him to obliterate them. When man and woman finally meet in a brutal fusion and the nature of their physical incompatibility is uncovered, they manage to connect on another, possibly spiritual, level. Never has a gornographic shot-on-video film aimed so reductively (anatomically, that is) at offending the viewer been so narcotizing. There are practical effects aplenty, a definite atmosphere of psychological decay in the contrast between urban Japanese exteriors, the dingy interior of the man's apartment, and the more upscale hotel rooms and apartments into which the woman is invited by her prey; and yet, none of the touches director Takashi Hirose adds to invest some sense of profundity – a contrasting happy young couple who seem to embrace the flaws the killers deny and a hobo with a sign that reads "hell" before which the two killers are humbled – fail to make up for the monotony or the true lack of visceral reaction to the violence (from foley-augmented physical blows to stabbings in which the cutaway prop knives are all-too-apparent despite the impactful sound effects). One wonders if Unearthed Films picked it up as a possible companion piece to their American Guinea Pig series (although it would be harder to retitle this Japanese film as part of the series the way they did with the Italian pick-up Sacrifice), but fans of such "brutal" works would be better served by the original Guinea Pig series.

Video


Shot on DSLR cameras in high definition, Brutal offers fair-to-good detail while maintaining a deliberately low-fi quality, with desaturated colors and a some noise in the low-lit night exteriors and apartment interiors and some brighter, cleaner scenes with more saturated colors. It's not demo material, but it gets the detail of the prosthetics across, particularly in sickening close-up.

Audio


Audio is LPCM 2.0 stereo, and the soundtrack is made up mainly of screams, cries, and grunts, along with some dialogue that may partially be post-synchronized. The English subtitle are optional.

Extras


Extras are rather limited, including a behind the scenes featurette (2:05) which shows footage from three separate shoots without comment, including a look at the blocking of stunt work and application of make-up effects. Also included are a trio of music videos: "Nakigoto" (5:13), "Brutal" (3:30), and "Blood" (5:05). The film's trailer is included along with trailers for four other films (including two of the American Guinea Pig films.

Overall


Unearthed Films' Brutal: Never has a gornographic shot-on-video film aimed so reductively (anatomically, that is) at offending the viewer been so narcotizing.

---
DVD Compare is a participant in the Amazon Services LLC Associates Program and the Amazon Europe S.a.r.l. Associates Programme, an affiliate advertising program designed to provide a means for sites to earn advertising fees by advertising and linking to amazon.co.uk, amazon.com, amazon.ca, amazon.fr, and amazon.de.