The Film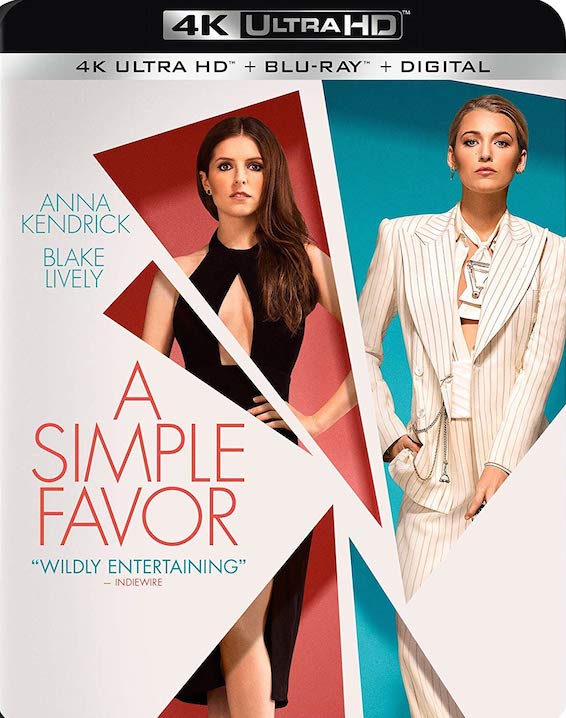 Sarcasm, Iím all for it, bring it on in fact, but this film only made me laugh once, making me feel like I wasnít in on the jokes somehow. And I know that Paul Feig is a funny b**tard, hell, I even read his book, "Kick Me: Adventures in Adolescence" (2002) and I howled through that one and yes, he has directed a number of notable films including "Bridesmaids" (2011) and that wasnít bad, so what is the problem here? Perhaps my hackles went up at the "Gone Girl" (2014) flavoring that I detected, or maybe it just seemed a tad too light for my darker tastes. Definitely Chick Lite in its approach, but that shouldnít be an issue either. So was it the two stars acting ability then? No, Anna Kendrick is spot on here and Blake Lively is definitely the b*tch on wheels brand in a killer office suit. So what is it then? I canít put my finger on it, but there were some loose plot threads that I frowned at and the true crime fiend in me was not pleased at that, but that is my issue here.

The film as a whole succeeds, but maybe I just craved a little more black humor than most and somehow I expected Feig to deliver more than was promised. The fact that everything was tied up in a neat bow at the end didnít sit too well with me and even though Feig nods to both Alfred Hitchcock and Henri-Georges Clouzot with his "Diaboliques"†(1955) comment, I still wanted more somehow even though when I think that in a lesser craftsman's hands the film would fall flat on its face. So maybe I should just lighten up and accept it for what it really is instead of craving a second serving of "Heathers" (1988)? Hell, not everyone can be that sarcastic, right?

Stephanie Smothers (Anna Kendrick) is a single mom that hosts a vlog featuring helpful tips and other advise; she is Heloise on steroids, the perfect mom, the perfect friend, over eager to help out and chirpy as all get out. Her foil is Emily Nelson (Blake Lively); a very stylish, powerful woman that also has a son, but she clocks major hours for a PR company so she is always working. Against all odds the two become pals and hence hangs our tale. They say that opposites attract and that is what director Feig is cashing in on; hoping that the clash of styles, innocent naÔve Stephanie with uber fashionable hottie Emily, will result in awkward moments and hilarious interchanges, and it does. Foul mouthed Emily drops the F-bombs casually to her son and anyone else while horrified Stephanie cringes in horror, but we can detect a streak of curiosity and some envy at Emilyís high dollar life style and fashionable home; even though Emily admits that she and her husband, failed writer Sean Townsend (Henry Golding) are cash poor and are living way above their means. Simple Stephanie is wowed in a big way and soon she is pulled into the deep end of the pool because of her new pal.

The two bond over some serious martiniís and soon are exchanging secrets, but the kicker is that for the most part, Emily is a dyed in the wool sociopath complete with a truckload of secrets and a tendency to lie about a lot of things. One day the phone rings and Emily asks Stephanie to watch her son while she puts out another fire at work; no problem, chirps Stephanie and a simple favor begins to darken like a blood stain on the wooden floor. After a few days it seems that Emily has taken it on the lam and then the recently awakened Nancy Drew instinct in Stephanie kicks in and soon she is on the case, posting her progress on her vlogs. Tracking down the missing Emily to a lake at a summer camp in Michigan, Stephanie starts to make discoveries of her friendís mysterious past. Authorities then announce that a body that apparently is Emily has been discovered, complete with matching DNA and telltale tattoo on the victim. My detective skills though are not easily fooled and I can second guess what the outcome will be. Meanwhile super sleuth Stephanie is on the case like a hound on a scent trail and refuses to let go. Emilyís husband gets to know Stephanie better and soon the two are embracing and making out like a couple of teenagers with Henry mouthing empty platitudes of love and lust.

Screenwriter Jessica Sharzer has attempted to distill the source material into a palatable, easily digested film and for the most part succeeds, but the film could use an injection of cattiness especially in the last few reels when everything is neatly tied up with a pretty bow on it. Since I do not believe is spoiling the surprise for readers, I will not be including any hard facts with this review, but the conclusion of the film is a head spinning mixture of Hitchcock and campiness with plenty of twists and turns. Fans of light female comedies should enjoy this selection, even though there is some adult material presented and the occasional sex scene.

Feig has a good eye for set ups and the film moves along at a quick pace. The two female stars are very good in their respective roles and Kendrick is the picture of the single mom that can do it all. The soundtrack, which really helps set the scene, is an all-you-can-listen-to buffet of French pop. The soundtrack features some serious Parisian delights including Brigitte Bardot, Jacques Dutronc, Zaz, and rapper Orelsan, and Serge Gainsborough for sure. I can pretty much recommend the film only based on the soundtrack alone. Turn it up loud.

Video


Presented in 2.00:1 widescreen mastered in 4K 2160p 24/fps using HEVC compression. The images are fairly interesting and the color palette of the film is subtle and eye pleasing. Flesh tones looked natural and the interior shots are well done, showcasing the use of natural light coming in through the windows. There's also a Blu-ray HD version on a separate disc also in 2.00:1 widescreen mastered 1080p 24/fps using AVC MPEG-4 compression.

Audio


The film includes three audio tracks in English Dolby TrueHD 7.1 surround, Spanish Dolby Digital 5.1 surround, and English Audio Descriptive Dolby Digital 2.0 surround. As I mentioned in the film's review above the soundtrack is well utilized and well mixed. Dialogue is clear and bright, the conversations are easily understood and the sound field is more than adequate. Optional subtitles are included in English for the hearing impaired and Spanish.

Extras


Extras include not one but three audio commentary tracks with cast and crew. 8 featurettes, a gag reel, deleted scenes, a flash mob scene, and an introduction by the director. Boy Howdy, a fistful of extras!

DISC ONE: BLU-RAY 4K

Special features include an introduction with director Paul Feig (0:16). See that face, well youíre going to see plenty of it when you watch these extras!

The first audio commentary is by the director Paul Feig, where he shares his deepest secrets and desires while discussing the making of the film while remaining humble and loveable.

The second audio commentary is also with director Paul Feig, and also includes actors Anna Kendrick, Blake Lively, Jean Smart and Bashir Salahuddin. A virtual gabfest as they all talk over each other and gush about their performances.

The third and final audio commentary features director Paul Feig, screenwriter Jessica Sharzer, producer Jessie Henderson, cinematographer John Schwartzman, and costume designer Renee Ehrlich Kalfus. Please someone stop the madness! This is more information than anyone possibly needs and it is the length of the film. Like being at a crowded party surrounded by too much talent.

"Graveyard Martinis" featurette (19:39), a behind-the-scenes featurette with the cast and crew discussing the brilliance of Feigís direction, his essential dandyism, the difficulties in playing yourself as a twin, and other information that you just canít live without.

"Suburban Noir: The Visual Style of A Simple Favor" featurette (12:27), the biggest secret of this clip is that
the bulk of the film was shot in Toronto! Again the cast and crew speak about how gracious Feig is as a director and how he coined the phrase ďsuburban noir.Ē The set designer and the cinematographer get a chance to speak about the choice of houses and the use of color palettes for each character. Simply fascinating!

"Dapper Directory Diaries with Paul Feig" featurette (10:40), yet another clip with the wise cracking directory regarding the various twists and turn of the plot. Much of this is shot on location featuring the various cast members and focusing on the details of filming the scenes. It took 40 days to shoot the entire film!

"Love Triangle" featurette (6:10), the complications of staging a double cross with three people that are all sleeping with each other. The secret of blood squibs finally revealed!

"Style By Paul" featurette (4:45), the secret behind Blake Livelyís fashion sense is that she dresses identical to the director. Emilyís sense of fashion is the key to her character, and check out that dapper skull head cane! Sweet!

"Flash Mob Making Of" featurette (5:22), a flash mob scene that ultimately ended up on the editing room floor. The entire cast busts a move! Must see viewing: Not!

"Dennis Nylon" featurette (5:00), Emily works for the fashion industry and so a faux fashion designer and his place of work needed to be created. Jefferson Sage is the man responsible for creating this illusion. The guffaws keep on coming throughout. And who the hell is Tom Ford?

"A Simple Playdate" featurette (4:32), the importance of casting the correct children in the film. Ian Ho is Nicky Nelson, the troubled son of Emily. Miles is played by Joshua Satine. Who said that kids donít work hard?

"Flash Mob" alternative cut, with intro by Paul Feig
DISC TWO: BLU-RAY

All the same extras on the 4K disc are also carried over onto this Blu-ray.

The package also includes a download code for a digital copy of the film.

Packaging


Comes packaged in a Bu-ray case with a cardboard slip-case cover.

Overall


"A Simple Favor" is a somewhat mixed bag of humor and mystery that occasionally results in laughter.
| | | | | |
| --- | --- | --- | --- | --- |
| The Film: C+ | Video: A | Audio: A | Extras: A | Overall: B+ |