The Film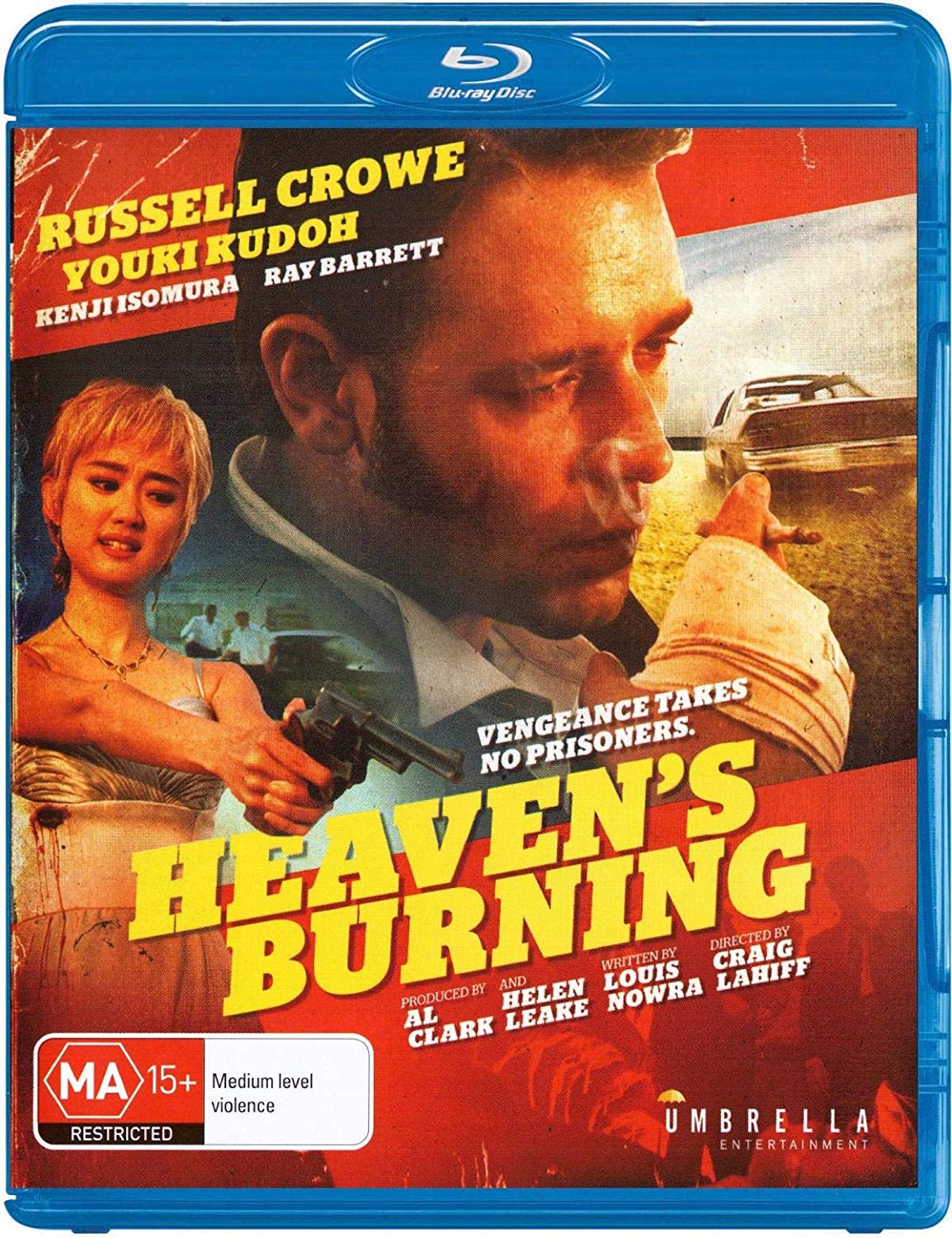 "Heaven's Burning" (1997)

Midori (played by Youki Kudo) and Yukio Tanaka (played by Kenji Isomura) are a newlywed Japanese couple on their honeymoon in Australia. On their final night, Yukio tells Midori that he is looking for them to transfer to Australia with his banking firm and live there for a year, but Midori is less than excited. She flees the hotel pretending to be kidnapped with a plan to rendezvous with her former boss and lover, but he gets cold feet which strands her in the country with no bright future. Meanwhile, driver Colin (played by Russell Crowe) is hired to be the getaway driver for a group of men. But when the bank heist goes wrong, the men escape by taking Midori hostage, who happened to be at the bank at the time. But when robbery leader Mahood (played by Robert Mammone) tries to kill Midori, Colin steps in to save her and the two are on the run - from the police investigating the disappearance and the robbery, Mahood and his family, and Yukio seeking revenge for his humiliation.

Taking inspiration from "Gun Crazy" (1949), "The Getaway", and "Natural Born Killers" (1994), the heist/road trip film is certainly a piece of 90s nostalgia with its visual style, its uses of violence, and slightly off centered characters. Many of the characters in the picture go through some sort of drastic transformation emotionally and/or physically, with Midori going from quiet and conservative Japanese wife to a very open and free woman in addition to her changing her hair and clothes to escape from the law. Yukio's transformation from distraught husband to cold blooded man of vengeance is almost cartoonlike in its execution. Colin goes from a man with no remorse and no heart to a man with a reason to care and live with his time with Midori by his side. This is also a film with no "good guys" at all. Not even the police officers who are seen always a step behind, hurting or killing innocent bystanders, and giving slightly racist remarks throughout. Other minor characters such as Colin's father Cam (played by Ray Barrett) has skeletons in his closet and Mahood's father Boorjan (played by Petru Gheorghiu) is colder than his children. But even with everyone's "bad" side, there is rooting for the two main leads, who are looking for better lives, but going in the wrong direction.

The film does have a lot of great action scenes, from the bank robbery to the car chases, the interrogation scene to the shootouts. Part of the independent scene of 90s cinema, "Heaven's Burning" certainly hits its marks there, but one thing it sometimes tries but usually fails at is its use of dark comedy. From the police officers' reactions to hitting a dog with their car, the cameo by Colin Hay as the wheelchair bound accordion player, don't play as very funny and tonally feel slightly awkward with the rest of the production. In addition, the character of Yukio becoming a cold blooded badass on a motorbike with his newly shaved head is also a bit too over the top. While he is on a hunt to find his wife, his trek is almost entirely filled with coincidences - by happening to run into the people Colin and Midori encountered. Mahood and his father on their search makes more sense, as they use the Internet to search Colin's bank transactions and is no surprise when they show up on their doorstep. There should have been more fleshing out on Yukio's journey and not just randomly short montages. If Yukio and Mahood had somehow teamed up on their searches it might have been more of a consistent tone altogether, but they never meet in the story.

In addition it shows a slightly hostile attitude towards Japanese expansion which was growing fairly steady in the 1990s in the business world - comparative to what China is doing in the present day. Resentment again the Japanese from WWII onwards is not a strange theme at all, but when it comes to the speech Cam makes about the Japanese and how karma will take its course, the long winded speech was one of the most unnecessary and racially unjust character speeches in the film. Even the screenwriter in the commentary felt it went on too long, and I also agree that the placing, the tone, the message, and the length were all unnecessary. But what the film gets right hits the marks. The overall pacing, the visuals, the quirky characters, the violence. Fun and fresh yet nostalgic and brutal, "Heaven's Burning" is one of the more memorable Australian productions of the 1990s.

The production was not exactly a major hit when it was released theatrically on November 6th, 1997. It only had a limited run in Australia, earning a paltry $55,780, and very limited releases internationally, with most territories leaving it as a direct to video film. Released the same year as Russell Crowe would have his breakthrough internationally with "L.A. Confidential", and Youki Kudo known to Japanese television audiences and some international indie films such as "Picture Bride" and "Mystery Train", there were no major cast members on a large scale. Critical reactions were mixed initially, but gained a cult following through DVD over the years, and finally making its leap to Blu-ray in 2018.

Note this is a region ALL Blu-ray

Video


Umbrella Entertainment presents the film in the theatrical 2.35:1 aspect ratio, in 1080p AVC MPEG-4. Mastered from a 4K restoration, the transfer is a revelation when compared to the previous video versions, especially the old Australian DVD edition, which was mastered from a print with scratches and marks and being overall dark. The Blu-ray fixes every issue there was, with a rich color palate showcasing the rural wide open areas and the cities seen throughout. Day scenes are bright and beautiful, night scenes are bold and dark, and there are few if any damage marks on the image, while still keeping a healthy amount of film grain intact.

The film's runtime is 99:10.

Audio


English/Japanese DTS-HD Master Audio 5.1
English/Japanese DTS-HD Master Audio 2.0 stereo
There are two audio tracks on the Blu-ray, a 5.1 surround track and a 2.0 stereo track, both lossless. The 5.1 track is excellent, being well balanced all around. Dialogue is centered throughout while music and effects are well placed in the left and right channels with some activity in the rear surrounds. The music and effects are never overbearing, dialogue is clear and clean, and there are no issues of dropouts or sync issues. On the previously released Australian DVD from Magna only featured a 2.0 stereo track which was criticized for its low levels and limited width, and the Blu-ray rectifies the issue.

There are optional English (for non-English portions) and English HoH subtitles for the main feature, both in a white font. They are well timed and easy to read, though there are a few typos, such as "Too scared to leave" being written as "Too scared to live", "Keep on going" being written out as "Keep on 90509" for some odd reason, and "I can breathe" being written "L-- can" breath!". Someone didn't spellcheck all the way through. The default subtitles translate the non-English dialogue, being mostly Japanese with a few minor lines in Farsi.

Extras


Audio commentary with writer Louis Nowra & producer Helen Leake
In this newly recorded commentary from 2018. Nowra and Leake speak together about the production, how it stemmed from a real news story of a Japanese woman's disappearance in a similar fashion, working on a fairly small $4.5 million budget, changing the original story from the UK to Australia, the influences from other films, and much more. The commentary starts out very strong but in the latter half has some dead air space.
in English Dolby Digital 2.0 with no subtitles

Cast & Crew Interviews (22:45)
This vintage EPK has interviews with Crow, Kudoh, director Craig Lahiff, producers Al Clark and Helen Leake, all interviewed separately on set. They discuss working on the film, about the characters, the locations, and more. These were previously on the Australian Magna DVD edition.
in 720p AVC MPEG-4, in 1.33:1, in English Dolby Digital 2.0 with no subtitles

Script to Screen Storyboards (with optional commentary by director Craig Lahiff) (5:10)
These stills include shots of the script, the opening scene, and the bank robbery scene with optional commentary by the director. These were previously on the Australian Magna DVD edition.
in 720p AVC MPEG-4, in 1.33:1, in English Dolby Digital 2.0 with no subtitles

Deleted Scenes (with optional commentary by director Craig Lahiff) (8:22)
A few extra scenes with the detectives, Colin robbing the getaway car, and some alternate moments with Midori and Cam are presented. Coming from an analog source, the image is windowboxed with black bars on all sides. These were previously on the Australian Magna DVD edition.
in 720p AVC MPEG-4, in windowboxed 2.35:1, in English Dolby Digital 2.0 with no subtitles

"Behind the Scenes" documentary (34:24)
Found here are B-roll footage of scenes outside the bank and the abandoning of the car.
in 720p AVC MPEG-4, in 1.33:1, in English Dolby Digital 2.0 with no subtitles

Theatrical Trailer (2:08)
The original trailer, where the sex and violence aspects are put forward, with a little too many scenes from the latter half of the film used.
in 720p AVC MPEG-4, in 1.78:1, in English Dolby Digital 2.0 with no subtitles

Craig Lahiff Shorts & Trailers
Found here are a collection of the late director's works, from the existential spy thriller "Labyrinth", the nearly silent comedy "The Jogger" as short films, plus trailers for four films, ranging from horror to action to period drama. With the two short films, the audio is skewed to the right side for some reason leaving a nearly blank left channel, and they are both analog tape sourced, showing their age and damage.

"Labyrinth" (1979) (18:40)
in 720p AVC MPEG-4, in 1.33:1, in English Dolby Digital 2.0 with no subtitles
- "The Jogger" (1980) (9:45)
in 720p AVC MPEG-4, in 1.33:1, in English Dolby Digital 2.0 with no subtitles
- "Coda" trailer (1987) (2:11)
in 720p AVC MPEG-4, in 1.33:1, in English Dolby Digital 2.0 with no subtitles
- "Fever" trailer (1988) (1:38)
in 720p AVC MPEG-4, in 1.33:1, in English Dolby Digital 2.0 with no subtitles
- "Black & White" trailer (2002) (2:01)
in 720p AVC MPEG-4, in 1.90:1, in English Dolby Digital 2.0 with no subtitles
- "Swerve" trailer (2011) (2:18)
in 1080p AVC MPEG-4, in 2.35:1, in English Dolby Digital 5.1 with no subtitles




Umbrella has done a fine job compiling new and vintage extras for this Blu-ray upgrade. There were DVD editions from the past from other countries such as the US and Germany with most of the same vintage extras, with a few differences here and there.

Packaging


The package says "region B" but this is a region ALL Blu-ray. The cover is reversible with the Australian M rating logo removed from the front.

Overall


"Heaven's Burning" is a finely paced getaway road film with quirky characters and bloody violence that encompasses the 90s indie cinema trends. It has its flaws in the narrative and in the supposed comedic moments, but still leaves a memorable and fun film along the way. The Umbrella Entertainment Blu-ray's 4K transfer with newly curated and vintage extras is very recommended.
| | | | | |
| --- | --- | --- | --- | --- |
| The Film: B | Video: A | Audio: A | Extras: A- | Overall: B+ |