Berserk (Blu-ray) [Blu-ray]
Blu-ray ALL - United Kingdom - Powerhouse Films
Review written by and copyright: Rick Curzon (19th January 2019).
The Film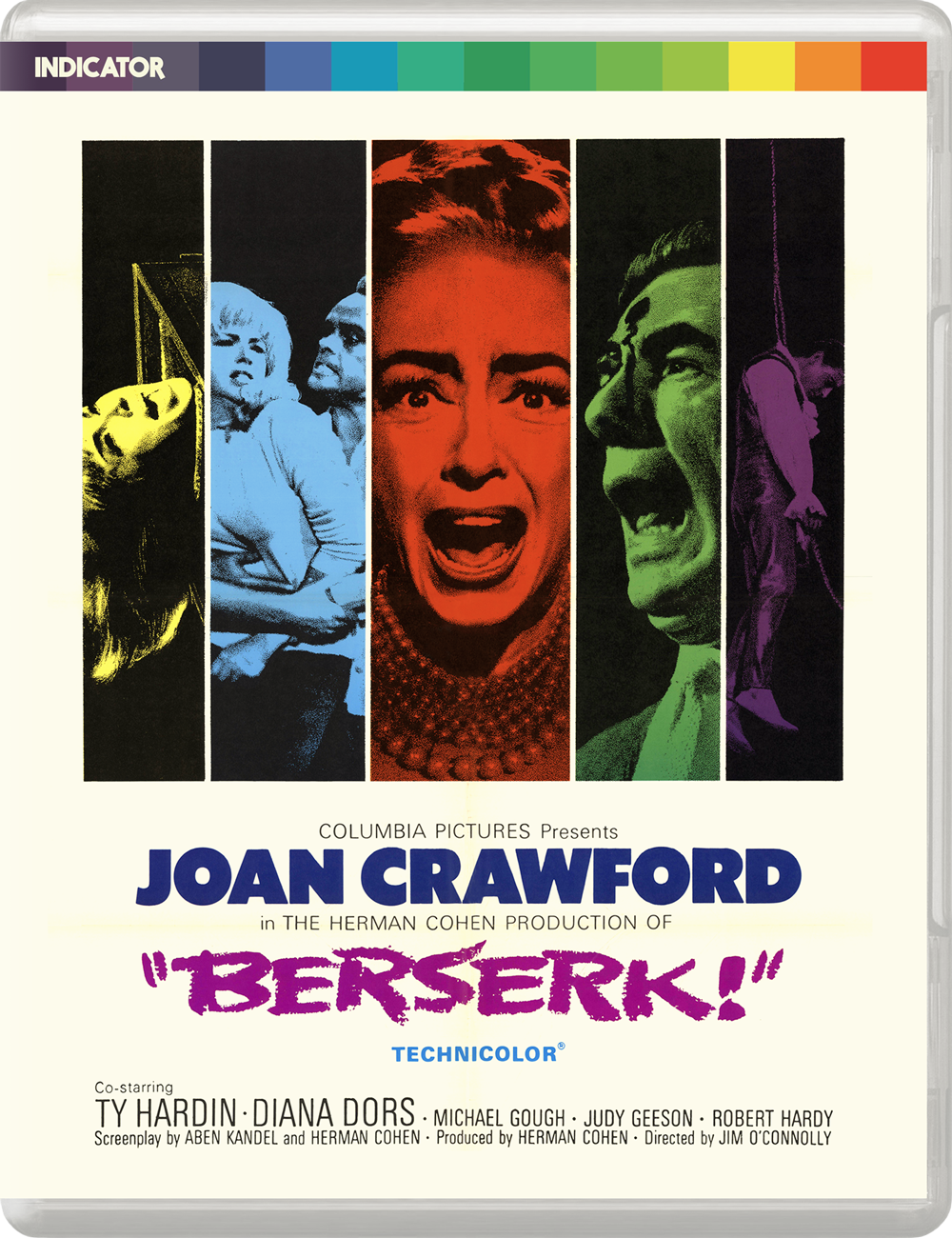 After the huge success of Robert Aldrich's What Ever Happened to Baby Jane?(1962), Hollywood legend Joan Crawford found herself taking the lead in a series of lurid and sensational horror pictures in her later years – and Berserk was one of the best and most successful.

Crawford stars as a ruthless circus owner who exploits a series of gruesome murders for her own ends... until the killer targets her. Directed by Jim O'Connolly (Valley of Gwangi, Tower of Evil) and co-starring Diana Dors (Yield to the Night, Deep End), Michael Gough (Horror Hospital, Batman) and Judy Geeson (10 Rillington Place, Inseminoid), Berserk is a deranged slice of Great British Grand(Dame) Guignol – a bloody exploitation classic!

Video


A thoroughly entertaining relic of British horror set in the tried and tested circus milieu. This would be a great companion film to Circus of Fear (1966) in a Friday night double bill with some pals over accompanied by beer and pizza. Joan Crawford is on fine late period form as the circus owner and murder suspect.

The supporting cast is filled with familiar faces: Robert Hardy, Diana Doors, Michael Gough, Philip Madoc, Milton Reid, Marianne Stone ... I could go on and on. Real comfort viewing for someone like myself who's first love in the horror pantheon was Hammer and other UK horrors of the '50s through the '70s.

A rich, vibrant looking little horror flick with plenty of primary colours on show and well rendered with a natural palette with no bias that I could detect. It's a well shot film with the studio shot material very atmospherically lensed and crisp location work. Reds really stand out here and with Kensington gore liberally used at judicious moments.

This has a very stable film like appearance with plenty of fine grain throughout which has been expertly encoded by David Mackenzie and Fidelity in Motion. The excellent Sony image harvest is most likely taken from a negative or an interpositive with little noise in evidence. Black some over very well with out crush and good shadow detail, unless intended.

Contrast is low key which allows textures to shine and I saw no blown-out whites and consequent clipping of fine detail. Gamma has been well handled. This is a typical low budget UK production of the mid to late 1960s and has that carefully crafted look that the likes of Hammer and Amicus had.

This is a first rate presentation of a forgotten programmer; a late addition to the popular Hagsploitation subgenre of horror begat by Whatever Happened to Baby Jane? (1962). Hammer had already made The Nanny and Fanatic (both 1965) and contemporary to this they had The Anniversary ready for release.

1080/24p / MPEG-4 AVC / 1.85:1 / 96:18

Audio


English LPCM 1.0

Subtitles: English HoH

Very solid mono track with some nice base, good fidelity and no distortions in sibilants and no hiss. The vibrant score never interferes with the dialogue. Subtitles are always welcome and I'd argue that in 2019 essential.

Extras


Audio Commentary by Lee Gambin and Eloise Ross

A very chatty, knowledgable track by two Aussie film historians who obviously know each other and work very well together. There's little silence with the chatter and info delivered virtually non-stop. Excellent!

"The NFT Interview with Joan Crawford: Conducted at the National Film Theatre, London on 4 August 1956" featurette (13:42)

Vintage 1956 interview with Crawford. Sound is obviously not top drawer but considering it's age this recording is a welcome addition.

"The Shopgirl's Delight: Pamela Hutchison on Joan Crawford" (14:40)

"Circus of Blood: Jonathan Rigby on Berserk" (31:49)

"Didier Chatelain on Herman Cohen" (13:30)

"In the Ring: Focus Puller Jim Alloway on Berserk" (14:12)

Four newly created featurettes that collectively form a nice retrospective on the film (74:11). Hutchinson discusses Crawford and her career specifically; Alloway was part of the camera crew who worked on the film; and Chatelain discusses legendary producer Cohen. Finally another historical overview by Sir Jonathan of Rigby who has become an institution on home video releases of horror films over the last two decades. Always entertaining and informative, Rigby has a nice chatty style and knows the genre through and through.

"Beyond Belief!" Tom Baker's Introduction (4:58)

An amusing little piece of home video history; in the '90s Berserk was granted a video release and Tom Baker was hired to do the introductions; a male UK version of Elvira? No, perhaps not. Baker is one of the great British eccentrics and is a national treasure to this is a lovely little piece.

"Beyond Belief!" Outtakes (21:09)

Outtakes from the above with Baker in top form ... priceless.

Theatrical Trailer (2:24)

Standard hyperbolic and melodramatic trailer.

Image Gallery: Original Promotional Material (36 images)

Brief but satisfying collection of HD images.

40-page liner booklet containing a new essay by Josephine Botting, archival interviews, historic articles, an overview of contemporary critical responses and full film credits

Yet another superb booklet typical of this company with a nice new essay and vintage contextual material.

Overall


A lovely Blu-ray from Powerhouse Films of a long unseen British horror film from the heyday of such things (1955-80). The image and sound are as good as can be considering the source which is a fine off-the-shelf master created by Sony. Extras are well curated if not as extensive as other similar releases from Powerhouse as part of their Indicator series of a similar ilk. However, they're choice and very engrossing bringing great added value.
| | | | | |
| --- | --- | --- | --- | --- |
| The Film: B | Video: A+ | Audio: A+ | Extras: B+ | Overall: A |

---
DVD Compare is a participant in the Amazon Services LLC Associates Program and the Amazon Europe S.a.r.l. Associates Programme, an affiliate advertising program designed to provide a means for sites to earn advertising fees by advertising and linking to amazon.co.uk, amazon.com, amazon.ca, amazon.fr, and amazon.de.