Class of 1999 (Blu-ray) [Blu-ray]
Blu-ray B - United Kingdom - Lions Gate Home Entertainment
Review written by and copyright: Rick Curzon (20th January 2019).
The Film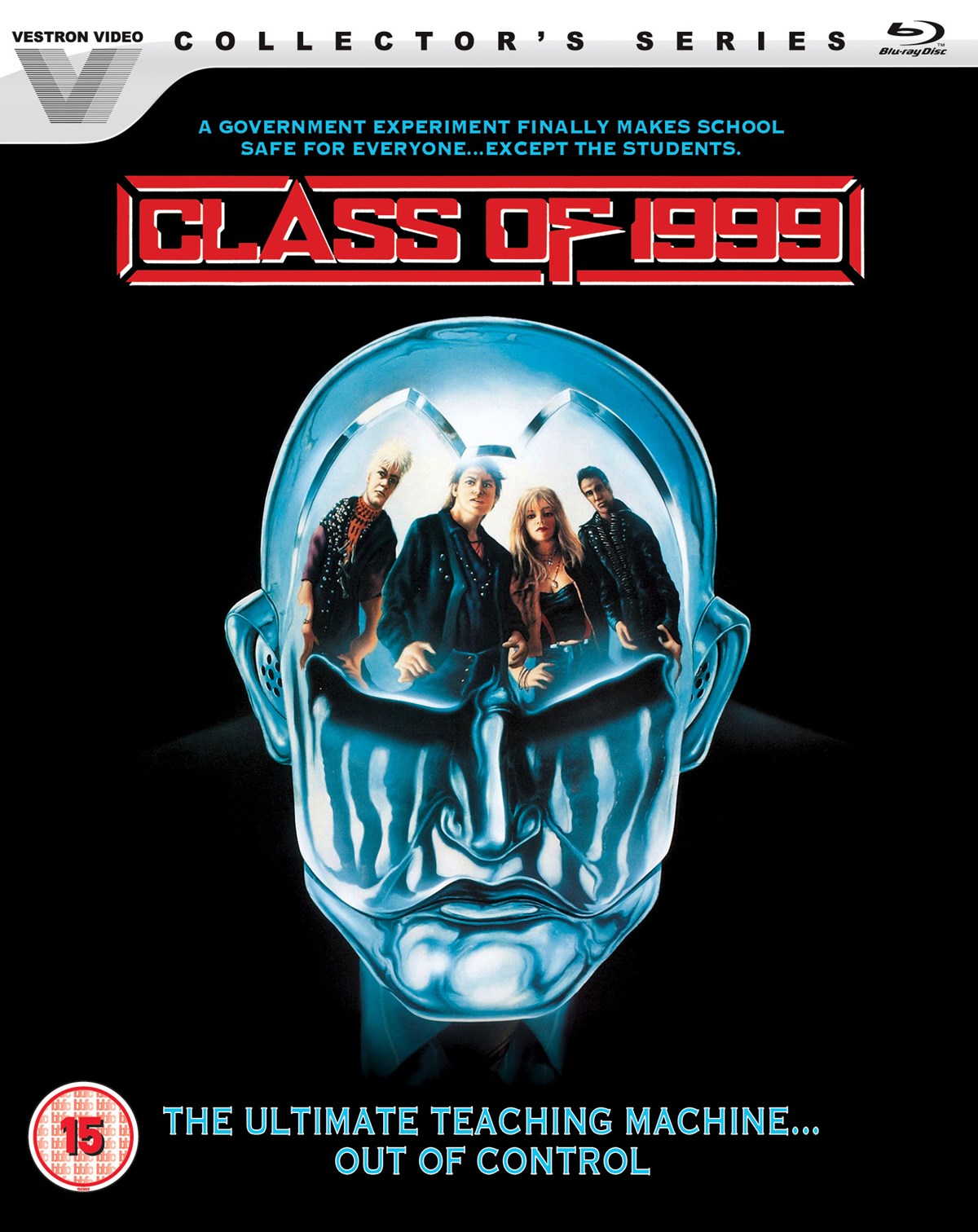 The time is the future, and youth gang violence is so high that the areas around some schools have become free fire zones into which not even the police will venture. When Miles Langford (Malcolm McDowell), the principal of Kennedy High School, decides to take his school back from the gangs, robotics specialist Dr. Robert Forrest (Stacy Keach) provides tactical education units. These human-like androids have been programmed to teach and are supplied with weapons to handle discipline problems. These kids will get a lesson in staying alive!

Video


Followup to director Mark L. Lester's Class of 1982 (1984) is essentially unrelated. Urban teen gang flick given a scifi twist by having robot teachers tackle severe behaviour issues in schools of the future. Class of 1999 paddles about in the same pond with films like Escape from New York (1981) and 1990: The Bronx Warriors (1982) whilst working as a commentary on the American education system. In some ways this is more in line with 2018 and the movement in the US to arm teachers with guns.

Hilarious from first frame to last and very, very silly this probably wouldn't get made now as teachers and pupils battling it out with machine guns and karate moves would go down in today's sociopolitical climate like a pint of cold vomit. Class of 1999 is ludicrous and obviously influenced by the satirical tone of Robocop (1987); the only difference is that it errs on the side of dum-dum action flick with plenty of great stunts, fistfights, car chases etc.

Patrick Kilpatrick, Pam Grier and John P. Ryan are great fun as the prototype android teachers dispatching quips and blows with equal vim. Stacy Keach with a daft haircut and creepy contacts is the head of the military program to create the droids. Bradley Gregg and Traci Lind are OK as the teen audience identification figures but their roles are largely thankless in a bone cruncher like this. Malcolm McDowell looks utterly baffled as the school's principal and Lind's dad.

As a teacher I thought this was a laugh riot in the best possible way and vicariously enjoyable. Class of 1999 ends up very like Westworld (1973) crossed with The Terminator (1984) with the droids taking on everyone, not just the punks.

This is very obviously a product of the 1980s and has a mildly diffuse MTV look which I love, so visually this film is eye candy for me with plenty of haze, mist, backlighting and bad hair! The colour platte is very rich emphasising the warmer end of the spectrum with vivid reds and pleasingly natural flesh tones.

Grain is healthy and constantly present lending the film even more visual texture and detail is variable being especially noticeable in extreme closeups and in well lit daylight. The '80s grainy haze style also doesn't make it easy for detail to come through as much as a bigger budget studio production of the era but this is still a nicely detailed image despite the softness.

Encoding seems to be very good with no holes in the grain and even dark sequences being well handled. Black levels are rich and deep although there is some natural crush here and there which I put down to the production limitations.

I could detect no artefact issues like mosquito noise, aliasing, posterisation or macro-blocking. The image is free from damage and has been well looked after although obviously whenever an optical comes along the image is softer than normal. Overall, this is a fine transfer.

1080/24p / MPEG-4 AVC / 1.85:1 / 96:12

Audio


English DTS-HD Master Audio 2.0 Stereo
Subtitles: English HoH

Generally this is an excellent surround sound track that effectively represents the Dolby Stereo track heard in cinemas back in 1990. The surrounds are very heavily used both for sound effects and score whilst dialogue is very much front and centre. I heard no distortions although occasionally the music could lack base and sound a trifle tinny; see the Midge Ure theme song over the end credits. There's plenty of low end base and the subwoofer as engaged quite pleasingly during the action scenes. Subtitles are essential.

Extras


Audio Commentary by producer/director Mark L. Lester

Experienced in drive in cinema in the '70s Lester moved into bigger budgeted material in the '80s like Firestarter (1984) and Commando (1985). He's a chatty, garrulous man and stuffs this track with plenty of information.

"School Safety" interviews with director/producer Mark L Lester and co-producer Eugene Mazzola (22:33)
"New Rules" interview with screenwriter C. Courtney Joyner (19:27)
"Cyberteachers From Hell" interviews with special effects creators Eric Allard and Rick Stratton (19:30)
"Future of Discipline" interview with director of photography Mark Irwin (19:04)

Four new featurettes collectively running 80:34 that form a loose retrospective documentary on the production. Lensed in HD all are worthwhile and form my favourite collective extra in the set.

Still Gallery (8:42)

HD still gallery collecting production and promotional stills.

Theatrical Trailer (0:59)
TV Spots (1:02)
Video Promo (7:47)

Vintage promo pieces.

Card slipcover

Mirrors the sleeve.

Overall


A direct clone of the US Vestron Video Series collector's edition Blu-ray. This has fine image and sound and a great extras package. The film itself is extremely silly but in a good way with it's tongue firmly in cheek and a game cast chewing the scenery. Recommended.
| | | | | |
| --- | --- | --- | --- | --- |
| The Film: B- | Video: A | Audio: A | Extras: A | Overall: A |

---
DVD Compare is a participant in the Amazon Services LLC Associates Program and the Amazon Europe S.a.r.l. Associates Programme, an affiliate advertising program designed to provide a means for sites to earn advertising fees by advertising and linking to amazon.co.uk, amazon.com, amazon.ca, amazon.fr, and amazon.de.