The Film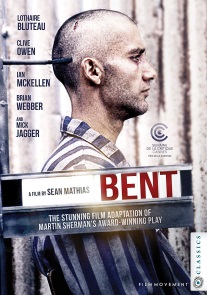 Award of the Youth (Foreign Film): Sean Mathias (won) - Cannes Film Festival, 1997

Max (Close My Eyes' Clive Owen) is the rebellious son of a wealthy family, living for the nightlife of 1930s Berlin. Although he has a live-in lover in dance student Rudy (Brian Webber), he seeks out others for one night stands at the nightclub of female impersonator chanteuse Greta (Performance's Mick Jagger). One night, Max is drawn to handsome Brownshirt Wolf (Nightwatch's Nikolaj Coster-Waldau) with whom he has an extended affair. Wolf's continued presence drives Rudy to jealousy, but the fractious triangle is exploded on "The Night of the Long Knives" when Hitler orders the assassination of the heads of the Stormtroopers along with their families and others including Wolf, the lover of the second-in-command. Max and Rudy flee his apartment and hide out in the underground. Believing that, as the only son of an industrialist family, he is of enough value that his family will arrange safe passage for him to Amsterdamn until things blow over, Max approaches his "discreet puff" of an uncle Freddie (Plenty's Ian McKellan) but he is only able to supply a single set of fake identification papers and Max refuses to go without Rudy. Hiding out in the country near the border, Max and Rudy are eventually arrested and put on a train to Dachau. Rudy is singled out by the SS for his horn-rimmed glasses as "intelligentsia" and beaten. Max is prevented from intervening by Horst (The Black Robe's Lothaire Bluteau) who warns him that gay men are considered even lower than Jews. Max tries to pass himself off as a Jew and is forced to prove that he is not gay in a grisly manner. Having survived the train to the camp, Max learns that Horst wears a pink triangle, having been singled out as a gay man after signing a petition to make homosexuality legal (the Weimer Republic having been extremely liberal in its attitudes and cultural enlightenment), and that he has already been moved from camp to camp and forced to participate in propaganda films that show the supposedly humane treatment and good health of gay men in the camps. Ever a dealmaker, Max resolves to find ways to better his situation in the camp which he expects he will eventually get out of, and tries to demonstrate his gratefulness to Horst by having him reassigned on the labor detail to work with him; Horst, however, is disgusted about Max's compromises including sexually servicing officers. Given tasked designed to mentally break them down such as moving stones from one pile to another and back in the sweltering heat and later the glacial cold, Max and Horst find ways to resist if only in their minds, and even to have sex without touching or even eye contact, transmitting depth of feeling through their hushed voices. Full of self-loathing beyond his betrayal of Rudy, Max is in denial about his sexuality or even the nature of his love for Horst until it is too late.

A screen adaptation of the 1979 play by Martin Sherman (who also penned the screenplay), Bent as a film caused less of a stir than it did on the stage when McKellan and Tom Bell (The L-Shaped Room) essayed the leads at the Royal Court Theater – with Richard Gere and David Dukes (Gods and Monsters acting opposite Family Ties' Michael Gross as Greta in the Broadway run the following year – in its post-Stonewall exploration of the oppression of gay men as another party of undesirables in the Holocaust. However powerful the themes of the play, including the great tragedy of a character who finds the strength to live freely after only after he has lost everything, the staging and style do not translate themselves well to the screen as helmed by Sean Mathias who had previously directed the play's 1990 revival. The minimalist mise-en-scene onscreen, with the same warehouse set with its sloping back wall redressed for several locations from the nightclub to Max's loft to various area of the camp, and the two-handed nature of much of the screentime clashes with location shoots and scenes requiring extras; lacking the dynamism of Derek Jarman's even more budget-spurred innovations in his cinematic staging of Edward II. The film is at its most compelling when Owen and Bluteau share the screen either alone or with an SS officer and guard, in which the tight framing of Yorgos Arvanitis (Ulysses' Gaze) and editing of Isabelle Lorente (Europa Europa) underline the rhythmic nature of the dialogue exchanges as Max and Horst undermine the authority of their oppressors with a hint of levity in their "Yes, sirs," and giving a sense of momentum to the pair's verbal "intercourse." The coverage of the meetings between Max and Freddie photographed on location manage to possess a similar quality of the location as backdrop. Any scene requiring extras (apart from the opening club scenes) or views of other areas of the camp, however, feel "inserted" not so much in a sense of opening up the play as the filmmakers not knowing how to impart the same minimalist sense to interstitial scenes. Although the main cast of characters is small, the supporting cast of extras includes some surprising appearances by British talent either of the day or on their way to being better known in nothing roles here, among them Wilde's Jude Law and his then-wife Sadie Frost (Bram Stoker's Dracula), Stealing Beauty's Rachel Weisz, A Room With a View's Rupert Graves, Master and Commander: The Far Side of the World's Paul Bettany as a rather camp SS officer.

Video


Released stateside theatrically by MGM as yet another of the nineties films given the commercially unviable NC-17 rating – for featuring nudity and sexuality in more serious context than far more explicit but juvenile R-rated fare of more recent vintage – as well as in a toned-down R-rated version, the film was released to cassette in its NC-17 version and later to barebones anamorphic 1.85:1 DVD (the British Cinema Club DVD was barebones but framed at 1.66:1 while the 1.85:1 German DVD from Arthaus featured a behind the scenes segment and interviews). Film Movement's 1080p24 MPEG-4 AVC widescreen Blu-ray is derived from a "new digital restoration" that is framed at 1.78:1 without appearing to impede the stagey compositions. Presumably created by rights owner Park Circus for international exploitation (as well as their own UK Blu-ray/DVD combo), the new master preserves the visual contrasts between the smokey Berlin club, the grittier Berlin exteriors, and the rustic woodland settings of Max's and Rudy's escape to the harsher, more crisply focused camp scenes.

Audio


The only audio option is an uncompressed LPCM 2.0 encoding of the early Dolby Digital (non-5.1) soundtrack with clear dialogue and sparse sound design, making it all the more apparent just how incidental the affected score of Philp Glass (Koyaanisqatsi) is to the drama apart from Jagger's "Streets of Berlin" heard over the opening sequence and closing credits crawl. Optional English SDH subtitles are included.

Extras


All of the extras have been carried over from the German DVD and the UK Blu-ray starting with the vintage behind the scenes (11:33) featurette, Jagger's "Streets of Berlin" (2:43) music video, while the interviews with actor Brian Webber (1:42), actor Clive Owen (1:52), actor Ian McKellan (1:33), actor Lothaire Bluteau (2:22), writer Martin Sherman (1:41), actor Mick Jagger (1:41), and director Sean Mathias (2:14) are standard EPK fluff. The disc also includes a 2018 theatrical trailer (1:52) and the original theatrical trailer (2:32), as well as trailers for other Film Movement titles. Packed with the disc is a booklet with an essay written by Steven Alan Carr.

Overall


The drama and stylistic execution of Martin Sherman's powerful play Bent does not entirely translate to the screen.