Unholy (The) (Blu-ray) [Blu-ray]
Blu-ray B - United Kingdom - Lions Gate Home Entertainment
Review written by and copyright: Rick Curzon (21st January 2019).
The Film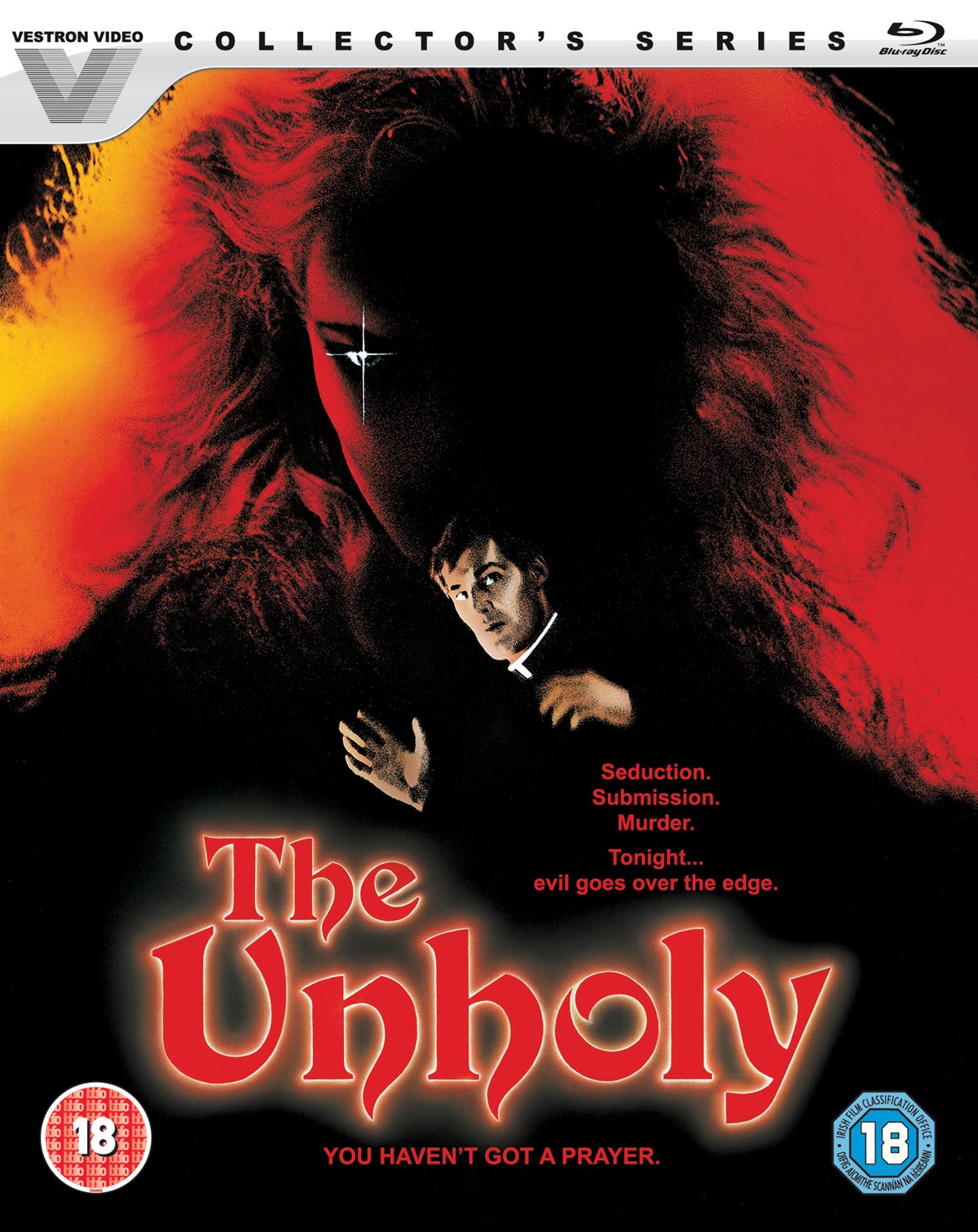 In New Orleans, a city with a dark underside of black magic and satanic worship, two priests have been brutally murdered at St. Agnes Church. Now THE UNHOLY reigns, only to be challenged by the purest of mortal souls. Father Michael (Ben Cross), believed to be spiritually blessed, is appointed to the ungodly parish. Is he really the chosen one, strong enough to fight such ravishing temptation, such raw evil? Or is he simply the third to die? Some say Father Michael hasn't got a prayer.

Video


Ultra '80s in it's cinematography and stylistics; this is a slick demonic horror flick that gets sillier and siller as it nears it's conclusion, but is entertaining enough for what it is. It'd make an unintentionally hilarious double bill with Stigmata (1999) which is just as slick and silly. If you wanted a triple The Sentinel (1977) would counteract the sillies and sober you up afterwards! I haven't seen this since it played in UK cinemas in 1988. Still daft.

We're in rock-horror territory with a pounding score and flashy, very '80s, MTV-style imagery. There's plenty of hazy cinematography which is largely well rendered by the encode although I did notice noise in some of the darker sequences. I don't know how long ago the image harvest was done but I would suggest it's a few years old. There are some signs of minor DNR.

Black levels are mostly very good bar the noise I mentioned above. Grain is mostly present although, again, there's the odd sequence where it is inconsistent. Contrast is lowkey allowing detail to come through nicely with no blown out highlights.

All in all this is a very pleasing transfer of a problematic, most likely older source. Although not perfect it looks fine in motion and that's what truly matters.

1080/24p / MPEG-4 AVC / 1.85:1 / 102:16

Audio


English DTS-HD Master Audio 2.0 Stereo
Subtitles: English HoH

The Unholy was released to cinemas in 1988 with a Dolby Stereo 2.0 track and my memories of it are sketchy at this late date. The 2.0 Stereo track on this disc represents it without any digital tinkering and no upmixing to 5.1. It's a satisfying track with some decent low base and surround activity is energetic, particularly during the shock moments and bits where the demon appears. The scenes in the nightclub are very active with the score pumping out of all four corners very effectively.

Dialogue is always clear and never stepped on by the score. Obviously, but today's standards this is a fairly basic mix but it's still atmospheric and has been cleaned up so no distortions, pops, clicks etc.

Subtitles are well done and reasonably comprehensive and at this date in the life of DVD-BD essential.

Extras


Audio Commentary by director Camilo Vila

Informative commentary with the Cuban born director who doesn't seem to have done a great deal before and since but proves very interesting discussing his career and the film.

Isolated Score Selections and Audio Interview with composer Roger Bellon

The score in DTS-HD Master Audio 2.0 Stereo interspersed with interview segments with the composer.

Audio Interview with production designer/co-writer Fernando Fonseca with isolated selections from his unused score

Same as isolated audio track with Roger Bellon only this features bits of Fonseca's rejected score.

"Sins of the Father" interview with actor Ben Cross (19:09)
"Demons in the Flesh: The Monsters of the Unholy" featurette (22:26)
Prayer Offerings" interview with production designer/co-writer Fernando Fonseca (18:35)

As with other Vestron Video Series titles we get a lovely collection of featurettes that form a loose retrospective making of. These total 60:10 and very worthwhile. Cross is a laid back geneal type of guy and comes over very well discussing how he got the gig through his mate director Camilo Vila. The SPFX featurette covers the various demons and makeups used and the final one is from the man who initiated the project, co-wrote it, did the production design and even a score that went unused.

Original Ending (with optional audio commentary by producer Mathew Hayden)(15:02)

I think ending is more satisfying that the one we get int he feature and I really wish that a seamless branching option could've been arranged. The quality is seemingly from a very good work-print and a film source.

Theatrical Trailer (1:17)
TV Spots (2:15)
Radio Spots (2:25)

Standard promo pieces, nothing special of note.

"Original Storyboard Gallery" slideshow (18:40)

Extensive gallery of rather well done storyboards.

"Still Gallery" slideshow (11:51)

Promotional and production stills.

Card sleeve

Mirrors the artwork on the main sleeve.

Overall


A fine rock-solid release that is a direct port of the US edition also from Vestron-Lionsgate. Fine image and sound although there are some signs of digital tinkering but it's not egregious. Extras are very good; a great package of a long forgotten film worthy of revival.
| | | | | |
| --- | --- | --- | --- | --- |
| The Film: C+ | Video: B+ | Audio: A | Extras: A | Overall: B |

---
DVD Compare is a participant in the Amazon Services LLC Associates Program and the Amazon Europe S.a.r.l. Associates Programme, an affiliate advertising program designed to provide a means for sites to earn advertising fees by advertising and linking to amazon.co.uk, amazon.com, amazon.ca, amazon.fr, and amazon.de.