Parents (Blu-ray) [Blu-ray]
Blu-ray B - United Kingdom - Lions Gate Home Entertainment
Review written by and copyright: Rick Curzon (22nd January 2019).
The Film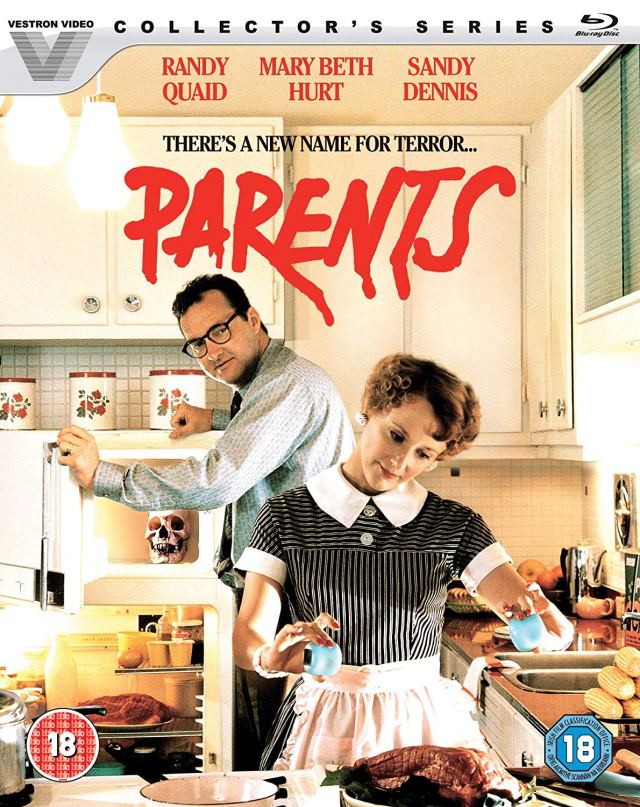 Meet the Laemles. Dad's got a great job, mom has all the modern conveniences a happy homemaker could ask for, and ten-year-old Michael has neat new friends and two parents who kill him with kindness. They're all the all-American family....or are they?

Michael can't figure out why his family serves leftovers every night. Leftovers? Well, what were they before they were leftovers? questions young Michael. Leftovers-to-be, smiles dad. Dad's bringing home the bacon....and a whole lot more! Michael's parents are getting away with murder - making home where the horror is!

Video


Despite the brief running time this takes waaaay too long to come together. It has an effectively creepy atmosphere most of the way punctuated by cheery '50s tunes and production design and the performances are very good. Perhaps some judicious pruning would help? It feels like a 25 minute Twilight Zone padded out and it takes itself generally very, very seriously. Still, it's very different, beats to it's own drum and it's fair to say it has it's fervent supporters.

This is a late '80s production and it bears signs of film stocks from that decade. Grain is heavy and consistent, well handled by the encode. It's very similar from the two other Vestron releases I've reviewed (Class of 1999, The Unholy) albeit very differently shot. This one is trying to set itself in the '50s so colours are perhaps a notch or two more primary and the overall lighting schemes more flat.

There are some moments of mild film weave early on but things settle down fairly quickly. I'm guessing but I'd say this is taken from an older master probably done for a DVD release or HD broadcast. Detail is present and very pleasing, particularly in facial closeups and in clothing textures. Some DNR may have been applied but it is minimal and barely noticeable.

Blacks are pleasingly deep with no unintended crush that I could see. Contrast is appropriate and supportive with clipping of highlights or eclipsing of details. A pleasing transfer all round.

1080/24p / MPEG-4 AVC / 1.85:1 / 81:57

Audio


English DTS-HD Master Audio 2.0 Stereo
Subtitles: English HoH

I found this approximation of the film's theatrical Dolby Stereo track to be decent and fairly robust. There's no distortion or hiss or indeed any other problems worth mentioning. It's a vintage track of a low budget production that has been well looked after. By modern standards it's fairly basic but surround activity was present if mainly taken up with the score rather than ambient sounds. There's not a great deal of LFE boost so don't expect much subwoofer action; after all this largely a talk piece with plenty of dialogue exchanges. Subtitles are well done and essential for the hard of hearing to get as much out of this black comedy as possible.

Extras


Audio Commentary by director Bob Balaban and producer Bonnie Palef

Agreeable commentary track from two of the key creatives. Balaban is always a good interview subject and has loads of acting experience so his handling of an actor-centric production like this is of special interest.

Isolated Score Selections and Audio Interview with Composer Jonathan Elias

What it says on the tin; isolate sections of score with commentary in the form of an interview cut to fit.

"Leftovers to Be" interview with screenwriter Christopher Hawthorne (16:48)
"Mother's Day" interview with actress Mary Beth Hurt (14:29)
"Inside Out" interview with director of photography Robin Vidgeon (13:58)
"Vintage Tastes" interview with decorative consultant Yolanda Cuomo (9:26)

A decent and satisfying collection of featurettes that loosely form a 45:39 retrospective.

Still Gallery (4:52)

Decent HD still gallery.

Theatrical Trailer (1:33)
Radio Spots (1:42)

Vintage promo pieces typical of the era and genre.

Card sleeve

Mirrors the packaging.

Overall


A decent, middle of the road black comedy cum horror melodrama gets the royal treatment with a decent if imperfect transfer. Given the source and pedigree of the film (minor cult) we have the film looking and sounding about as good as can be expected shy of a brand new 4K remaster and an UHD Blu-ray release. Extras are decent and follow the pattern of other Vestron Video Series releases from Lionsgate.
| | | | | |
| --- | --- | --- | --- | --- |
| The Film: C- | Video: B+ | Audio: B+ | Extras: A | Overall: A- |

---
DVD Compare is a participant in the Amazon Services LLC Associates Program and the Amazon Europe S.a.r.l. Associates Programme, an affiliate advertising program designed to provide a means for sites to earn advertising fees by advertising and linking to amazon.co.uk, amazon.com, amazon.ca, amazon.fr, and amazon.de.