Charlie Steel
R0 - America - Indiepix
Review written by and copyright: Eric Cotenas (30th January 2019).
The Film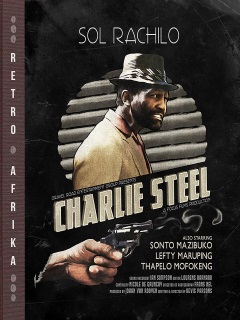 "The following film is one of hundreds that were produced at the height of Apartheid for African audiences with no access to mainstream entertainment.

By early 1990, most of these films simply disappeared.

In 2013, Gravel Road Entertainment Group launced an iniative to locate and digitally restore these forgotten films for present and future generations."

When businessman Dlamini's daughter Dudu (Shaka Zulu's Sonto Mazibuko) is abducted for ransom by crime boss Sonny (American Ninja 3: Blood Hunt's Thapelo Mofokeng), Dlamini appeals to old friend and neighborhood P.I. Charlie Steel (Joe Bullet's Sol Rachilo) to find her. Putting out feelers around the local dives, Charlie learns of a young gangster Pete (Lefty Maruping) boasting of the kidnapping and approaches him in disguise as a gunman looking for work to infiltrate the gang. Unfortunately, he is recognized by Jimmy (Davis Diphoko), an ex-soldier that Charlie busted down in the army for firing on the women and children of the enemy. With Dudu and Charlie both captured and learning that Sonny plans to kill Dlamini once he gets the money, they may have to depend on the budding love young hood Tony (Charles Joloza) has developed for the girl. As an African film made for African audiences, Charlie Steel cannot really be called Blaxploitation, although one would assume that if it were picked up for international distribution, it might have been retitled by Steel's nickname "Black Mamba." Amateurishly photographed by Frans Nel – who would have his own subsequent career as a director of exported low budget actioners like American Kickboxer when local producer Anant Singh was taking on international exploitationers Avi Lerner, Harry Alan Towers who were then situated in South Africa churning out tax break-incentivized product for post-The Cannon Group Yoram Globus's Cannon International and Menahem Golan's 21st Century Film Corporation – and staged by writer/director Bevis Parsons in a style that lies somewhere between Dolemite and Super Soul Brother, being slightly less refined than the earlier South African crime film If Joe Bullet. Obviously modeled on other action films, there is little in the way of verisimilitude with the actors going through the motions with a heavier influence on telling over showing, particularly in regard to the love story subplot. The results are at times laughable but strangely intriguing for all its rough edges. The abduction of Dudu takes place in a very public place with passersby observing the struggling and chloroforming of the girl, including one guy who hesitantly walks up to the scene as if unware that it is being filmed or believing that a real crime is being filmed. The camera cuts to a different angle and one presumes that the situation has been explained to him and that Jimmy is lying to the boss when he says that no one saw them snatch the girl rather than the filmmakers not wanting to stage a second take.

Video


Restored in high definition from an unspecified source or composite of sources, Charlie Steel's progressive, pillarboxed anamorphic fullscreen image looks overall in better condition that some of the other Retro Afrika titles, with the image either faded or overexposed (not helped by the flat lighting and the blank white backgrounds of some of the interiors) while shadow detail is nill due to underexposure and print processing.

Audio


The Dolby Digital 2.0 mono track does what it can with the competently-recorded dialogue (some of which is probably post-synched although not in the manner of South African product that was bound for export) and library music tracks. The English subtitles are hard-coded to the image but free of any glaring errors.

Extras


The sole extra is the film's trailer (1:31) which has been newly-created by rights owner/restorer Gravel Road.

Overall

---
DVD Compare is a participant in the Amazon Services LLC Associates Program and the Amazon Europe S.a.r.l. Associates Programme, an affiliate advertising program designed to provide a means for sites to earn advertising fees by advertising and linking to amazon.co.uk, amazon.com, amazon.ca, amazon.fr, and amazon.de.