The Film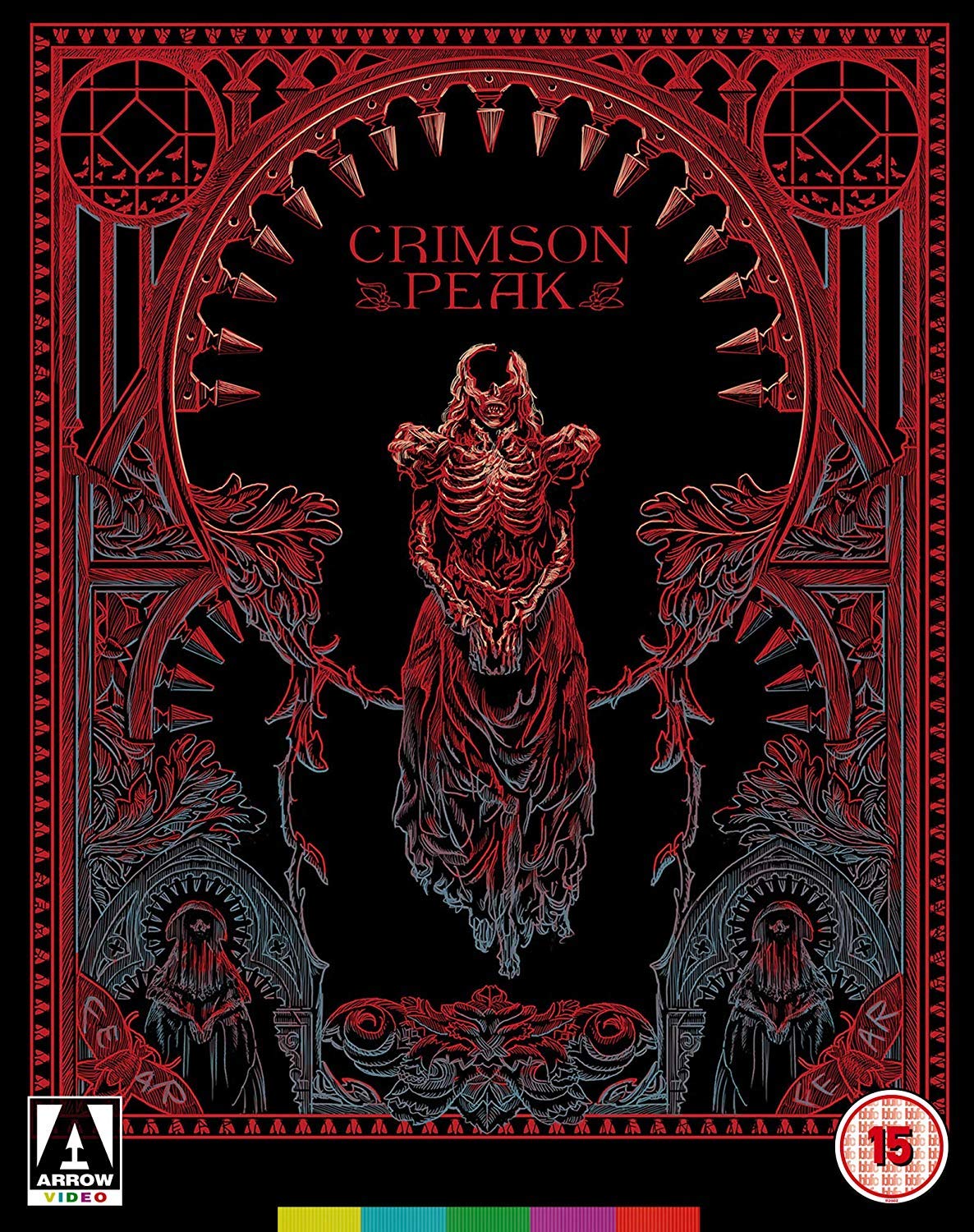 Crimson Peak (Guillermo del Toro, 2015)

Since the age of ten, Edith Cushing (Mia Wasikowska), an aspiring writer of horror fiction, has experienced visitations from her deceased mother; the ghost warns Edith to 'beware of Crimson Peak'. As an adult, Edith approaches a publisher with her short stories but is turned down because she is a woman; afterwards, she is mocked by the mother (Leslie Hope) of her friend, Dr Alan McMichael (Charlie Hunnam).

Edith is introduced to Sir Thomas Sharpe (Tom Hiddleston), who has travelled from England to seek investment in his invention: a machine for mining clay. Sharpe has approached Edith's father, Carter Cushing (Jim Beaver). Carter has turned Sharpe down, however, telling him that 'In America, we bank on effort, not privilege. That is how we built this country'.

Edith takes a fancy to Thomas, however, much to the chagrin of Alan, who clearly has deeper feelings for his friend. Edith is introduced to Thomas' sister Lucille (Jessica Chastain). Concerned about Thomas' relationship with Edith, Carter hires a private investigator, Holly (Burn Gorman), to look into the Sharpes' affairs. When Holly returns to Carter, Carter is appalled at the evidence Holly presents and warns Sharpe to leave.

Thomas and Lucille announce their intentions to return to England, but before they depart Carter is attacked and murdered in his bathroom. A distraught Edith pursues Thomas Sharpe, and the couple marry, Edith returning with Thomas and Lucille to the Sharpe family home, the crumbling and decrepit Allerdale Hall, in England.


Allerdale Hall sits atop the clay mines which have for generations been operated by the Sharpe family, and when the snow falls, the red of the clay bleeds through; because of this, the area has been nicknamed 'Crimson Peak'. Whilst living Allerdale Hall, Edith begins to see ghosts. Meanwhile, in America Alan continues to investigate the Sharpes and begins to uncover their family secrets.

From the initial critical praise which met the neo-Gothic Cronos (1993) and The Devil's Backbone (2001), Guillermo del Toro brought his own interpretation of Lovecraftian fantasy to Hollywood with Blade II (2002) and Hellboy (2004) before becoming a critical darling with the release of Pan's Labyrinth in 2006. (Del Toro's second picture, Mimic, was made within the Hollywood system but suffered from studio interference which soured the project and del Toro's relationship with it.) Del Toro left his home country of Mexico following the kidnapping of his father in 1997, an event which drew in assistance from del Toro's friend and fellow director James Cameron, who had met del Toro during the production of Cronos. uth Doughty and Christine Etherington-Wright assert that del Toro's pictures 'traverse big-budget commercial Hollywood filmmaking and low-budget art cinema' (Doughty & Etherington-Wright, 2018: 18); since moving to the US, del Toro has alternated big budget action-oriented pictures (Pacific Rim, 2013) with more intimate dramas (The Shape of Water, 2017), but his work is always infused with elements of the Gothic and more than a subtle nod to H P Lovecraft in particular. (In some ways, his career could be said to parallel that of Tim Burton, who during the 1990s and early 2000s alternated big budget Hollywood spectacles with more 'personal' pictures but nevertheless maintained a fairly consistent emphasis on Gothic elements.) Perhaps surprisingly, del Toro's films seem to prove popular both with critics and audiences – despite, or perhaps because of, their more outré elements of fantasy, which would seem to jar with the paradigms of post-New Hollywood popular cinema.


At the time of its initial release, Cronos felt very much part of a wave of international films that featured graphic visual elements – such as the films of the cinéma du look and pictures such as Jeunet and Caro's Delicatessen (1991) and La cite des enfants perdus (The City of Lost Children, 1995), and Alex de la Iglesia's Accion Mutante (1993). Del Toro has often cited the paintings of Goya as a specific visual influence on his films. This quality is evident throughout del Toro's body of work but, despite it being one of the few del Toro films not photographed by his frequent collaborator Guillermo Navarro, is particularly noticeable in Crimson Peak, in the attention to detail throughout the mise-en-scène and the richly-textured photography. The sets are superb: the crumbling Allerdale Hall, an outsider's nightmare of an isolated English country house that is populated by a perverted pair of siblings who (like Bluebeard) prey on wealthy women and poison them with cups of tea, is layered with faded, grimy tapestries and carpets; outside, the red of the clay pits seeps through the earth and bleeds into the snow when it falls – the reason why, Thomas tells Edith, the area is nicknamed 'Crimson Peak'. When this happens, it is as if the land is bleeding from an open wound. The design of Allerdale Hall, an incredible achievement in set design, seems particularly influenced by the design of the House of Usher in Roger Corman's Fall of the House of Usher (1960), and as in that film adaptation of Edgar Allan Poe's short story, Crimson Peak foregrounds the notion that Allerdale Hall is a living symbol of the corruption at the heart of the family which occupies it.

Reflecting del Toro's own self-imposed exile from Mexico since the late-1990s, a number of del Toro's films may be interpreted as narrativising the experience of being in exile from one's own country, home or family. Sometimes this is articulated indirectly (Hellboy) and at other times, as in Crimson Peak, it is much more direct. Crimson Peak may even be read as a semi-autobiographical picture: after harm has been done to her father, Edith makes the decision to leave her home country (the US) and settle in another (England). Like del Toro himself, she is also a lover of horror fiction and a creative soul.


Crimson Peak opens with Edith's voiceover ('Ghosts are real. I know. The first time I saw one, I was ten years old. It was my mother's') as, onscreen, we see the young Edith being terrorised by the spectral presence of her dead mother, who warns her to 'beware of Crimson Peak'. As an adult, Edith is fascinated with the supernatural but faces prejudice in her pursuit of a writing career owing to her sex: she presents her ghost stories to a publisher, Ogilvie (Jonathan Hyde), but is disheartened when her work is turned down and Ogilvie tells her that she should write romantic fiction instead. When Edith meets Thomas Sharpe, she is pleased to find that he is sympathetic to her ambitions and her focus on the supernatural: he tells her that ghosts 'have always fascinated me. You see, where I come from, ghosts are not to be taken lightly'. However, despite her personal encounters with the supernatural, Edith insists to both Ogilvie and Thomas that the ghosts in her stories are an example of metaphor – much as the ghosts of traditional Gothic fiction are metaphoric.

In its exploration of the supernatural, Crimson Peak is textured in its mise-en-scène and its coverage of Victoriana, from the wax recordings Edith discovers in Allerdale Hall (which lead her to discovering the 'truth' of the Sharpe family) to the spirit photographs Alan shows Edith. Interestingly, when Alan shows his collection of spirit photography to Edith, he asserts that 'Ghost photography is easy to fake. However, with glass plates it is, by definition, impossible'. It's a brief moment and fairly unimportant to the rest of the narrative, but the initiated will know that spirit photography is very much possible using glass plates (essentially via a technique of multiple exposure): the mid-Nineteenth Century photographer William Mumler, who famously photographed Abraham Lincoln's widow with the 'ghost' of her dead husband using a view camera, was a practitioner of this. The scene is a nice touch, both consolidating the depiction of ghosts as 'real' – within the film's diegesis, that is – whilst also underscoring, for the knowledgeable, the naivete that surrounded spirit photography during the Nineteenth Century. Alan continues to expound a variation of the 'stone tape' theory to Edith: 'It's my belief that houses, places, be it by chemical compounds in the earth or the minerals in the stone, can retain impressions of a person that is no longer living'. Though the film doesn't explore this overtly, it is suggested that the siting of Allerdale Hall on clay-rich land – so rich in clay that when the snow falls, the red clay bleeds through it, which is the reason for the location's nickname 'Crimson Peak' – may be the reason for the hauntings.


The film is filled with small (and sometimes not so small) allusions to other horror pictures: a mysterious wheelchair which recalls Peter Medak's The Changeling (1980); strange, childish murals on the wall of Allerdale Hall, which bring to mind Dario Argento's Profondo rosso (Deep Red, 1974). When Edith falls asleep after drinking the tea given to her by Lucille, she awakens with a pain in her stomach; the ellipsis makes one wonder what happened in the interim, and in this sequence there are echoes of Roman Polanski's Rosemary's Baby (1968). In Allerdale Hall, a strange creature – a partially petrified corpse – shocks Edith by crawling out of the floorboards, in a moment which nods towards Clive Barker's Hellraiser (1987).

As noted above, there are some similarities between Allerdale Hall and the houses of Nineteenth Century Gothic fiction – embodiments of the peccadilloes, vices and secrets of the families that live in them, like the House of Usher in Edgar Allan Poe's 'The Fall of the House of Usher'. As it becomes clear during the progress of the film's narrative that the story of Crimson Peak is essentially a variation on the French folktale of Bluebeard, it seems that Allerdale Hall – like the home of Bluebeard in the folktale – is filled with secrets that gradually reveal themselves to Edith, who like Bluebeard's bride explores the house alone. These secrets include a lift that leads to a space beneath the house; vats filled with molten clay in which are hidden petrified corpses; and writing desks with hidden compartments that conceal wax audio recordings made by Thomas' former wife. As Thomas admits to Lucille, towards the end of the picture, the house is a symbol of their relationship: 'We've been dead for years, Lucille', Thomas tells his sister, 'You and I, in this rotting place'.

Featuring some sumptuous production design – making the finished picture a sort of The Age of Innocence of Gothic horror stories – Crimson Peak marries a stately approach to narrative with richly textured period detail within the mise-en-scène and some moments of brutal violence that punctuate the story. Carter's murder, his head rammed into a porcelain sink, is particularly vicious, but later the film includes face stabbings and various other acts of outrageous violence, as if to validate Lucille's assertion that 'It's a savage world of things dying or eating each other beneath our feet'.


Video



Running for 118:43 mins and uncut, this HD presentation of Crimson Peak is in the film's intended aspect ratio of 1.85:1. The 1080p presentation uses the AVC codec and fills 28Gb of space on a dual-layered Blu-ray disc.

Photographed digitally, in vivid colour, on the Arri Alexa XT and using crisp – almost clinical – Zeiss prime lenses, Crimson Peak looks very handsome on this Blu-ray release. In interview, the film's director of photography, Dan Laustsen, praised the dynamic range of the then-new Arri Alexa XT and its ability to capture more detail in the shadows than previous digital formats (Laustsen, in Pushing Pixels, 2017: np). The photography uses light and contrasting colours (for example, warm oranges against steely blues) to create a sense of visual depth, even when the lenses were used wide open.

As a 'shrunken' presentation of a digital source, this presentation would seem to capture the qualities of Laustsen's photography beautifully. The image is rich and deep, and colours are vibrant and consistent. The chiaroscuro lighting schemes in many of the scenes are carried very well, with finely-balanced contrast levels offering deep inky blacks and subtled gradation within the shadows. Midtones are richly defined. The encode is balanced with no glaring technical issues arising from it.

Full-sized screengrabs are included at the bottom of this review. Please click to enlarge them.





Audio


Several audio options are available: (i) a DTS-HD Master Audio 7.1 track; (ii) a DTS 2.0 Headphone:X track; and (iii) an English Dolby Digital 2.0 stereo (audio descriptive) track. The main audio track is rich and deep, with sound separation used to create a deeply immersive soundscape. Optional English subtitles for the Hard of Hearing are included.

Given the setting of the film, which is Cumberland during the 19th Century, it's difficult to imagine that the Sharpe family – whose lineage in the area goes back for generations – would speak in the clipped tones of Southern England, regardless of their social class; it's a small gripe, but a little bit more 'Northern' in the vowel sounds, in particular, would have gone some way in carrying the fiction.


Extras



The disc includes:
- An audio commentary with Guillermo del Toro. Del Toro begins by asserting that Crimson Peak is the 'most beautiful movie' he's made and is, in his opinion, one of the three best films he has directed. He suggests that the film has been mislabelled as a horror picture when in truth it is a Gothic romance, and he compares the picture to Horace Walpole's The Castle of Otranto (1746). He suggests that cinema is primarily a visual medium and explores the careful design of Crimson Peak. It's a superb commentary track in which del Toro proves himself to be highly articulate about the process of filmmaking and lucid about the contexts in which his films are made.

- 'The House is Alive: Constructing Crimson Peak' (50:01). This is a 'newly edited' documentary that intersperses interview footage with behind the scenes material. Del Toro provides comments, placing Crimson Peak within the paradigms of the Gothic romance. Other interviewees are Mia Wasikowska, Jessica Chastain, Jim Beaver, Tom Hiddleston, art director Brandt Gordon, set dresser Shane Vieau, producer Thomas Tull, production designer Tom Sanders, and producers Jon Jashni and Callum Greene. Hiddleston makes some interesting points about the manner in which the film's narrative evolves from a 'lavish' period drama into something that 'takes a very sharp turn for the Gothic'. The participants reflect in some detail on the design of Allerdale Hall and the symbolism within it. Del Toro praises Le Fanu's Uncle Silas (1864) and suggests this was a model for Crimson Peak.

- 'An Interview with Guillermo del Toro' (8:36). Del Toro speaks, in Spanish (with optional English subtitles), about Crimson Peak and its relationship with Gothic fiction.


- 'Allerdale Hall: Four Featurettes': 'The Gothic Corridor' (4:07); 'The Scullery' (4:25); 'The Red Clay Mines' (5:19); 'The Limbo Fog Set' (5:43). These short featurettes explore specific settings within Allerdale Hall, featuring interviews with del Toro and the cast reflecting on how these locations are used and developed, interspersed with behind the scenes footage of the production.

- 'A Primer on Gothic Romance' (5:37). In this short featurette, del Toro discusses the narrative paradigms of Gothic fiction and how these apply to Crimson Peak. Del Toro's comments are supported by interviews with Hiddleston, Chastain, Wasikowska and Jim Beaver. Del Toro and some of the others attempt to construct a dualism between Gothic romance and Gothic horror, which is arguably a false opposition (as a glance at del Toro's film itself, which marries the romantic strain of Gothic fiction with the emphasis on supernatural elements that we associate with Gothic horror, might indicate), but nevertheless it offers an interesting attempt by the participants to situate Crimson Peak within the context of a literary paradigm. Del Toro refers to some classics of English-language Gothic fiction but curiously doesn't discuss the Gothic strand in Mexican culture (eg, Fuentes, Rulfo or Boullosa)

- 'Hand-Tailored Gothic' (8:59). This featurette focuses on the costumes used in the picture. Costume designer Kate Hawley talks about how she approached designing the costumes, and del Toro and producer Jon Jashni reflect on this aspect of the film too. Some behind the scenes footage of planning meetings is included.


- 'A Living Thing' (12:12). The building of the Allerdale Hall sets is discussed by del Toro, Tom Sanders, Thomas Tull, Charlie Hunnam and Jon Jashni. Footage of preproduction meetings is interspersed with the interview footage, as are sketches and some footage of models.

- 'Beware of Crimson Peak' (7:52). Tom Hiddleston takes the camera on a tour of the Allerdale Hall set the day before it was scheduled to be demolished.

- 'Crimson Phantoms' (7:03). The design and construction of the ghosts in the film is discussed by Chastain, Wasikowska, Hiddleston, del Toro and members of the visual effects team. We see footage of models being made and del Toro directing the actors on the film's set.

- 'Kim Newman on Crimson Peak and the Tradition of Gothic Romance' (17:37). In a new interview, Newman reflects on the relationships between Crimson Peak and traditional Gothic fiction. Newman suggests that del Toro is a director whose work falls largely into the category of the fantastique, and discusses the split in early cinema between the 'actuality films' of the Lumiere brothers and Melies' fantasy-based narratives. Newman's comments about Crimson Peak are sensitive, balanced and insightful.

- 'Violence and Beauty in Guillermo del Toro's Gothic Fairy Tale Films' (23:37). Critic Kat Ellinger narrates a video essay which considers del Toro's employment of motifs of both Gothic fiction and the fairy tale.

- Deleted Scenes: 'The Park' (1:03); 'Thomas' Presentation' (0:57); 'Father Consoles Daughter' (0:48); 'Thomas Sees a Ghost' (0:40); 'Lucille at the Piano' (1:03).

- Trailers and TV Spots: International Trailer (2:28); Theatrical Trailer (2:36); TV Spots (1:05).

- Image Gallery: Production Stills (3:00); Behind the Scenes (2:50).


Overall



A mishmash of elements from Gothic fiction, Crimson Peak benefits from some superb production design and a rich visual texture overall. It's an impressive picture but, beneath the surface, recycles some very familiar narrative tropes, evolving when Edith moves into Allerdale Hall into a version of the French folktale of Bluebeard. Within the context of a Hollywood production, the marriage of period drama, vicious violence and Gothic brooding might be considered slightly subversive. Some transgressive elements are included and some dryly ironic ones too (after moving to England, Edith is slowly poisoned by cups of tea). In the interviews contained on this disc, admittedly largely EPK-type material, del Toro asserts that this is one of the best pictures he's made. I would be inclined to disagree, but it's a strong film nonetheless with a very rich visual texture, and the manner in which the story moves from period drama to outre horror mirrors the way in which Victorian Gothic fiction, in particular, reacted against the paradigms of the more staid literature of the era.

Arrow's new Blu-ray presentation of this digitally-shot feature is very good indeed. This main presentation is accompanied by a wealth of contextual material. Some of this is admittedly slightly repetitive, and much of it is promotional EPK-type material. However, there are some rich comments made in del Toro's commentary, in particular, and the interview with Kim Newman is sensitive and balanced in its analysis of Crimson Peak's relationship with the Gothic.

References:
Doughty, Ruth & Etherington-Wright, Christine, 2018: Understanding Film Theory. London: Palgrave-Macmillan

Pushing Pixels, 2017: 'Cinematography of "Crimson Peak" – interview with Dan Laustsen'. [Online.] https://www.pushing-pixels.org/2017/01/09/cinematography-of-crimson-peak-interview-with-dan-laustsen.html


Please click to enlarge: