The Film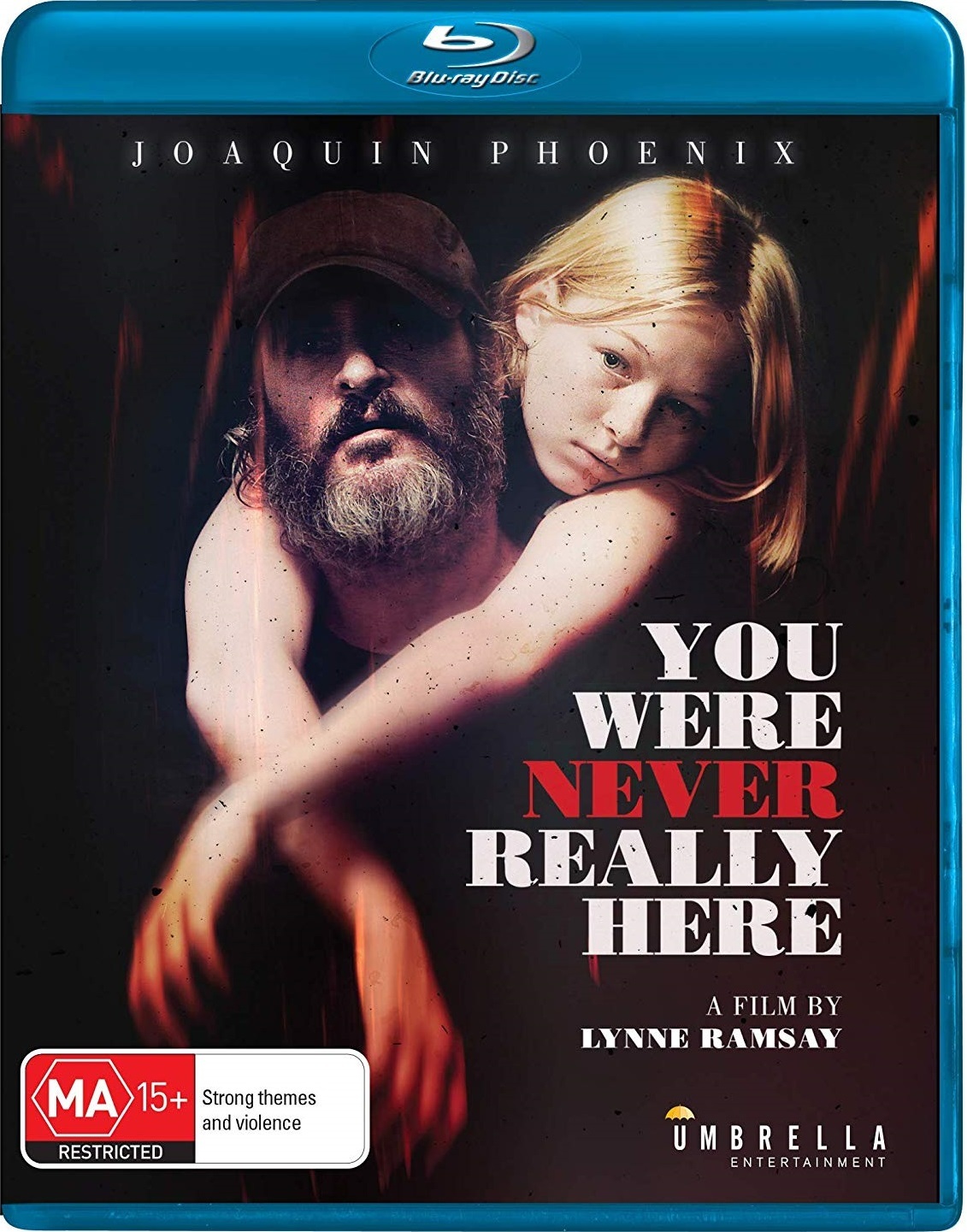 "You Were Never Really Here" (2017)

Joe (played by Joaquin Phoenix) is a man who has rage in his blood with love in his heart. Working under the radar as a vigilante, he has combat skills and interrogation techniques which help him through various situations. He says he can be brutal if necessary and makes sure to get the jobs done quickly. At home he is caring for his aging mother (played by Judith Roberts) who's suffering from slight dementia. The two of them have experienced harsh trauma set by Joe's violent father, who frequently beat his mother and also caused mental and physical pain towards Joe throughout the years. He frequently has flashbacks to those times, and suicidal thoughts cross his mind on many occasions.

For his latest job, he is to find Nina (played by Ekaterina Samsonov) the young 13 year old daughter of a state Senator Votto (played by Alex Manette). Trapped in a residence that supposedly provides sexual services with underage girls, it's Joe's job to get her out and return her home to safety. But what seems like a straightforward rescue mission becomes much more than he bargained for.

Based on the 2013 novella of the same name by Jonathan Ames, the feature film adaptation of "You Were Never Really Here" is a very harrowing and disturbing piece of work, yet one that also shows a possible hopeful journey for the traumatized lead. Like the "Taken" series, it has a man with a particular set of skills willing to be as brutal as possible. But while in those films they are built around the action and the tension, there is not much said about the character of Mills and his past except for some basic things implied. Like "Taxi Driver", the main character has urges to want to save a young girl using brutal methods that are seemingly well planned, but with his mental instability there are consequences. But what caused his troubles? What is his main desire to be free? In "You Were Never Really Here", the character of Joe has had very traumatic happenings in his life, from his childhood to his time in the military, both dealing with being a tortured child and dealing with a death of an innocent child in the warzone. When he bashes in the heads of the people at the location where he finds young Nina, they are not simple blows for defense, but pure anger against the treatment of the kept children. He has no remorse, no pain or guilt felt for them. His relationship with his mother is both loving and frustrating, as it clearly shows that he has a very strong emotional bond with his mother but also one that makes him filled with anger. The state of her mental health coupled with the years of trauma they had gone through together over the years are stacked together causing severe anguish for Joe. With so much depression and anger throughout, it's hard to find much sense of positivity in the piece, but there is a sense of hope in the end.

Director Lynne Ramsay is no stranger to stories of mental trauma or youth dramas. "Ratcatcher" (1999), "Morvern Callar" (2002), and "We Need to Talk About Kevin" (2011) all had similar traits of how trauma can grow alongside oneself, and "You Were Never Really Here" does the same. The audience is truly placed inside the head of Joe throughout, seeing everything from his perspective, with the body count rising along the way - and not all coming from him. Ramsay's past films were mentally harsh but in "You Were Never Really Here", the physical brutality is also a key factor. But rather than seeing the heads being crushed, throats being slit, or gunshot kills, most of the time they are offscreen, subdued, or seen only in the aftermath. This is not an action film but instead is about the lasting effects of past violence as seen with the many corpses left behind. Even in the well shot raid sequence, this is not like what was seen in "Oldboy" or "The Protector" with well choreographed fights with full contact in long takes. Instead it is shot at a distance using grainy black and white surveillance footage. The shots of Joe killing patrons and staff with a store bought hammer is mostly off screen or blurred in the background, lending the audience to fill in the gaps of violence. Like "Bambi", all remember the scene the mother is killed, but the image of the mother being shot is never in the film, but only seen offscreen. Forgive the spoiler, but there is a beautiful nod in the film to "Night of the Hunter"'s haunting underwater sequence that is both a baptism and reawakening as well as a way of saying goodbye to Joe's mother both in person and in memory.

Continuing a spoiler with the ending, the major point is that Joe has no kids and is one that doesn't want to have the violent blessings of his father passed down the line to the next generation. But as seen with Nina brutally killing Williams by herself, where does the violence start and when does it end? She has no parents anymore, she is traumatized sexually and seen violent killings played out - she has experienced much more than the average person would ever want to in a lifetime. But she is okay. She is optimistic in making a new life with Joe. Will she be the daughter he never had, or will she be a partner in vigilantism? Only time will tell.

"You Were Never Really Here" was first released at the 2017 Cannes Film Festival in a nearly complete form. Even though unfinished it received a 7 minute standing ovation and was given the Best Actor and Best Screenplay prizes. Playing at various film festivals worldwide and receiving limited theatrical releases, the film won a series of awards at the British Independent Film Awards, the International Online Cinema Awards, the National Board of Review, and more, plus nominated for much more. It may not have the feel-good vibe of many other vigilante films and is more of an existential drama of traumatized souls, it's brutally violent as well as being brutally honest, easily being one of the best and most memorable films of the year.

This is a region ALL Blu-ray

Video


Umbrella Entertainment presents the film in the 2.35:1 aspect ratio in 1080p AVC MPEG-4. Shot digitally, the picture is very crisp and well defined in both dark scenes taking place at night while reflecting neon lights, as well as in daytime scenes with fine detail see throughout. The raid scene changes to low definition black and white surveillance footage that looks obviously worse than the rest of the footage, which is fully intentional. Colors are well balanced and there are no errors in the transfer.

The film's runtime is 89:55.

Audio


English DTS-HD Master Audio 5.1
The original English track is given a lossless mix and the results are fantastic, especially with the score. Composed by Radiohead's Johnny Greenwood, the mix of ambient rhythms, electronic beats, and fiercely haunting echoes are well mixed in the 5.1 landscape. Dialogue is kept centered and is well balanced with the score and the effects, with characters always sounding clear. An excellent track throughout.

There are optional English HoH subtitles for the feature in a white font. There are a few unusual typos found but for the most part are well timed and easy to read.

Extras


Unfortunately there are no extras provided on the disc. The film immediately plays on start-up with no menu screen.

The film has not received a great treatment of extras on Blu-ray around the world. The US Lionsgate release has none as well. The UK release has a minute long featurette which is basically a commercial for the original book. The Spanish release only has the Spanish trailer. There are Japanese and French Blu-rays which have exclusive interviews, but ones looking for commentaries, behind the scenes footage, etc. will not find one for this particular film.

Packaging


The package is reversible with the other side having identical artwork, but with the only difference being the Australian ratings logo removed.

Overall


"You Were Never Really Here" is easily one of the best films of the year with fantastic performances and a character drama that is not afraid to look at trauma deeply. The Umbrella Entertainment Blu-ray sports a great transfer but sadly lacking extras.
| | | | | |
| --- | --- | --- | --- | --- |
| The Film: A | Video: A | Audio: A | Extras: F- | Overall: C |