The Film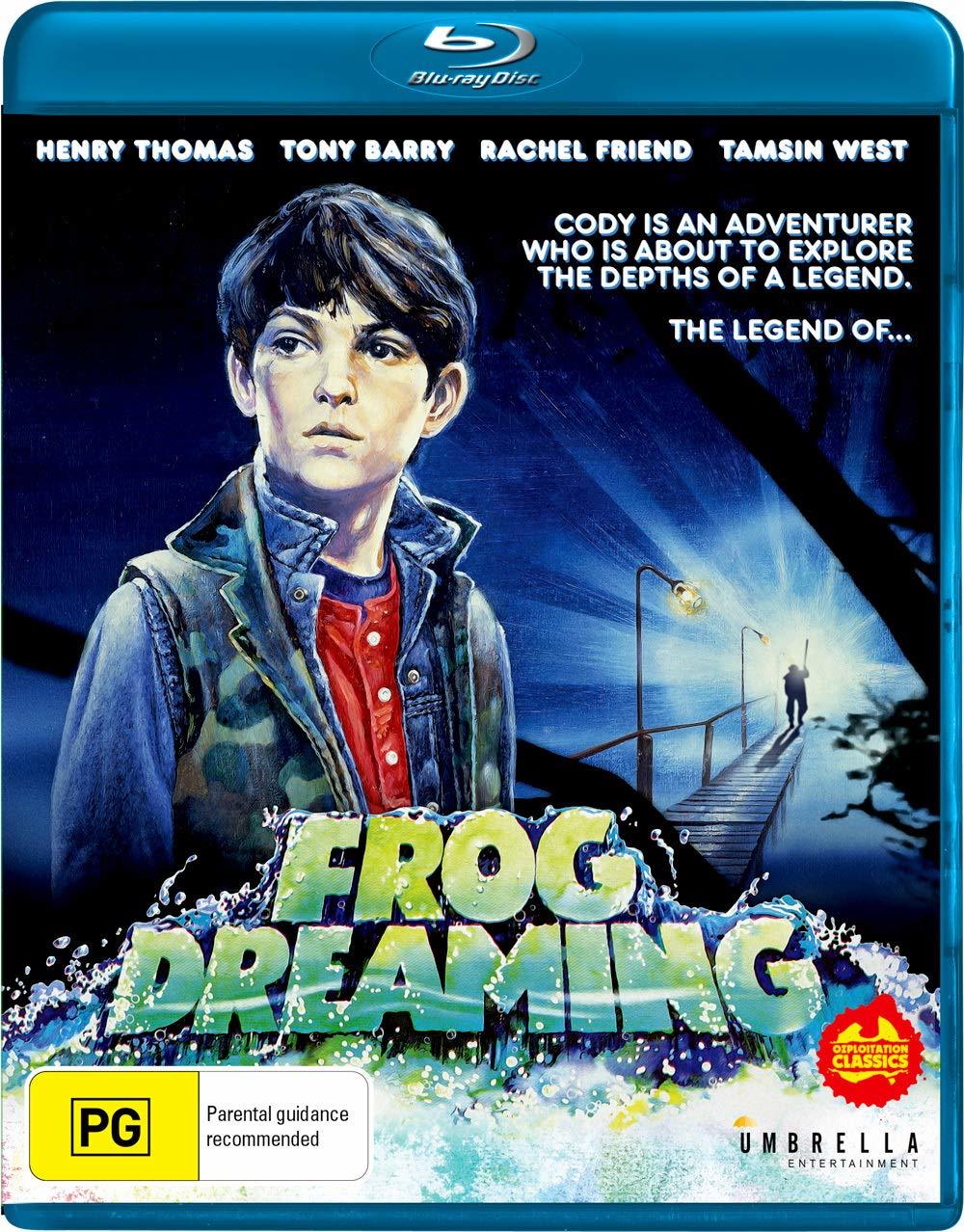 "Frog Dreaming" (1985)

Cody (played by Henry Thomas) is an American boy, recently orphaned and living with his guardian Gaza (played by Tony Barry) in a small town in rural Australia. He is an adventurous and inventive 14 year old boy, frequently riding his bicycle through forests, up the mountains, and anywhere he can to find something new. With his inventive side, he is handy in welding, fixing, and creating makeshift gadgets through the aid of Gaza's garage space. But his antics also get him into trouble, especially with the parents of Wendy (played by Rachel Friend) and her younger sister Jane (played by Tamsin West concerned that his influence on them could get them hurt, as the forests and the nearby quarry is filled with dangerous animals and other hazards. But it's not just the natural hazards, but something mysterious at the bottom of the lake at the quarry which the local aboriginals call "Donkegin", and when a body is discovered nearby, the locals become concerned. But it also brings fascination to Cody, who is out to discover its true identity...

"Frog Dreaming" followed the fantasy adventure genre that swept the 1980s with an Australian sensibility, by incorporating Aboriginal myth and childhood wonder, following in the footsteps of films such as "The Goonies", "Time Bandits", and "The Neverending Story" plus others. While the production could have been an obscure Australian children's film, the one point it had was Hollywood star power in the lead. Riding the overnight success of "E.T." (1982) and "Cloak & Dagger" (1984), Henry Thomas was one of the most recognizable child actors of the era, and was a perfect fit for "Frog Dreaming" in terms of sales and distribution. At a time when child actors could rarely receive lead roles in films, Thomas seized the opportunity by taking the role which would also include a trip to Australia for filming. With a script by Everett De Roche and being directed by Russell Hagg, the fairly small budget production faced issues very quickly with the producers not being satisfied with the dailies and the kids not having much of a good rapport with the director, it was chosen that he would be replaced. Filmmaker Brian Trenchard-Smith was approached about taking over the production in which he had no time for pre-production or personal preparation. Regardless, he took on the difficult role by building trust with the crew and the actors, especially with the children, and deciding to reshoot almost everything that had been shot for the last two weeks.

Taking over a troubled production would mean red flags on all sides, but Trenchard-Smith was especially hands on in making the best of the situation, including screening his 1983 film "BMX Bandits" for Thomas, as well as making sure to hear many of Thomas' suggestions to the script and the shooting. Thomas had stated that as a child actor, any suggestions made by him would quickly be dismissed by prior directors, but Trenchard-Smith made sure to listen to him and the other children, making sure they were comfortable and if they had ideas, they would be considered for incorporation. The emotional scene of Cody shedding tears when he cannot make a promise to Gaza was an unscripted idea by Thomas and an example of collaboration that Trenchard-Smith took seriously. Even with the production issues midway and having two weeks of reshoots, the production somehow finished on schedule without too many issues, though a slight concussion to Thomas during the bike on the railway tracks scene did cause a minor hiccup.

"Frog Dreaming" is a children's film at heart, with the main story seen through the eyes of children. Almost every scene is seen through the eyes of Cody or Wedny with a few minor exceptions. One issue that is slightly awkward is the explanation of why an American boy like Cody is living in Australia, which is skimmed through very quickly and having no major affect on the story. Cody's parents being killed and Cody coming to terms with their death is never shown, nor is the ending having any connection to that aspect of the story. Even some parts of the script such as the American Cody using terms like "bloke" sound unusual, and very little if any is seen of Cody's transition to down under. It's obvious that the script was written in mind with an Australian lead, and Thomas himself said he considered doing the film in an Australian accent, but the idea was scrapped early on. Cody is a likeable character but his whole backstory never comes full circle with the loss of his parents, and his possible romantic relationship with Wendy also never quite happens as audiences would expect. The film treads mostly in reality with some fantasy notions sprinkled, but as for spoilers in the ending, the reveal of "Donkegin" definitely grounds the myth into reality, and some audience members might feel a little tricked. But like many things that children find wondrous or mysterious, once the truth is revealed it might cause disappointment - whether Santa Claus or the Tooth Fairy for examples. But if that made audiences tricked or disappointed, then the film has made its point clearly.

The film's release was not a smooth one. Twentieth Century Fox backed out of distributing it in the United States. Walt Disney Pictures took interest but had issues with a shot of one of the kids with a cigarette in a scene and the use of "shit" in the dialogue by one of the kids. The US rights were sold to Miramax Pictures, which at the time was more or less a start-up company with few hits on hand. The title also was an issue as they felt "Frog Dreaming" would not sell and was renamed "The Quest" for America. Even with a title change and Thomas as a recognizable lead, distribution power was very small, leading to obscurity. In Australia it grossed a low $171,000 in cinemas and was not considered a hit. The film did much better in the cable TV and rental video market but would later run into issues of distribution with the folding of UAA Films, making it hard to see the film for wider audiences. And considering that the film had a different title for almost every country it was released in ("The Go-Kids" was another title made that was used for the UK market), it certainly made way for confusion over the years.

Umbrella Entertainment previously issued the film on DVD for the first time in the world , but it was a fullscreen transfer and had few extras. They've now remastered it for Blu-ray and added new supplements to make a new definitive edition.

Note this is a region ALL Blu-ray

Video


Umbrella Entertainment presents the film in the 1.85:1 aspect ratio in 1080p AVC MPEG-4. Remastered in 4K, this widescreen transfer is miles ahead of the previous DVD edition, with great detail, very little if any damage to the picture, and consistent colors. Film grain is kept intact and looks very natural in transfer. On the negative side the colors are slightly faded and muted looking rather than bright and bold, with a browning tinge to the picture throughout. Overall it is a good transfer and fans should be very satisfied.

The film's runtime is 93:00.

Audio


English DTS-HD Master Audio 2.0 stereo
The original stereo audio track is presented in lossless 2.0. Dialogue, music, and effects are very well balanced, with voices coming mostly from the center while the left and right channels used for stereo music and ambient effects. The film score by Brian May (the Australian composer and not the Queen member) is great and never overpowers the dialogue track. There are not hisses, pops, or cracks in the track sounding clean and clear throughout.

There are optional English HoH subtitles for the film in a white font, with no spelling or grammar errors to speak of.

Extras


Audio commentary with Brian Trenchard-Smith, Brian Kavanagh, Aphrodite Kondos, and Mark Hartley
In this 2018 recorded commentary track, the director, Brian Kavanagh and costume designer Aphrodite Kondos are joined by Moderator Mark Hartley. Discussed about are Trenchard-Smith taking over the product midway, about Thomas and his input, the score, the shooting locations, the distribution issues, and much more. With Hartley there to ask many questions, it is a lively chat throughout with barely any dead space.
in English Dolby Digital 2.0 with no subtitles

Extended Interviews from "Not Quite Hollywood" (32:08)
Hartley's documentary "Not Quite Hollywood: The Wild, Untold Story of Ozploitation!" in 2008 covered some of "Frog Dreaming", but here are extended interviews with screenwriter Everett DeRoche, star Henry Thomas, and Brian Trenchard-Smith interviewed separately as they recall the production. Discussed are about the replacement of the original direction, remembering happenings on the production, and how different children's films have become over the years.
in 720p AVC MPEG-4, in 1.78:1, English Dolby Digital 2.0 with no subtitles

"The Depths of a Legend: Looking Back on Frog Dreaming (with Henry Thomas & Brian Trenchard-Smith)" featurette (28:12)
In this 2018 interview shot at Henry Thomas' home in Oregon, the reunited director and actor share stories about the production with smiles on their faces. Thomas remembers having a crush on Rachel Friend during the production, many of the fun moments, working with his stunt double, and also Thomas' years after the film was made.
in 720p AVC MPEG-4, in 1.78:1, English Dolby Digital 2.0 with no subtitles

"The Go-Kids: Looking Back on Frog Dreaming (with Rachel Fried & Tamsin West)" featurette (16:44)
The two that played sisters are shot and interviewed separately, with each talking about their memories of being cast and appearing in the film, plus much more.
in 720p AVC MPEG-4, in 1.78:1, English Dolby Digital 2.0 with no subtitles

"The Dream Quest: Shooting Locations Revisited" featurette (5:32)
In this short comparison featurette, shots from the film are seen back to back with drone shots of the shooting locations in the present day.
in 720p AVC MPEG-4, in 1.78:1, English Dolby Digital 2.0 with no subtitles

Image Gallery (7:28)
An extensive automatic slideshow gallery that features concept art, VHS and theatrical artwork, behind the scenes & production stills, the printed story synopsis, script excerpts, and more
in 720p AVC MPEG-4

Trailer (1:30)
The original Australian trailer is presented in remastered form. There are some specs and dust remaining, but the colors are close to that of the remastered film. The trailer has also been embedded below.
in 1080p AVC MPEG-4, in 1.85:1, in English LPCM 2.0 with no subtitles



Packaging


The artwork is reversible with the opposite side removing the Australian rating logo and using the US artwork for "The Quest".

Overall


"Frog Dreaming" may have its flaws but is still a fun fantasy adventure film that kids will certainly enjoy more than thirty years later. Being out of circulation for so long, it was thankful when Umbrella Entertainment rescued the film and released it onto DVD, albeit a not-so-good one. The Blu-ray fixes that and gives it new life with a 4K remaster and with great extras to add. Very recommended.
| | | | | |
| --- | --- | --- | --- | --- |
| The Film: B+ | Video: B+ | Audio: A | Extras: A | |