The Film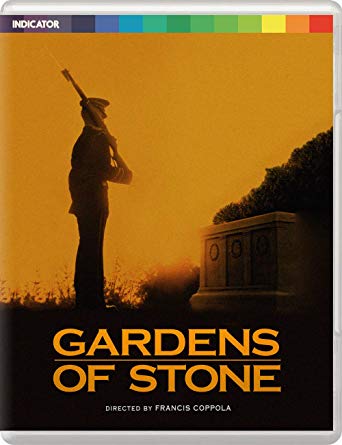 Francis Ford Coppola's impressive return to the subject of the Vietnam War is a poignant and contemplative companion piece to his epic masterwork 'Apocalypse Now'.

Set in 1968, the film reunites Coppola with Godfather star James Caan, who plays disillusioned army sergeant stationed at Fort Meyers Arlington Cemetery and views the war in Vietnam as un-winnable, despairing at the dead arriving daily for burial from the
front lines.

This powerful drama from one of American cinema's most audacious filmmakers boasts a towering performance by Caan, and a superb supporting cast, including Anjelica Huston, James Earl Jones, Mary Stuart Masterson and DB Sweeney.

Video


A quiet drama about military life at a time of war; very much an antiwar film but one that contrasts various attitudes towards war. The script, direction and performances couldn't be bettered. Sadly, it's not well served by Carmine Coppola's dull score which seems to
tootle away in the background - especially during dramatic moments involving two characters - without much regard for the onscreen action, emotion or dialogue. It doesn't hurt the film, but it doesn't really enhance it much either.

I remember when this one came out and just disappeared; critically it was given a generally positive if dismissive reception but it deserves to be better known and is overall a very fine film. Highly recommended.

Shot in the widescreen ratio of 1.85:1 on 35mm this has that distinctive slightly hazy look typical of the '80s although we're not in MTV territory here. As is to be expected for a prestigious, well looked after film this looks terrific with plenty of detail in both foreground and background and no signs of compression with the encode handling detail well. I'm sure that if you were to blow the image up 200-400 times normal flaws will be visible, but that's to be expected. The master is in fine shape and has been expertly handled.

Colours are robust when they need to be with no signs of bleed and It's a pleasure to see a warm, vivid colour palette. Coppola favours plenty of military colours but the redder end of the spectrum is well served; seen in the American flags and in solid fleshtones. Scenes with neon come off well and being an '80s film there are some!

Black levels are perfectly judged with deep blacks in shadows and no signs of crush or loss of detail. Again, there don't appear to be any encode issues that I could detect.
Contrast is also at a satisfying level that doesn't blowout detail but isn't dull either; the image pops off the screen in a most satisfying way and the range of colour and detail is enhanced.

Grain is ever present and well handled by the expert encode; no holes, digital splats or clumps to be seen.

1080/24p / MPEG-4 AVC / 1.85:1 / 111:51

Audio


English LPCM 2.0 Stereo
Subtitles: English HoH

Audio is solid, represents the intentions of the film well but in the end this isn't a war film in the traditional sense; apart from one brief sequence set on manoeuvres, we see no action. This is a dialogue heavy acting piece and as such the sound field is front centric with
dialogue in the centre and ambiance and sound effects steered to the left and right. Surrounds are used mainly for the score which never interferes with the actors work.

Fidelity is good and I heard no signs of hiss, pops, clicks etc. It's been restored well along with the image and is about as good as we can expect given it's intentions. Obviously the subtitles are essential for the hearing impaired and seem to cover the vast majority of
dialogue.

Extras


Audio Commentary by filmmaker and critic Jim Hemphill

Hemphill made the 2005 horror film Bad Reputation which was well received but has eluded me as of this writing; being a horror buff it's definitely on my radar. Insightful commentary focuses primarily on the direction by Coppola, which is not surprising when considering the above.

"The Guardian Interview with Anjelica Huston: Conducted by Adrian Wootton at the National Film Theatre London on 7 December 2006" (64:24, plays as alternate audio track over the film)

Entertaining wide-ranging interview with the veteran actress who's at her best in Gardens of Stone. If you've heard these screen talks before you know what to expect. Wootton is an old hand and keeps the chat lively and interesting.

"War at Home" 2018 interview with director Francis Coppola (16:15)

Superb interview with Coppola discussing the film, the death of his son during the making of it and his thoughts on what constitutes and anti-war film. The most amusing anecdote involves offending Michelle Pfeiffer who was considered too beautiful for the role taken byHuston. Well, I consider Huston to be one of the most beautiful women I've ever seen. Coppola considers her a characterful beauty

Image Gallery: Original Promotional Material (10 images)

Brief but decent HD gallery.

Theatrical Trailer (2:39)

Typical trailer of the period promoting the stars and the drama.

32-page liner nots booklet by Neil Sinyard, Francis Coppola and the cast on Gardens of Stone, an overview of contemporary critical responses, and film credits

Fabulous booklet with a fine new essay by Sinyard. The excerpts from interviews with Coppola have been expertly combined to focus on Coppola's reasoning for taking the job (he was a director for hire) mainly due to the failure of One from the Heart (1982) and his
desire to pay off his debts. It was also a quiet mood piece which also appealed to him at that time.

Overall


A fine, reflective, thought provoking film gets - by Powerhouse Film's standards - a more basic release with first class image and decent sound taken from an existing, but very fine master. Extras are solid, decent and very enjoyable, if not as extensive as the more
celebrated Indicator releases.
| | | | | |
| --- | --- | --- | --- | --- |
| The Film: A | Video: A+ | Audio: A | Extras: A | Overall: A |