The Film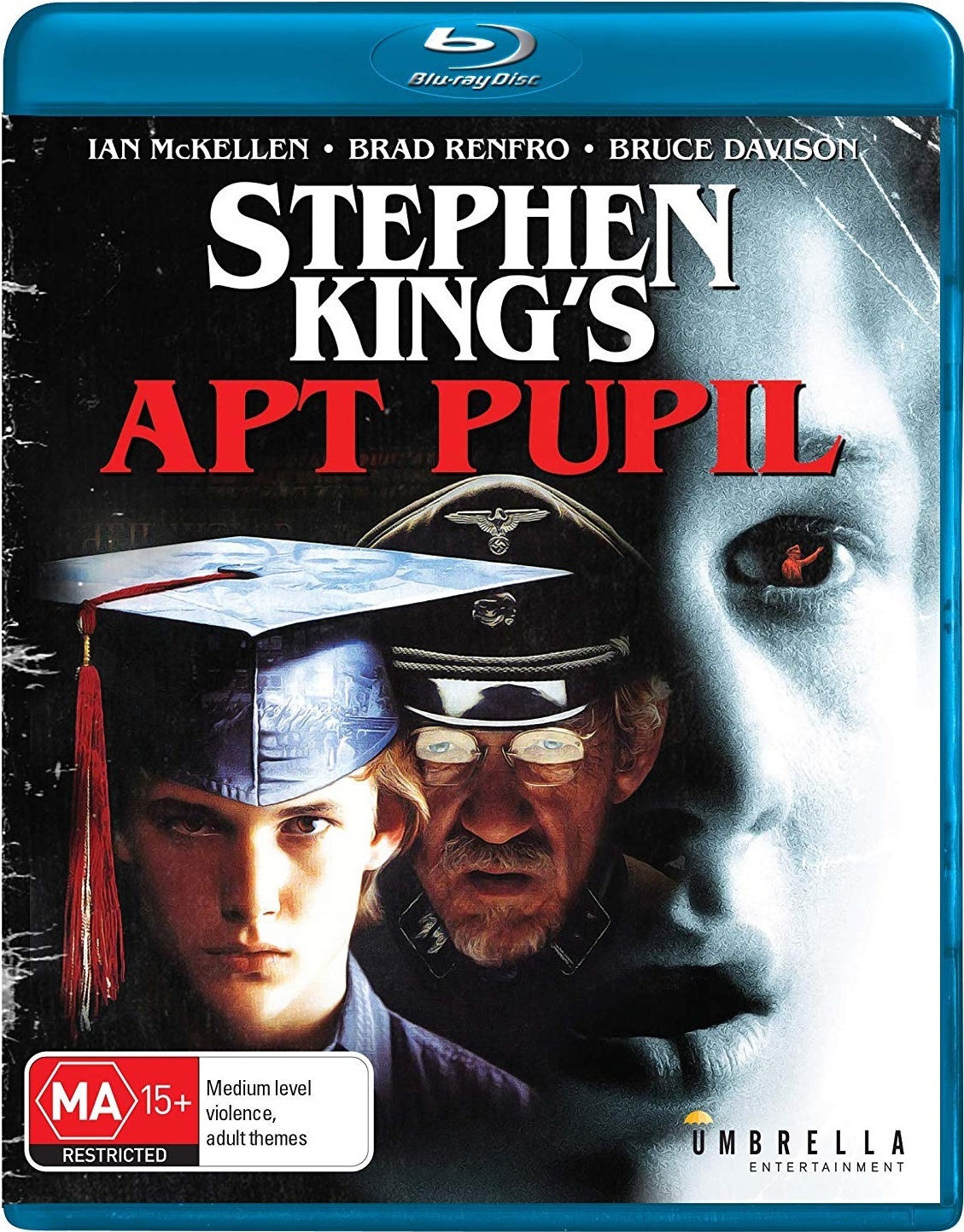 "Apt Pupil" (1998)

Todd Bowden (played by Brad Renfro) is an average high schooler that is studying in history class about the Holocaust. During this time he discovers that one of his elderly neighbors, the reclusive Arthur Denker (played by Ian McKellen), is in fact the former German SS commander Kurt Dussander, a war criminal. Rather than turning in the man to the authorities, Todd is instead says he will not report Dussander in exchange for being able to listen to his experiences during the war. But with Todd's newfound fascination also comes nightmares, as visions of the war gives him sleepless nights and horrific daydreams...

Adapted from the 1982 novella of the same name written by Stephen King, it was a different kind of horror story from King, relying on the horrors in reality rather than the supernatural or fantastical mysteries. In 1987 there was an attempt to make "Apt Pupil" as a feature, with Alan Bridges directing and Ricky Schroder and Nicol Williamson in the leads. After ten weeks of shooting the production company ran out of funds which halted the production. It took nearly a year until additional funds could be secured for shooting the remaining material, but by that time Schroder looked too different to match the previously shot footage, which was mostly deemed unusable. Rather than securing more funds to reshoot all of Schroder's scenes or releasing a mix and match version of the film, it was scrapped entirely, never to be completed, never to be screened publicly. King stated that he was pleased with what footage he had seen, and so it's unfortunate for the public that it could not be seen in any form. The rights to the novella expired in 1995, and returned to King. Filmmaker Bryan Singer read the original story when he was 19 and looked at adapting the story. In 995 he sent a spec script along with a copy of the yet unreleased at the time "The Usual Suspects" to King for consideration. Even with some changes adapting from book to screen, King was pleased with the script and offered it to Singer for a mere $1. Following the massive success of "The Usual Suspects", Singer was offered many opportunities but he went with adapting "Apt Pupil" as his followup feature.

"Apt Pupil" for the most part is made up of conversations between the two leads. Todd is a student with good grades, but he is nothing extraordinary. He doesn't have many friends, as his only friend seen in the film is Joey (played by Joshua Jackson) and he is not exactly a hit with the girls. Even the one girl he has a slight chance with, Becky (played by Heather McComb), gives him some reluctance to pursue the something further. His sudden fascination with the happenings during the Holocaust during history class makes him go to extremes that most would not dare, by confronting and befriending a Nazi war criminal. Dussander is one that keeps to himself. Emigrating in 1955 under a false name and living alone peacefully in a suburbian home without family or friends, his wartime activities of gassing and torturing people in concentration camps may have been decades ago but haunt his mind and blood as well as his evasion from authorities. The confrontation of the two souls create an interesting and unusual dynamic. Why was Todd looking to hear the stories about the war from Dussander rather than turning him in? Was he fascinated by Nazi symbolism and the Holocaust before the history class? Did he have internal issues that made him want to reach out to someone like Dussander rather than others like Joey or even his guidance counselor Mr. French (played by David Schwimmer)>? He does quite a lot of detective work in discovering Dussander by dusting for fingerprints off his mailbox and going through lots of reference materials. The film never goes into the issues that Todd is facing much. His home life seems quaint and normal. The time between other classmates are not seen frequently. Therein lies the issue of a disconnect between the student and the audience. Instead the audience is thrust into his odd fascination with the old man in the neighborhood without revealing his real issues such as peer pressure and other social norms.

What is fascinating is how McKellen plays the role of the former Nazi officer. He does seem harmless due to his age and his non threatening demeanor, but he has the charm, as seen during the dinner party or with his conversation with Mr. French. He is able to feed from others and what he does with Todd is not just repeat stories of the war verbatim, but also feed back and manipulate the young student with thoughts of violence and hatred that slowly creep into his mind. Todd's transformation mentally is what could be seen as a form of brainwashing that Germans were subjected to with propaganda before and during the war, and by the end he is capable of manipulating, blackmailing, and killing. Was it so easy for one person to change in such a short period of time? It certainly was for millions of Germans so why is it not feasible? The bulk of the film is seen with only the two leads, close to a stage play more than a feature film, and the two leads are able to convincingly pull good performances in their scenes together. The scenes outside Dussander's home may be a little on the weaker side as relationships are not fully connected, and the story does have too many coincidences rather than crafted plot points to move the story forward.

"Apt Pupil" does differ in some terms from the novella and the film, with Todd's nightmares being much more graphic and horrifying as compared to the film version. Todd becoming a mass murderer at the end of the novella is not shown in the film version, leaving it much more open to interpretation. But it was not the changes that caused outcries. A lawsuit was filed by teenage boys hired as extras with the filming of the shower scene, in which Singer instructed them to strip completely for the screen test. With lack of evidence the suit was dropped, but more allegations came with Singer accused of groping teenage boy extras, one of which was 13. While none of the accusations have led to any criminal charges (as of yet) the number of allegations against Singer during many productions over the years have been questioned why his career has been able to continue, though his firing from "Bohemian Rhapsody" in addition to the #metoo movement have possibly placed everything on hold. In fact seeing the film in 1998 may have been disturbing due to the content, but seeing it in 2019 may be even more disturbing. An older man manipulating a young teenager through mental anguish and brainwashing plus blackmail is one that eerily reflects the accusations of the filmmaker.

"Apt Pupil" opened at the Venice Film Festival in 1998 and commercially in the United States on October 23, 1998. Grossing $8.9 million in North America and receiving fair to average critical praise, it did take a few awards including Renfro and McKellen receiving Best Actor awards at a few festivals.

Note this is a region ALL Blu-ray

Video


Umbrella Entertainment presents the film in the original 2.35:1 aspect ratio in 1080p AVC MPEG-4. The HD master is in very good shape, with barely any examples of cuts, scratches, or damage. The opening credits are a little wobbly at the start, but from there on the transfer is solid with correct framing in the theatrical aspect ratio, well balanced colors, good depth and clarity. Colors may not be as striking as a brand new scan, but the transfer is a very good one.

The film's runtime is 111:08.

Audio


English DTS-HD Master Audio 2.0 stereo
The Blu-ray opts for a 2.0 stereo track in lossless form which while sounds good, misses a huge mark by not including the 5.1 track found on the previous DVD releases and the US Image Entertainment Blu-ray edition. For the 2.0 track the dialogue is almost always centered with the left and right separation used for music and effects. It's an adequate track but certainly lacks the depth that the 5.1 soundscape had.

There are optional English HoH subtitles for the main feature in a white font. They are incomplete with some passages or words not said, and for some reason any time that a word with an apostrophe S is used such as Todd's, it is written out as Todd': by mistake.

Extras


"Behind the Scenes" featurette (6:47)
This vintage featurette created as a promo for the film includes interviews with cast and crew about the production and the characters without much depth or spoilers.
in 720p AVC MPEG-4, in 1.33:1, in English Dolby Digital 2.0 with no subtitles

Theatrical Trailer (2:34)
The original American theatrical trailer is presented here from a standard definition source.
in 720p AVC MPEG-4, in 1.78:1, in English Dolby Digital 2.0 with no subtitles

TV Spots (1:32)
Three American TV spots taken from a low definition source are here. The volume is quite loud compared to the rest of the content on the Blu-ray.
in 720p AVC MPEG-4, in 1.33:1, in English Dolby Digital 2.0 with no subtitles


The featurette and the trailer are also to be found on the previous DVD editions and the US Image Entertainment Blu-ray edition, with the TV spots being exclusive to this Umbrella Entertainment release. There are no new extras such as interviews, commentary, or retrospective featurettes to be had.

The trailer is also available here, courtesy of Umbrella Entertainment.


Packaging


The inlay is reversible with identical artwork on the opposite side, with the only difference being the Australian rating logo removed.
It also states the disc is region B but is in fact a region ALL disc.

Overall


"Apt Pupil" has its conflicting strengths and weaknesses, with the strengths coming from the performances and the weakness coming from the structure and lack of backstories explained. It is still a fascinating watch and one that unfortunately has become more disturbing with Bryan Singer's involvement. The Umbrella Entertainment Blu-ray does look good, but with only a 2.0 soundtrack and mostly extras recycled from the DVD era, mileage may vary.
| | | | | |
| --- | --- | --- | --- | --- |
| The Film: C+ | Video: B+ | Audio: C+ | Extras: C | Overall: B- |