The Film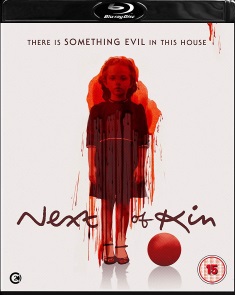 AFI Award (Best Achievement in Editing): Max Lemon (nominated) - Australian Film Institute, 1982
Special Mention: Tony Williams (winner) - Mystfest, 1983
Clavell de Plata Daurada (Best Director): Tony Williams (winner) - Sitges - Catalonian International Film Festival, 1982

After the death of her mother, Linda Stevens (Jacki Kerin) inherits the family estate of Montclare which her mother and long-missing aunt had turned into an old folks home now run by faithful Connie (Gallipoli's Gerda Nicolson) with the help of family physician Dr. Barton (Romper Stomper's Alex Scott). She reconnects with childhood friends in town, including firefighter Barney (Picnic at Hanging Rock's John Jarratt) – as well as former gardener Lance (The Devil's Playground's Charles McCallum) who is now one of the home's residents – but remains troubled by nightmares about a childhood incident in the great house. Delving into her mother's diaries, she learns of the older woman's suspicions about a presence lurking in the house, and events from the present starts to mirror the past when one of the residents is found dead in his bath. Are Connie and Barton gaslighting her, is boyfriend Barney all that he seems to be, and what about the creepy son (Cool Change's Robert Ratti) of new resident Mrs. Ryan (Bernadette Gibson)?

While Ozploitation encompassed much in the way of genre diversity, Next of Kin is a wonderfully restrained take on the old dark house formula with some blood and skin but much longer on evoking atmosphere than delivering exploitation. This approach sometimes comes at the expense of plot, with some gaps in the story seeming to reflect the increasing fear and confusion of the heroine but making some aspects seem poorly-motivated (like one or two characters that are barely around long enough to be red herrings). Indeed, it is quite obviously, if not director Tony Williams' first feature film – which was actually the New Zealand film Solo – then the first in which the cineaste had the technical and budgetary resources to go all out on his cinematic homages with roving Steadicam, booming crane shots, the Hitchcock zoom, and shots that circle around the heroine or drift into slow motion just because… In spite of an underdeveloped script, Kerin makes for a fetching lead even as she becomes increasingly neurotic while the rest of the cast seem flatter because they are required to be suspiciously ambiguous. That the film works is a testament to the contribution of director of photography Gary Hansen (Harlequin), Steadicam operator Toby Phillips (Mad Max Beyond Thunderdome), and the album tracks of Tangerine Dream drummer Klaus Schulze (some of which he had composed for the earlier Florida exploitation film Barracuda).

Video


Next of Kin was released directly to VHS in the United States first by VCL Communications in 1985 and then by MCEG/Virgin in 1988, and to pre-cert VHS in the UK in 1983. Despite Quentin Tarentino singling the film out for attention, a domestic DVD was not forthcoming; however, an anamorphic, barebones transfer popped up in Australia from HIH in seemingly small quantities, and a limited German hardbox DVD from X-Rated with three cover choices utilized the same transfer but had a watermark when played with the English track. Last October, Australian company Umbrella Entertainment debuted a 4K-mastered Blu-ray which has been utilized by Severin Films for their February 2019 release and Second Sight's March 2019 Blu-ray release covered here. The elements are virtually spotless apart from a rare white spec or two and one noticeable repair to a torn frame. Definition slips during a handful of post-production slow motion shots that look slightly coarser – and a single matte shot looks less convincing here than it did under the grime of home video – but the glassy quality the film has always had on home video is maintained while the color timing looks faithful to the previous DVD transfer while the colors are richer and the blacks deeper.

Audio


Audio options include the original mono mix in DTS-HD Master Audio 2.0 and a 5.1 DTS-HD Master Audio remix that gives spread to the score, offscreen sound effects natural and ghostly, along with the thunder and rain. The Umbrella English SDH subtitle track had a few transcription errors which were retained by Severin's Blu-ray (which also added a few lines of offscreen dialogue). Second Sight's Blu-ray adds some additional lines – including one early on that is as much a bit of foreshadowing as a briefly glimpsed shot of a hammer on a TV screen during a news report early on – but also corrects the errors on the other to Blu-ray release tracks.

Extras


Severin's Blu-ray included a new introduction by "House of Psychotic Women" author Kier-La Janisse but was otherwise identical to the Umbrella edition. Second Sight's Blu-ray directly ports over only the Australian extras. On the audio commentary by director Tony Williams & producer Tim White, they reveal that the project started as a horror comedy about a group of mad caterers who poison residents of old folks homes, then evolving into a slasher before Williams wanted to something more European than American (one of the film's he took inspiration from was Roger Vadim's Blood and Roses). They also reveal that they tried to get Vangelis and had listened to his work on the set, and eventually temp-tracked the film with Klaus Schulze tracks, and then got the rights to use the cues when they rejected the original score Schulze wrote for them. On the audio commentary by cast members John Jarratt, Jackie Kerin, Robert Ratti & 'Not Quite Hollywood' director Mark Hartley, the actors discuss their beginnings – likes most Australian talent of the time – at Crawford Productions television, with Jarratt and Kerin previously appearing together in the Ned Kelly miniseries The Last Outlaw. Jarratt makes some off-color comments but also provides some interesting background, having been involved in some manner with production company SIS – co-producer Film House was a company belonging to Fred Schepisi (The Chant of Jimmie Blacksmith) – and bringing his skills as a builder to the set when a wooden fence built by the production for him to vault over proved poorly put-together. Ratti discusses doing stunt work in the film and being asked by Williams to study the Yorkshire Ripper for his character background, and the trio also recall the botched timing of the film's pyrotechnic highlight. They also make only passing reference to the footage cut from the climax.


A pair of extended interviews (25:26) from Not Quite Hollywood with Williams and Jarratt covers much of the same material, but it was not shot for the disc and is still a welcome addition. "Return To Montclare: Location Revisit, 2018" (10:30) is more mesmerizing than most then/now location visits thanks to the use of the Schulze tracks and contemporary videography that is almost as slick as the film. Deleted scenes (4:25) from the ending no longer exist on film and are presented here as series of contact sheets from the continuity stills. While the deletion of a further fight scene from the ending might seem like an exercise in restraint, it appears as though fading out before the film's final shock was a wise decision as it might have provoked laughter. In addition to the theatrical trailer (2:55), the disc also includes the U.K. VHS trailer (2:54) which is almost identical, the German theatrical trailer (3:15) which is composed partially of different footage, and the German opening credits (1:30) which retains the animated handwritten Next of Kin title while adding the optical-wiped German title Montclare: Erve des Grauens ("Montclare: Heritage of Horror") under which the original title card can be seen. The ballroom footage (2:26) extract reveals that the sequence seen on the television set was not stock footage but something actually shot by Williams in 1978. Also included are an image gallery (10:37) and two short films by Williams from 1971 for the documentary series Survey titled "Getting Together" (30:07) and "The Day We Landed On The Most Perfect Planet In The Universe" (31:06). Like the Umbrella edition and Severin editions, Second Sight's disc comes with a reversible cover featuring the original evocative artwork on the front and the more familiar and striking American artwork on the inside. A slipcover is also included.

Overall


While Ozploitation encompassed much in the way of genre diversity, Next of Kin is a wonderfully restrained take on the old dark house formula with some blood and skin but much longer on evoking atmosphere than delivering exploitation.