The Film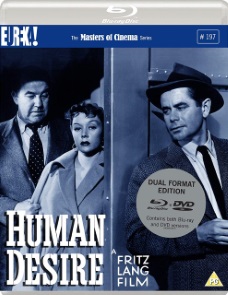 Home from Korea after three years at war, railway man Jeff Warren (A Pocketful of Miracles's Glenn Ford) confesses to Ellen (Junction City's Kathleen Case), daughter of his engineer buddy Alec (Petticoat Junction's Edgar Buchanan) – blossomed into womanhood since he has been gone – that he wants for nothing "but a lot of fishing, trains, and for excitement, a big night at the movies"… that, and the "right girl" she hopes. This is film noir, however, and he's fated to come into contact with a girl that's "all wrong" in Vicki (In a Lonely Place's Gloria Grahame), the unhappy younger wife of Assistant Yardmaster Carl Buckley (Highway Patrol's Broderick Crawford). Fired after blowing up at Yardmaster Thurston (Super Fly's Carl Lee), Carl presses Vicki to seek a favor from important customer and family friend John Owens (Earth vs. the Flying Saucers's Grandon Rhodes) to help him get his job back. They travel to the city and Vicki meets Owens while Carl – passing the time in the apartment of Vicki's former roommate Jean (Indestructible Man's Peggy Maley) – starts to regret what he has asked of his wife. When Vicki returns three hours later, he beats her and accuses her of improprieties with Owens. Carl forces her to write Owens a letter promising to meet him in his compartment on the same train in which they are traveling to return home in order to ambush and murder the other man; however, when they are nearly spotted leaving the train car by Jeff who is on his way back after filling in on another route, Carl does not care what Vicki does to distract the younger man. Jeff is unaware that Vicki is Carl's wife when she strikes up a brief flirtation to lure him away from the compartment; however, he starts to suspect something at Owens' inquest but keeps quiet when called upon to testify as to whether he recognized anyone from the adjoining cars. Vicki is sick with guilt and shudders at Carl's attentions, but he holds the note she wrote to Owens over her head and swears that no one else will have her but him. After a drunken Carl causes a scene at a local diner, Jeff helps Vicki escort him home where she tells him that she went to visit Owens without her husband's knowledge and found him dead. Jeff buys Vicki's version of the events and starts to see her in secret; however, the clandestine meetings do not remain a secret for long, and Carl's drunkenness is interpreted by their common acquaintances as a reaction to being cuckolded. When Jeff asks Vicki to leave her husband, she must finally tell him the truth and convince him that securing Carl's permanent silence is the only way they can be together.

A loose adaptation of Émile Zola's "La Bęte Humaine" – previously adapted in 1938 by Jean Renoir under that title – Human Desire is pretty much the perfect case study of the film noir genre. Possibly due to the ways in which the adaptation (more of the Renoir film than the source novel) fits itself to the restrictions of the Production Code – as well as playwright/screenwriter Alfred Hayes' relative inexperience in the genre – and that it was a work-for-hire for film god Fritz Lang (The Secret Beyond the Door), all of the genre's elements are laid bare from the very start while the divergences also call attention to themselves. Jeff is not scarred by his wartime experience –distinguishing the possibility of killing Carl from killing the enemy as firing "into the darkness, something moving on a ridge, a position, a uniform, an enemy" – and it is obvious that the film looks down upon Carl before his more negative attributes come out for not serving. The flm's secondary love triangle between Jeff and Vicki and Ellen is symbolized by the question of whom he will escort to the railroad's annual spring frolic; with Ellen referring to herself as the "right girl" in a veiled manner while everything about the relationship between Jeff and Vicki is encompassed with the single word "wrong" (which Vicki eventually ascribes to herself). While the more flawed protagonist of the Zola novel and the Renoir film witnessed the murder and kept it to himself due to his attraction to the murderer's wife, Jeff believes Vicki's story and does not wise up to her ability to manipulate him until the climax. The doomed couple are the Buckleys and Jeff only skirts damnation and emerges unscathed, and therefore worthy of Ellen even though there is no doubt for Ellen or her parents that Jeff has actually slept with Vicki. What ultimately redeems the film as a genre effort is the character of Vicki who never definitively confirms to Carl or Jeff (or the viewer) the nature of her relationship with Owens, fashioning her version of the story to Jeff to elicit sympathy and the one to Carl to return all the pain he has caused with his fists (faring somewhat better than her fate in The Big Heat). Although production values are high, the low key noir lighting of Burnett Guffey (My Name is Julia Ross) is slick but rote, as is the scoring of Daniele Amfitheatrof (Letter from an Unknown Woman).

Video


Released theatrically by Columbia Pictures, Human Desire was more read about than seen for burgeoning noir fans, with a long out-of-print LP mode Goodtimes Home Video VHS and a cost-prohibitive Japanese Columbia Tri-Star Film Noir Collection Volume 2 (also featuring The Big Heat, Gilda, Lady from Shanghai, and Tight Spot) from 2004 the only ways to see the film until Sony's 2010 The Columbia Pictures Film Noir Classics Volume 2 DVD set (with The Brothers Rico, Nightfall, City of Fear, and Pushover) stateside and Cornerstone Media's solo DVD in the UK. While it is surprising that the likes of Twilight Time have not yet put out an American Blu-ray edition, Eureka's 1080p24 MPEG-4 AVC 1.85:1 widescreen rendering of the HD master prepared for the Sony DVD set is still a thing of beauty, with bottomless noir shadows and detail crisp enough to distinguish the tack sharp focus of the first unit work from the second unit and stock shot inserts (the jump from opening credits opticals to the first close-up of Ford is a pleasant shock). A 2K or 4K remaster in the near future seems more likely for archiving than the source of another physical media release.

Audio


The sole audio option is an LPCM 2.0 rendition of the mono track which sounds incredibly clean from the dialogue to the high ends of the scoring. Optional English HoH subtitles are also included.

Extras


Extras are sparse, but the included interview with film historian Tony Rayns (29:18) is a nice combination of production anecdote and analysis. He describes the film as a "travesty" in terms of a Zola adaptation, and that it would be better described as being based on Renoir's adapation of Zola's novel: La Bęte Humaine having been a favorite film of Columbia Pictures' Vice President in Charge of Production Jerry Wald who was the driving force behind the film (noting that Wald thought that the titular "human beast" was the femme fatale while Lang felt that it referred to the beast in all of us). Rayns reveals that Wald wanted Rita Hayworth (Lady from Shanghai) for Grahame's role, but an early idea to shoot the film in Canada when the owners of America's privatized railroads balked at the content of the script prevented her from taking part due to an injunction involving a custody case that prevented her from leaving the country (Rayns is also of the opinion that Grahame is a better fit for the role) before another Columbia executive who had shares in a railroad greased up other shareholders to allow the production to make use of a railway and railyard. Rayns contrasts the more prohibitive sexual perversity of the protagonist from the Zola novel and Renoir film with the Lang film, suggesting that the mixed age marriage here is the film's perversity as commented upon by the single scene with Jean's gold-digger and her exploits in pursuit of a moneyed older man (which also subtle shades the age difference between Jeff and Ellen). The disc also includes the film's theatrical trailer (1:55). Not included for review was the 40-page collector's booklet featuring new writing on the film by film historian Travis Crawford, critic and author Richard Combs, and writer Adam Batty, alongside rare archival imagery.

Overall


Human Desire, Fritz Lang's Production Code-friendly take on an Émile Zola novel and its prior Jean Renoir adaptation is a case study in the themes of American film noir laid bare.