The Needle [Blu-ray]
Blu-ray ALL - France - Badlands Éditions
Review written by and copyright: Eric Cotenas (19th February 2019).
The Film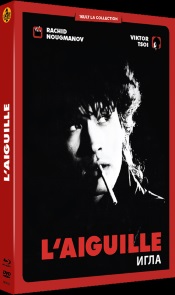 After an unexplained absence of some time, the aimless wanderings of youth Moro (Russian punk legend Victor Tsoi) take him back to Leningrad. He attempts to collect a debt from old buddy Spartak (Aleksandr Bashirov) only to find him heading a gang of wannabe gangsters and so up to his neck in debt to more dangerous parties that he threatens to sick them on Moro. Moro reconnects with his old girlfriend Dina (Marina Smirnova) only to discover that she is addicted to heroin, her fixes supplied from surgeon Artur (The Island's Pyotr Mamonov) for whom she works as a nurse while stealing morphine as a cover for him to sell on the black market. Moro's redemptive act of kidnapping Dina and taking her to the seaside for a painful cold turkey withdrawal puts a target on both of them from the gangsters running the drug trade. There really is not that much to The Needle plot-wise, giving a vaguely American western genre swagger (with a climactic helping of punk nihilism) to a new wave music-driven series of vignettes that highlight a real drug problem that did not "officially" exist (the film is ironically "Dedicated to Soviet Television"). As primitive as the plotting is, and whether or not one feels that Tsoi's disaffected persona is actually charismatic – like many music icons, he died young (in this case a car accident) and his influence has been immortalized and memorialized, including a 2010 concert called "Twenty Years Without Tsoi" – the music and anarchic visual style is stimulating. Even though the editing is a collage of styles, director Rashid Nugmanov demonstrates an assured visual style, making striking use of lighting and landscape – from the sculpture-strewn flat of Dima to the drained Aral Sea bed of stone huts and rusted wrecks in which actors sometimes figure as compositional elements discovered in statuesque poses – while the uneven performances themselves seem less a lack of cohesive direction than suited to the chaotic universe of the film and its punk worldview. In 2010, director Nugmanov did a "remix" of the film that recut and rescored the body of the film while expanding upon it with footage of Tsoi from the 1986 short Yahha, actors from both the film and short resuming their roles without any attempts to make them look younger, and some surreal additions – comedy foil Spartak now has a woman he has kept isolated for breeding in a bunker in case of nuclear war – but the various CGI tricks Nugmanov exploited throughout the film (making the original film's comic influences more explicit with manga-like illustrations and animation) are perhaps less off-putting than the revised ending. Whether the original The Needle is really the singular work it appears in the context of films from this period exported internationally or not, it provides a time capsule of young attitudes towards the end of Perestroika and the overall fall of the Soviet Union.

Video


Long unavailable from official channels internationally, The Needle comes to Blu-ray/DVD combo courtesy of French boutique label Badlands (distributed by La Chat Qui Fume) whose previous release was a 2013 DVD release of Lucile Hadzihalilovic's Le Bouche de Jean-Pierre. There is no information on the provenance of the HD master, but the source of the 1080i50 MPEG-4 AVC 1.33:1 pillarboxed widescreen image probably dates back from the production of the 2010 remix version. Detail is crisp in close-ups and less so in wider shots while the varying black levels are likely part of the original photography and processing; in any case, it is a more than acceptable presentation of a film largely unseen in the West.

Audio


The sole audio option is a DTS-HD Master Audio 2.0 mono track in which the music has a nice presence, the dialogue is clear, with the track's limitations only seeming evident when music and effects or dialogue are simultaneous. Subtitles are available in English, French, German, Korean (Tsoi was of Korean ancestry), and Spanish.

Extras


While the film has English subtitles, the French-language extras have no extras while the Russian ones have burnt-in French subtitles only, starting with an Optional Introduction by Eugénie Zvonkine (12:57), a university specialist in Soviet cinema who presumably provides some context to the film within the Kazakh New Wave of the late eighties. Also included is 1986 short film "Yahha" (35:55) which looks at Leningrad's punk scene including Tsoi's band Kino, footage of which was recycled and recreated in The Needle (Remix). The Needle Remix (86:32) is included in its entirety in 1.85:1 widescreen with DTS-HD Master Audio 5.1 and 2.0 stereo options but only French subtitles (this feature is exclusive to the Blu-ray side of the combo). "Souvenir de Vague" (44:25) is a contemporary Kazakh New Wave documentary interviewing some of the surviving filmmakers. The film's theatrical trailer (1:35) is also included along with a pair of Badlands Éditions trailers.

Overall


Whether The Needle is really the singular work it appears in the context of films from this period exported internationally or not, it provides a time capsule of young attitudes towards the end of Perestroika and the overall fall of the Soviet Union.

---
DVD Compare is a participant in the Amazon Services LLC Associates Program and the Amazon Europe S.a.r.l. Associates Programme, an affiliate advertising program designed to provide a means for sites to earn advertising fees by advertising and linking to amazon.co.uk, amazon.com, amazon.ca, amazon.fr, and amazon.de.